Is there any musical instrument that sounds better than 12 string guitar? Featuring twice the string with rich sound, the extra harmonic riches of the best 12 string acoustic guitar offers extreme joy to play. The origin of these acoustic guitars started from Mexico and the United States in the late 19th century. But, it was the 20th century when 12 string acoustic guitars became immensely popular for their rich sound, various music styles, and stunning chorus-like effect. However, finding the best 12 string acoustic guitar for your playing style can be a challenging task, especially when you are buying it for the first time. Well, everything seems complicated when you are not doing it a proper way. Some essential things can help you to make the right decision in buying 12 string acoustic guitars. From the jungle of acoustic guitars, we have selected these best 12 strings acoustic guitars based on Amazon user reviews, features, and material and brand reputation.
Best 12 String Acoustic Guitars for 2021
1. Oscar Schmidt OD312CEB-A-U 12-String Acoustic-Electric Guitar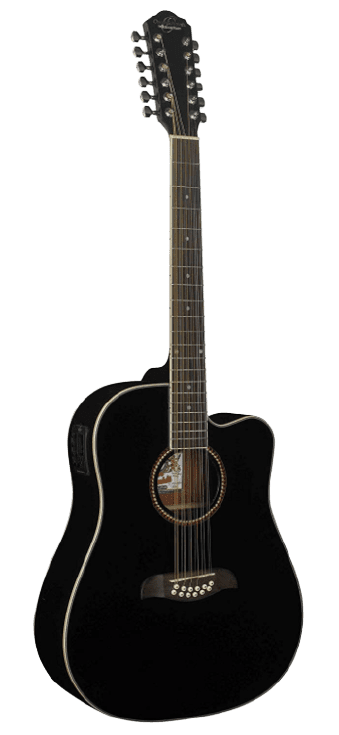 Key Features
Rostek fingerboard & bridge
Mahogany neck, sides & back
Select spruce top
Lifetime warranty
Oscar Schmidt was established in 1871 and has a long history of producing high-quality guitars, mandolins, banjos, and other stringed musical instruments. Featuring a dreadnought wide-body along with a single cutaway, the OD312CE-A-U 12 string acoustic guitar makes it easy and comfortable to reach the highest frets.
Its top is made with two pieces of solid spruce, which not only makes it durable but also a lightweight acoustic guitar. Both back and sides are manufactured with mahogany, with a high-gloss finish. This best 12 string acoustic guitar also features a stunning and expensive-looking marquetry rosette, which adds to the beauty of the guitar.
The guitar's neck is also made from mahogany with dot inlays. A highly durable engineered wood has been used for constructing fretboards and bridges. You can also find the rosewood fretboard version at a slightly higher price than this one. It is also equipped with the built-in tuner and Barcus Berry EQ4T preamp.
The cutaway design offering easy playability is one of the best features of OD312CE for beginners. A hard synthetic material (NuBone) is used to make the nut, which doesn't dampen the vibration of the string the way this plastic nut does. Overall the guitar is built to last longer with easy playability for both new and professional players.
Gorgeous look with rich sound
Active EQ preamp with built-in tuner
Fully adjustable truss rod
Handcrafted quality
Easy playability
Lifetime warranty
2. Takamine EF381SC 12-String Dreadnought Acoustic-Electric Guitar
Key Features
Solid Cedar Top
CT4B ll Electronics
Maple back and sides
Rosewood fingerboard
Mahogany Neck
Takamine is one of the best and most reliable brands on the market. This Takamine EF381SC comes with a traditional Takamine design with a classic appearance and vibrant tone. The guitar body is a typical dreadnought design along with a cutaway design that has a beautiful, black finish. The manufacturer has used a solid spruce top combined with the maple back and sides.
If you take a close look at the top, the beautiful white binding gives the black finish a proper contrast. The build quality of the guitar is excellent with decent bracing, the best attention to detail, and rock-solid quality control. Its neck comes in the form of the smooth mahogany price along with the rosewood fretboard.
Of course, the most essential part of 12 string acoustic guitar is its hardware. The double amount of strings applies more pressure on the neck and relevant components.  Takamine EF381 SC comes with a solid rosewood bridge, high-quality pins, and a great saddle. Also, the 12 diet cast, high-end tuning machines gives it rock-solid key retention with refined tuning. The built-in preamp, built-in tuner, and three bands EQ are other notable hardware of this acoustic-electric guitar.
When it comes to sound quality, you can hardly find a few guitars that can compete with the EFF 381SC. This 12 string acoustic guitar comes with plenty of range, which makes it different from typical guitars. It offers a nice punch in terms of projection and volume. To be honest, this acoustic guitar is made for and ready for professional stage performances.
Versatile guitar with rich tone
Comes with a hard case
Ultra-strong dovetail joint
Gloss black finish
Comfortable mahogany neck
3. Gretsch G5022CWFE-12 Rancher Falcon White 12-String Acoustic
Key Features
Solid Spruce Top
Maple Back and Sides
Mahogany neck
Gold-plated hardware
This 12-string Acoustic Guitar by Gretsch comes with an elegant white and sparkling gold color scheme. Featuring an eye-catching Falcon headstock, this is an excellent mid-range acoustic-electric guitar. Though this brand is new on the market with a few high-end products but the features and build quality make it one of the best acoustic guitar brands on the market.
Gretsch G5022CWFE-12 features a pristine glossy white finish enhanced with the delicate gold sparkle binding around the wide body. There is also a unique triangle soundhole, painted Falcon-style headstock with a gold pickguard to improve the overall appearance. This well-made guitar comes with quality tonewoods, including laminated-maple backs and sides with a solid spruce top. If you love large guitars, this is the perfect choice with a gorgeous cutaway design that is comfortable to hold and play.
Solid maple has been used to make the 25" scale length neck. The glossy finish on the back and standard rosewood fretboard improve the appearance of the neck. This electro-acoustic guitar also has quality Fishman electronics. It comes in the form of Sonicore under-saddle pickup with a lsys+preamp, providing a simple range of EQ controls for natural onboard sound shaping. This includes a volume, treble, bass, and middle along with the built-in digital tuner.
Though Rancher Falcon comes with a jumbo body, the sound isn't as loud as you can expect. The guitar has a high volume ceiling, which is an excellent addition to heavy strummers. Overall, the tone is very well-balanced, vibrant, and full, bright, and articulate, and simply satisfying to strum.
Beautiful and Stylish Guitar
Perfect tone
"V"-shaped headstock
Very comfortable to play
The cutaway design provides upper fret access
Synthetic bone nut and saddle
4. Seagull Coastline S12 Cedar Guitar
Key Features
Double Action Truss Rod
Tapered Headstock
Select Pressure Tested Top
Tusq nut and compensated saddle
In 1982 Robert Godin, along with his friends, produced the first Seagull guitar. The prime purpose of the guitar was to take the vital components of the premium quality handcrafted guitars to the next level but keeping the price at an affordable range. These handcrafted guitars by Seagull are not only handcrafted but also come with excellent built quality and features.
This Coastline S12 12-string acoustic guitar features a wide dreadnought body manufactured from the finest tonewoods. It offers a rich timbre with a warm midrange. S12 also comes with a pressure-tested solid cedar top and an ultra-thin semi-gloss finish for a mellower tone as compared to the spruce. It is arched above the soundhole to level it out near the bridge. The compound curve improves sound projection.
The top of the guitar is braced with quarter-sawn spruce, which is scalloped and carved perfectly. Another notable feature of this best 12 string acoustic guitar in the back and sides are made from the 3-ply laminate of the native wild cherry wood. This wood falls between mahogany and maple in tone.
The slim and smooth neck is created from the leaf maple. With 21 frets, the neck has a scale of 24.84". One of the best features of S12 is the tapered headstock that offers a straight string pull, which is useful for maintaining tuning stability. Other features include a Canadian-made Godin QIT preamp, treble and bass EQ, automatic shutoff, and a built-in tuner.
Arched cedar top for best sound projection
Hand-made in North America
Straight pull headstock
Neck design offers superior stability
Ultra-thin semi-gloss finish
No preamp midrange tone control
5. Yamaha FG820 12-String Solid Top Acoustic Guitar
Key Features
Rosewood Fingerboard
Solid Sitka Spruce Top
Rosewood Bridge
Mahogany Back & Sides
Adjustable truss rod
First introduced in 1966, Yamaha FG guitars have a classic dreadnought design. This FG820 12-string comes with a natural finish, solid spruce top, and mahogany back and sides. One of the best features is the scalloped braces on the top to increase the lower midrange response. With a prime focus on outstanding build quality, excellent playability, and musical tone, the 800 series became one of the most successful acoustic guitars.
Thanks to its cutting-edge acoustic analysis function developed by the Yamaha R&D Division for producing loud and robust sound in the low to mid ranges. The new model of the 800 series comes with a new scalloped bracing pattern, which is an excellent acoustic structure that helps to maintain the durability of the top wood. Also, this technology works best to bring out the most of the natural sound from the instrument.
From painstakingly cured and dried woods to elegantly hand-sprayed finishes and supreme quality control, each aspect of the FG acoustic guitar has been perfectly crafted to make a better guitar. The neck of the guitar is made from nato wood with 20 frets and a 25-inch scale. You don't need to worry about the rough fret edges as it is bound with cream-colored plastic.
An adjustable truss rod guarantees an ideal action and perfect intonation. The nut and bridge are manufactured from synthetic urea. Its luxury fretboard has been covered with rosewood and comes with a flat 15.75-inch radius.
Excellent tone and intonation
Solid wood
Cutting-edge acoustic analysis technology
Available in 2 body shapes
Easy playability
6. Ibanez pf1512 12 String Acoustic Guitar
Key Features
Dreadnought body
Mahogany neck, back, and sides
Spruce top
Ibanez introduced this 12 string acoustic guitar at the 2013 NAMM show. This famous performance series is best for its vibrant tone, classic design, and durable build quality. Featuring a wide dreadnought body, PF1512 belongs to the new "15" tier family of acoustic guitar. This is the only model with double-course non-string construction.
PF1512 features a non-cutaway dreadnought body created from mahogany and spruce. On the back and side panels, mahogany is used, whereas the spruce is found on the top only. This is one of the great combinations of tone wood in the modern guitar industry. The guitar's body is finished in high gloss with standard binding around its top.
The Ibanez model is available only in a natural color scheme, which is the only downside of this best 12 string acoustic guitar. This non-cutaway flat-top guitar also features a robust, belly contoured bridge created from rosewood. Another notable feature of the PF1512 is its slim neck made from mahogany to match both back and sides. This comfortable to hold neck is also topped with the rosewood fingerboard featuring a standard set of 20 frets. Last but not least, the die-cast tuners of its headstock are plated in chrome.
Natural high-gloss finish
Rosewood fingerboard and bridge
Easy playability
Chrome die-cast tuners
Great sound for the price
Available in a single color
7. Ovation Mod TX Collection 12-String Acoustic-Electric Guitar
Key Features
Deluxe AA Solid Spruce Top with Scalloped Bracing
Elite Multi-Port Sound-hole design
Lyrachord Deep Contour Cutaway
Ovation Die-Cast Sealed Tuning Machine
Ovation guitars were born in 1966 with premium quality materials and non-traditional design. The best features of these acoustic guitars are their gorgeous look, unique voice, and comfortable feel. Featuring a Modern TX collection technology, these acoustic guitars are an exceptional step forward in the acoustic guitar market.
The slim neck not only feels comfortable but also makes playability easier. The live performance is improved with the combination of OCP1 and high output OP-Pro preamp. The matte black finish looks like a dark shadow, but beneath its thin textured top is a resonant tonewood. The deep contour textured Lyrachord body is comfortable to hold and provides added low-end response while the rock maple neck improves the brightness.
One of the best features of this Ovation acoustic guitar is its lightweight. Its unique mid-depth body style is incredibly popular in guitar lovers because the particular design improves lower-frequency projection. Also, such a body style produces a rich and midrange tone. The Ovation Mod TX also comes with an OP-Pro preamp, OCP-1K pickup, along with the 3-band EQ that is balanced, natural, and full.
Mid-Depth Cutaway Body Shape
Well balanced tone
Cutaway design improves projection
Smooth, comfortable and playable
Lightweight and durable
8. Ovation Standard Balladeer 2751AX 12-String Guitar
Key Features
AA Grade Solid Spruce Top
5-piece mahogany/maple neck
Inlaid Pearl Oak leaf rosette
Cutaway design with a satin finish
Another high-quality acoustic guitar from the Ovation with a classic black appearance, the Balladeer, was incredibly popular in the 1960s. This upgrade version of the 12 string acoustic guitar comes with essential modifications to meet the needs of modern guitarists. At the heart of the 2751AX is a hand-selected AA solid Sitka spruce top. The Ovation standard contoured Lyrachord body featuring a single cutaway is placed right behind the top.
Not only these features offer superb tone but also ultra comfort to the player when playing guitar standing or even seated. The neck of the 2751AX has been made with 5-piece mahogany/maple with a satin finish. However, its scale length is slightly shorter as compared to typical guitars, and also the nut is somewhat narrower. Both these features combine to make the neck easy to hold and play the guitar comfortably.
Looking at the electronic section, this best 12 string acoustic guitar has been equipped with an OP-Pro preamp and OCP1K pickup system. These are great for improving the tone versatility of this guitar. Last but not least, the black finish contrast, along with the white binding and oak-lead rosette, give a guitar an overall elegant appearance.
The crisp and clean tone
Excellent build quality with beautiful aesthetics
Easy to hold and play with a fast neck
Lightweight
Built-in preamp
9. Taylor 150e 12-String Acoustic Guitar
Key Features
Layered walnut backs and sides
Classic dreadnought body
Solid Sitka spruce top
Sapele Neck
The Taylor 150e comes with electronics built in so that musicians can easily amplify the sound when required. This 12 string acoustic guitar has a classic dreadnought body to project the strong low-end response for providing a decent balance with clear and crisp shimmer from its strings. It also features a Sapele neck along with a solid Sitka spruce top.
The top is paired with the layered back and sides. This layered walnut with the middle core of famous gives strength, durability, and resilience to the guitar. When it comes to sound, it offers an ideal midrange presence with a proper touch of high-quality sparkle. The robust high-midrange, along with the crisp treble delivered by the ebony fingerboard, improves the versatility of Taylor 150e's sound.
Guitar players, flatpickers, and strummers will surely enjoy the dynamic board range accompanied by the crystal-clear articulation of this best 12 string acoustic guitar. Other notable features include a 1.875-inch nut width, die-cast mini tuners, a Tusq nut, and Micarta saddle, a three-ring rosette, black binding, and the Taylor Expression System 2 pickup.
Well balanced sound
Comes with a gig bag
Equipped with an electric system
Easy to play
Best for beginners and professionals
10. Takamine GD30CE-12NAT 12-String Acoustic Guitar
Key Features
Solid spruce top
Mahogany back and sides
Slim mahogany neck
Takamine TP-4TD preamp system
This powerful Guitar by Takamine I made for big occasions. Featuring a slim mahogany neck with rosewood fingerboard makes the GD30CE-12 easy to hold and play. One of the best things about this 12 string acoustic guitar is its sensitivity. You can use your bare fingers to strum the guitar and enjoy a great tone. This acoustic guitar sport a flame maple back along with a solid spruce top that offers a comfortable feel.
The maple sides provide an excellent tone and projection. If you are not satisfied with the bright tone, you can easily make adjustments according to your needs. Two of the most appealing aspects of this best Takamine acoustic guitar are tone and playability. In fact, it is an excellent choice for those who love the sound that cuts through the noise of other instruments.
Ready to perform, the GD30CE-12 also features a solid spruce top along with the mahogany back and sides to offer a rich, resonant tone. Its onboard Takamine TP-4TD preamp system provides a built-in tuner and a 3-band EQ with gain controls for best amplified performance and versatility. Other notable features include a rosewood head cap, rosewood bridge, chrome die-cast tuners, beautiful gloss finish, synthetic bone nut, and a split bridge saddle.
Excellent sound
Beautiful gloss finish
Built-in tuner
Great feel and playability
Affordable price
Buying Guide To The Best 12 String Acoustic Guitars
Choosing the best 12 string acoustic guitar is your personal decision. Appearance and style are obviously essential aspects of every guitar. But you should look for other vital factors to make the right choice for your needs.
The Body
The guitar's body plays a vital role in the quality of the tone. The 12 string acoustic guitar should produce a deep and loud sound. In simple words, the guitar must have a larger soundboard. These types of acoustic guitars are made from high-quality solid wood. It is crucial to consider the size when selecting the body.
For instance, if you are small, then the large guitar will not be comfortable for you. It is wise to choose the one that is right for your size.
Tonewoods
There are various types of wood used to make the guitar body. Each wood is meant to produce its own unique sound. Here are some of the most common types of wood used for the guitar body.
Spruce is one of the most popular and reliable pieces of wood.
Cedar produces mellower tones as compared to spruce.
Mahogany and maple are typically used to make the back and sides of the guitar body. Both these help the guitar to produce a bright sound.
Cherry falls between mahogany and maple, but it is rarely used in acoustic guitar bodies.
Neck Design
The design of the neck depends on the size of the guitar's body. Commonly, the large guitar comes with a more significant neck. Remember, the design affects the playability of the guitar. Don't choose a neck that is not comfortable to hold and play. For instance, if your hands are small to handle the large neck, you won't feel comfortable playing the guitar. Always choose a neck design that is easy to hold and play.
Materials
The materials used to manufacture the guitar body affect sound quality. Low or cheap material may not produce the type of acoustics you need. If you are looking for the best tone and volume, choose a solid wood guitar.
Wood helps to stimulate sound vibration and produce the best sound quality. In fact, this is one of the prime reasons why 12 string guitars are made from solid wood, which is expensive and highly durable.
Strings
Commonly bronze is used in 12 string acoustic guitar strings. Always consider the string material, durability, and quality to get excellent playing quality.
Also, don't forget to check whether the strings are coated or uncoated. Coated strings have long-lasting durability, but they are expensive. Though uncoated strings are most susceptible to rust if maintained properly, they can also last for a decent time.
Fretboard and Frets
The fretboard or fingerboard is another essential component of the stringed instrument. The fretboard is usually made from wood and is located at the front side of the neck. They are used to change the vibration lengths of the string for modifying the pitch of the sound.
Typically a 12 string acoustic guitar features a fretted fingerboard. Various fretboards also include dots on the 3rd, 5th, 7th, and 9th frets. These types of features are suitable for beginners.
Frets can wear down with time and may lead to the deadened sound of buzzing. It is essential to dress them with polish or replace frets. Stainless steel frets are less likely to break down due to strong material density.
Additional Accessories
It is always good to look for additional accessories that come with the acoustic guitar. These may include a tuner, guitar case, plectrums, a guitar strap, or an extra guitar strings pack.
Electronics
Don't forget to consider whether you want to purchase an acoustic guitar with electric features. A 12 string acoustic guitar offers basic electrical features like a built-in tuner as an EQ port for plugging into an amplifier.
A 12 string acoustic guitar with advanced electric features has a dial for controlling the tone and special effects. In simple words, it depends on your style and preferences to decide whether you should buy an electric acoustic guitar or not.
Price and Warranty
Price is the most important thing to make the right decision. Remember, an expensive guitar doesn't mean the best guitar. Consider your needs before you make a choice. Proper research can help to find the best budget 12 string acoustic guitar on the market.
Commonly manufacturers offer a 1-year warranty with their guitars. However, some also provide 5 years warranty and a separate warranty for their parts. It is better to check for the warranty before you make a decision.
Conclusion
12 string acoustic guitars are extremely popular for their versatile sound and extraordinary features. They are an ideal option for performance and rhythm players. To be honest, 12 string acoustic guitars are not made for beginners as they need excellent wrist and hard finger tricks. There are different guitars made for producing unique and vibrant sounds. It depends on your playing style, budget, and price to select the best 12 string acoustic guitar.