The best guitar amps can bring your flat guitar to life by improving its dull sound to an exceptionally clear and loud tone. On the contrary, no matter how good acoustic guitar you are using, a bad amp can covert its beautiful sound into a lifeless piece of wood. Whether you are a professional, intermediate, or beginner guitar player, finding the best acoustic guitar amp is equally essential for all. Do you think it is easy to find the best amp for your acoustic guitar? If you think so, you are damn right because we are going to share the best acoustic guitar amp with you. As far as our selection is concerned, you can trust us as we have selected these acoustic guitar amps based on their brands, real customer reviews on Amazon, price, and above all, versatile nature.
Best Acoustic Guitar Amps for 2021
1. Fender Acoustasonic 15 Watt – Best Acoustic Amp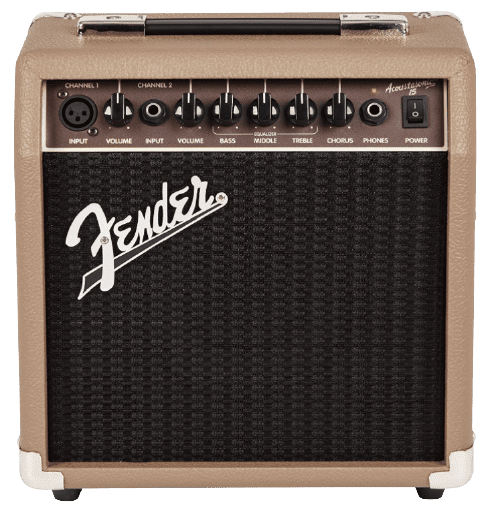 If you are looking for the best acoustic guitar amp with impressive volume, Acoustasonic 15 is made for you. With its compact and sturdy manufacturing, this is a perfect pick for an on-the-go musical experience. It comes with a 6-inch speaker and offers impressive volume for its size. The design is so simple and flexible that even beginners can comfortably use it.
This small acoustic guitar amp features a dual front panel, an XLR input for a microphone, and a ¼ inch for instruments. Such options also make it accessible to the duos, and its 6-inch speaker is an excellent gift for small gigs.
The design is compact and makes it easy to carry and store. In fact, it is one of the best portable acoustic guitar amps on the market. The 15 Watts of sound is ideal for its size with excellent control over the frequency range and can quickly fill up the room.
Though it is made for advanced musicians, beginners can use it due to its ease in use. If you prefer the silent practice, the headphone jack makes it the best choice for your practice. If you are worried about the damage or other issues, you can avail yourself of the Fender's 5-year transferable warranty.
Perfectly portable
Molded Plastic Strap with Nickel-Plated Caps
6" Fender Special Design speaker
Two channels with individual volume control
Built-in chorus effect
Not recommended for large places
2. Vango 40 Watt Portable Acoustic Guitar Amplifier – Best Guitar Amp Under $200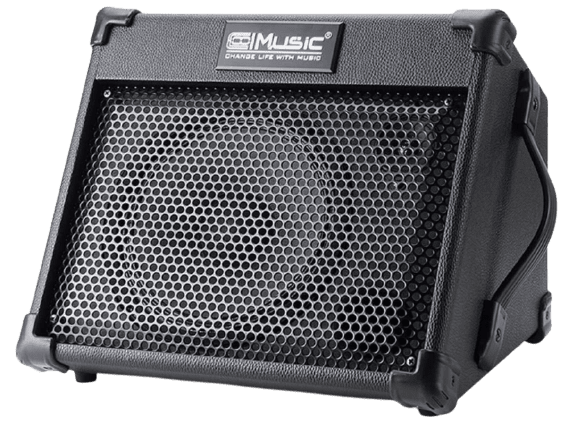 Vango brand is a new guitar brand that was established in 2017. Manufactured from 15-ply quality high-density wood, the amplifier offers the best match for the best resonance. This durable wood not only improves the sturdiness but also the portability of the amp.
When it comes to the best budget acoustic guitar amplifier, Vangoa is the best choice for all music lovers. This is a 3-channel portable amp that can be used for keys, guitar, and bass performances. It can easily handle a decent amount of power with its 40 watts dual speakers.
Besides its compact size with ultra-lightweight, the amp offers the best resonance. Its irregular trapezoid provides ample inner space for high resonance as compared to the conventional rectangle.
The 8-inch woofer comes with a 1.8-inch tweeter to improve the acoustic guitar sound. A unique high wave purity circuit enhances the reduction of the sound source and enhances the overall performance.
It comes with various onboard effects like treble, bass, and reverb. The built-in Bluetooth 3.0 ensures secure connectivity to enjoy music and also adds in more musical accompaniments. One of the best things about the acoustic guitar amp is its rechargeable battery performance. A single charge offers to use it for 8-10 hours.
Lightweight and compact design
Excellent sound with a full, natural tone
3 Channels with Independent Controls
Built-in Bluetooth & USB Connectivity
Long battery time
3. Fishman Loudbox Mini Limited Edition Acoustic Guitar Amplifier – Best Mini Guitar Amplifier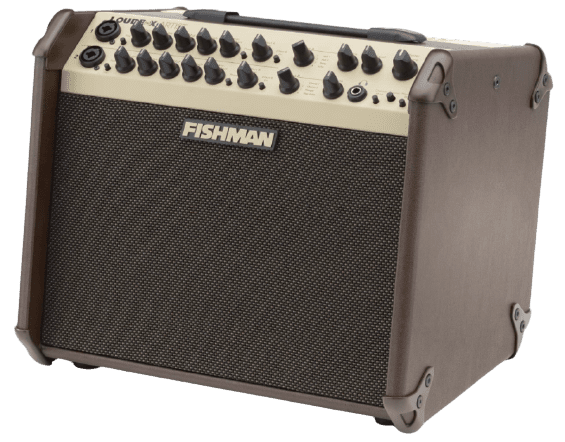 If you are looking for the best acoustic amp for practice, gigging and recording, Fishman Loudbox Mini Limited Edition Acoustic Guitar Amp is your perfect match. This all-in-one mini-sized amp is very comfortable to carry around and store.
It comes with two channels for a mic and an instrument. The amp also has 3-band instrument EQ(low, mid, and high tone) along with the 2-band microphone EQ (low and high tone controls).
One of the notable features of this mini-sized amp is the Digital reverb with the chorus effects. The feedback-fighting features prevent any feedback disturbance during the performance.
This 60-watt amp offers a pretty powerful sound that is a decent choice for small and medium-sized hall performances. Don't get fooled with its mini size as it can produce a bright crystal tone for recordings.
Other notable features include an AUX input with the balanced XLR D.I. output. Its mini-size makes the amp an ideal choice for traveler musicians that suffer from carrying instruments.
Lightweight and portable
Best amp for traveling
Digital reverb and chorus
XLR input for dynamic microphones
Feedback-fighting Phase switch
4. Fender Acoustasonic 90 – 90 Watt Acoustic Guitar Amplifier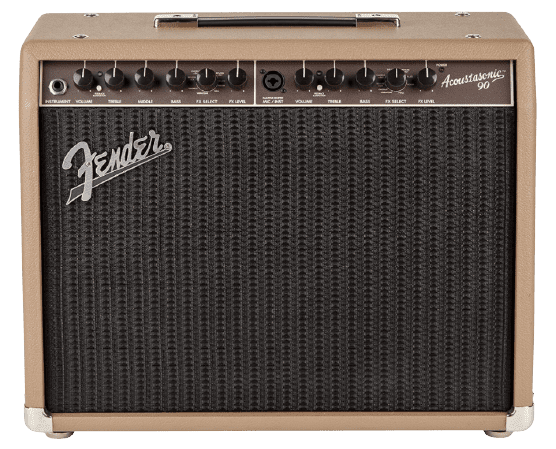 When it comes to guitar and other top musical instruments, Fender is one of the best in the business. Since 1946, the brand has produced some of the very best acoustic guitars on the market. This Fender Acoustasonic 90- 90 Watt Acoustic Guitar Amplifier is a lightweight, affordable, compact, but powerful amplification. Featuring 90 Watt power amp with a low-frequency woofer and high-frequency tweeter, the amp is an ideal combination of performance and design.
Notable features such as the smart feedback elimination circuit, lush special effects along with the XLR inputs and outputs make it an excellent choice for studio or stage performance.
With its 18 lbs of weight, it can produce a good sound. Most of the time, performance is held in a small room, but this best acoustic guitar amp can be a great performer for both small and big rooms. Its bright, warm, and clean sound is simply amazing.
This Fender guitar amp also comes with some classic onboard effects such as vibratone, reverb, chorus, delay, and more. You can easily carry and store it even in compact spaces. This reliable acoustic guitar amp is manufactured with a rugged five-ply hardwood, which not only cuts the cabinet down for the reverberation but also offers a solid tone.
Also, you can plug both an acoustic guitar and a microphone into the Acoustasonic 90 amp. This 2-channel amp offers independent control over each input. So you can balance the guitar and vocal perfectly. You will love the balanced XLR direct-out when playing on bigger stages.
Other notable features include optional two-button effects, brown textured vinyl covering, and the Fender cosmetic treatment along with the chrome hardware.
Portable and lightweight amp
Best for small and big places
2-channel input
Smart feedback elimination circuit
5 Year Transferable Warranty
5. Yamaha THR5 Mini Acoustic Guitar Amplifier – Best Portable Amp for Guitar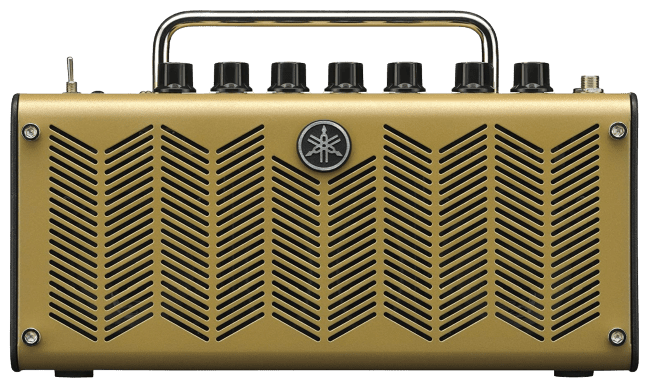 Yamaha THR% is a modern amp that comes with an authentic vintage style case. This best acoustic guitar amp is an ideal choice for silent practice. It can easily simulate different classic amplifier sounds.
There is a master-level tone control on the top panel. It features a single ¼ inches instrument jack, an aux input, and ¼ inches phone input. This portable amp stimulates clean, lead, crunch, Brit hi, and modern styles.
The THR5 effects are controlled excitingly. There is a single knob to control the level of the specific effect depending on its positing. So, the flanger, chorus, tremolo, and phaser are controlled from the very same knob. To control the delay and reverb, you have to use the second knob.
The style is a perfect combination of modern and vintage effects. Also, there is a built-in digital tuner to help you during performances. Whether you are brainstorming with your band, warming up backstage, or jamming around the campfire, this is the best portable for guitar and it will never disappoint you.
Four mic simulations
Built-in tuner
Tone and volume controls
Vintage design
USB computer interface
6. Roland MICRO CUBE GX Portable 3-Watt Guitar Amplifier – Best Portable Guitar Amp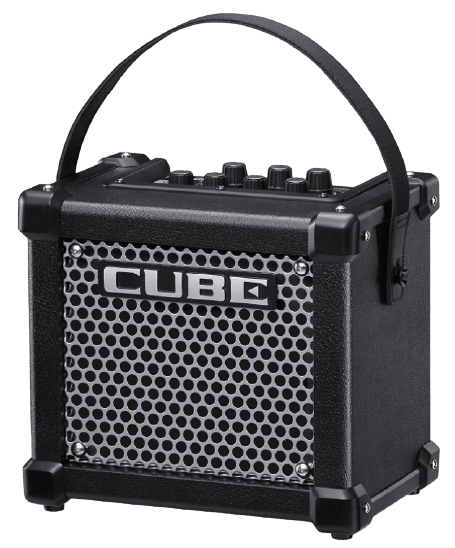 One of the smallest acoustic guitar amplifiers on the market with only 7 lbs of weight, Roland's Battery Powered Portable Guitar Amp, is best for every system. This 5W battery-powered guitar amplifier used 6 AA batteries. With such decent battery power, you can enjoy up to 15 hours of continuous playing.
The 2-channel amp comes with a mic input, an aux stereo input, and a guitar input. These three have different volume control along with the master reverb and the tone.
Its 40 Watt power is enough for your needs. You can enjoy it in various situations like practice, performance, live, solo, and studio. Do you know this is the top-selling amp for nearly 10 years? This tiny-sized guitar amp has some notable improvements that include an increased output power, a chromatic tuner, i-CUBE LINK, and a MEMORY function to help to save your favorite settings.
The built-in audio interface allows you to work with music apps on your iPod, iPad, and iPhone. Remember, this amp works best with Polaroid AA batteries.
Ultra-compact guitar amp
Eight DSP effect
Simple audio interfacing
MEMORY function
Built-in audio interface
Not for professional users
7. Fender Mustang I V2 Amplifier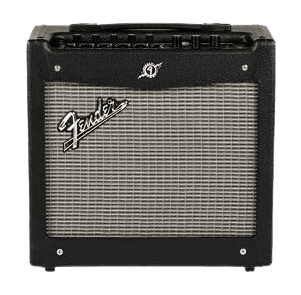 This reliable acoustic guitar amp has been on the market for some time. In fact, it was one of the most famous amps in 2019. This is the smallest amp in the Mustang series that can help to save a lot of space.
It comes with different knob-driven control. There is a specific knob for each purpose. For instance, you will find a dedicated knob for gain, volume, treble, and bass with a master volume. For the user's convenience, the manufacturer has added LED lightings.
This model has 24 presents and 2 band EQ sections. Also, the integrated chromatic tuner improves the user's experience. When it comes to connectivity, this versatile acoustic guitar amp features a UBS port, an aux input, and a headphone jack.
The sound of the amp is simply amazing. Its 20 Watts power is good enough to produce loud sound with high-quality clarity. Overall, this amp is an affordable option for beginners.
8" Fender Special Design speaker
Easy USB connectivity
Built-in effects
5 Year Transferable Warranty
The amazingly versatile and powerful little amp
8. Peavey Vypyr VIP 1 Guitar Modeling Amp – Best Acoustic Amp For The Money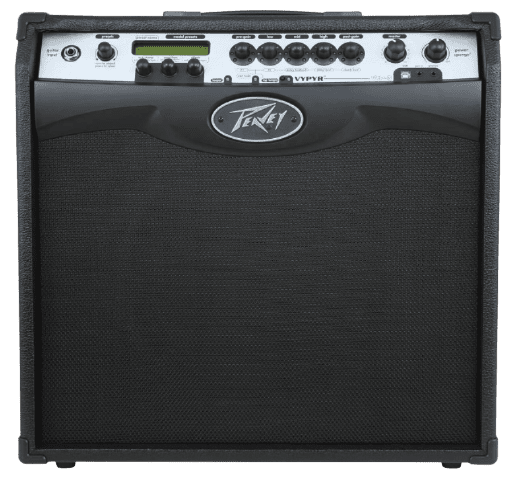 If you are looking for a versatile acoustic guitar amp that can be used with both acoustic and bass guitars, Peavey Vypyr VIP 1 Guitar Modeling Amp is a perfect match for your needs. This Peavey model comes with an appealing and lightweight body. From bedroom practice to stage performances, this amp can be your best friend.
There is a silver plate on the top that has numerous features like a built-in auxiliary tuner, bi-directional USB input, an onboard looper, headphone input, and a chromatic tuner. Also, Sanpera foot control is added by the manufacturer to switch between the effects.
But you have to admire the manufacturer's effort to craft this classy amp with versatile features. It has 32-bit, floating-point SHARC processors that work with a Transtube analog circuitry. It produces the best audio results on one side, and on the other side, the acoustic guitar sound will be loud and clear. Not only this, it comes with 4 effects simultaneously.
If you are aiming to form a band soon, this amp can help you a lot. This versatile acoustic amp works great with multiple instruments. Another best thing about this amp is its affordable price.
Patented TransTube technology
Bass guitar Simulation
Acoustically ported semi-closed back
Acoustic guitar simulation
9. Peavey Ecoustic E20 Acoustic Amp Combo – Best Amp For Taylor Acoustic Guitar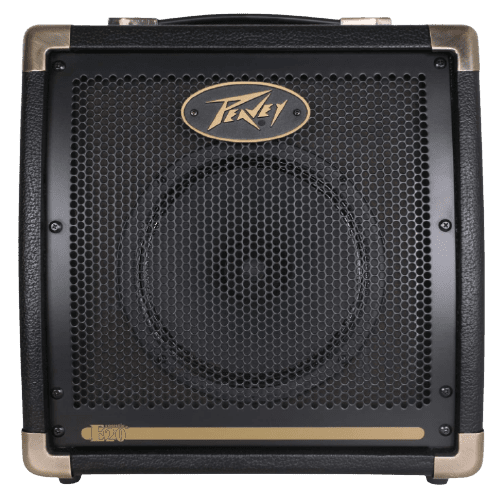 This acoustic guitar amplifier on our list is amongst the most durable and reliable amps available on the market. The Peavey Ecoustic E20 is specially designed to last for a long time. This heavy-duty amp is visually pleasing and comes with a sturdy black covering.
It comes with a decent control panel packed with two sections. Each section is dedicated to a separate channel, which makes it easy to use even for beginners. The amp also features ¼ inches input for acoustic guitar, an ICE mains connector, and single headphone input for monitoring.
20-Watt power is an ideal choice for both beginners and intermediate users and if you own a Taylor acoustic guitar, it can be the perfect combination for you as a beginner. The loud and clear audio is simply amazing to fill up a large room.
If you are looking for a guitar amp with exceptional sound but don't want to invest a high amount, go with the Ecoustic by Peavy. Though its 8 inches speaker is not good enough for more substantial spaces but can be a perfect pick for small to medium rooms.
8 inch extended range speaker
2-band EQ per channel
Headphone out
Two separate channels
Great sound quality
Recommended for practice only
10. CALIFORNIA TONE RESEARCH SET5 Single End Tube Guitar Amplifier
This is an excellent acoustic amp that is made for jazz, blues, and surf rock. It has a 12AX& preamp tube with an EL84 power tube subjected to a single compact amp with crystal bright tone and clarity. Its unique and sleek design makes it easy to carry and store during traveling.
The 8-inch powerful speaker is designed for highlighting the tones of a single-coil pickup. The super-strong amp features the control knobs for volume, bass, and treble. You don't need to mess with all types of buttons and switches. All you need is to plug in and enjoy your music.
The durable construction of Set 5 is the combination of fiberglass and ceramic sockets. The high volume sounds are very impressive with a small tube breakup. Whether you are using it for practice or in the studio, this is the best performance amp you can find on the market.
The amp comes with two-color options that include black and red. Its all-tube design, along with a simple 3-knob configuration, offers a warm and bright tone even at a high level.
Perfect for Jazz, Blues, or Surf's Rock
Single End Tripod design
All Tube Guitar Amplifier
5 Watts of Pure Class A power
Compact and lightweight
May create some buzzing sound
Best Acoustic Guitar Amplifier Buying Guide
Before making a decision and buying an acoustic guitar amp, it is essential to pay attention to the crucial aspects. Though these aspects may seem unnecessary, but they can help to make the right decision in choosing the best acoustic guitar amp. Take a look at some of these critical aspects.
Types of Acoustic Guitar Amps
There are two types of acoustic guitar amps on the market that includes the solid-state and tube.
Solid-state Amplifiers: The solid-state amplifiers are generally reliable due to their ability to amplify the natural representation of a signal. In fact, these features make them famous.
Tube Amps: Whereas the tube amps offer warm output, but they need proper maintenance. This is due to the reason that you have to replace the tubes after some time.
Channels
Channels are the most crucial part of the guitar amp. If you are a new player, then you should know that a one-channel amp allows various plugin guitars or vocal microphones. An amp with independent Eqs and controls offers numerous advantages.
Wattage
Amps are available in different wattages. 1 to 30-watt amp is considered as small, 30-60 watts are categorized in the midsized group, and 60+ watts are known as large amps. Don't buy the large ones as they are costly and made for professional users. Consider your needs first and then make a decision.
Onboard Effects
If your acoustic guitar amp has high-quality built-in effects, it can be great for various reasons. You don't need to add different external accessories to produce the desired sound, as these built-in effects can do it for you.
Sound
How can you forget the importance of sound when buying an acoustic guitar amp? The best thing is to take help from videos where experts share their experiences while practicing the amps. Some of them can be very handy for helping you make the decision. Consider how the sound of the amp is before buying it.
Inputs
One of the best features of acoustic guitar amps is they have different inputs. The most popular type of inputs is ¼ inch connectors for instruments and XLR connectors for microphones.
Playing Style
Choosing an acoustic guitar amp that suits your playing style is one of the crucial aspects everyone should consider. For instance, some players are good with fingerstyle, while others prefer the pick-picker style. In both playing styles, it is essential to know how much power you will need to play it. For example, the well-designed acoustic amp features an input sensitivity control to adjust the audio according to your needs.
Conclusion
Acoustic guitar amps are essential for both beginners and experts. But most people buy amps without considering important aspects like their playing style. Buying an acoustic amp may be a simple task, but finding the best acoustic guitar amp for your needs is a bit tricky task. We have shared these best guitar amps available on the market. From mini to large, from practice to giggling, these best acoustic guitar amps can be your best partner.
When you have selected the best acoustic guitar amplifier, now is the time to learn How to Amplify an Acoustic Guitar.