Whether you are looking for the best acoustic guitar kit to meet your taste or maybe you want to save some money, right? The reasons may be so many, but before you make a final decision, you need to ask yourself some questions. For instance, your budget, the brand, your needs, and finally, user ratings all matters in making the final decision. There are many reputable brands offering some excellent acoustic guitar kits. But, selecting the best one from the market can be hell of a task. From expensive to best budget, from beginner to expert, we have created this 10 best acoustic guitar kit list for your convenience.
Best Acoustic Guitar Kit For 2021
1. Best Choice Products Beginner Acoustic Guitar Starter Kits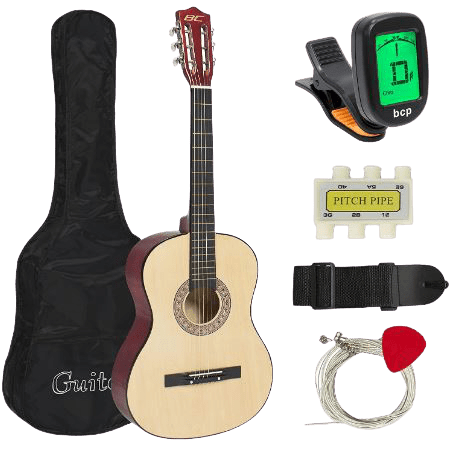 One of the best acoustic guitar kits for beginners, this set comes with an acoustic guitar. Featuring an all-wood body, steel strings, synthetic wood fretboard along with classical guitar shape, it offers a bright sound with every strum. It is an ideal choice for beginners that include a guitar pick, pitch pipe, shoulder strap, digital tuners, and also an additional set of 6 strings.
The classical guitar body combines with the user-friendly fretboard to help to create a crystal clear sound that both experienced and beginners' musicians can enjoy. This musical instrument also has 19 frets. The 38-inch long acoustic guitar is an excellent choice for right-hand players.
The package includes an acoustic guitar, pitch pipe, nylon case (waterproof), digital tuner, guitar pick, shoulder strap, and replacement strings.
All Wood Design
Classic Appearance
User-Friendly Design
High-Quality Sound
Comes With A Nylon Case
2. Yamaha FS800 Solid Top Small Body Acoustic Guitar Kit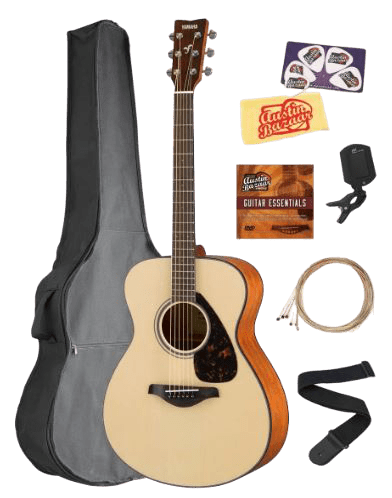 This new acoustic guitar by Yamaha offers a traditional and straightforward look with excellent quality. The FS800 comes with a solid-top and authentic sound that is well balanced. Thanks to the new scalloped bracing design that adds to the durability of the guitar. In fact, this is one of the best acoustic guitars for beginners. Featuring a small and thin body, this is the perfect gift for beginners and also upper-level finger-picking style players.
This all-in-one solution saves you from the hassle. There is an easy-to-use clip-on tuner to keep the instrument in tune. Also, there is a strap for those players who love to play while standing up. A gig bag can hold the instrument safely packed while traveling.
Other handy accessories in this acoustic guitar kit include picks, an instructional DVD, and a cleaning cloth.
Best For Beginners
Small Body Style
Newly Developed Scalloped Bracing
Affordable Price
Solid Instrument
3. Ibanez 6 String Acoustic Guitar Pack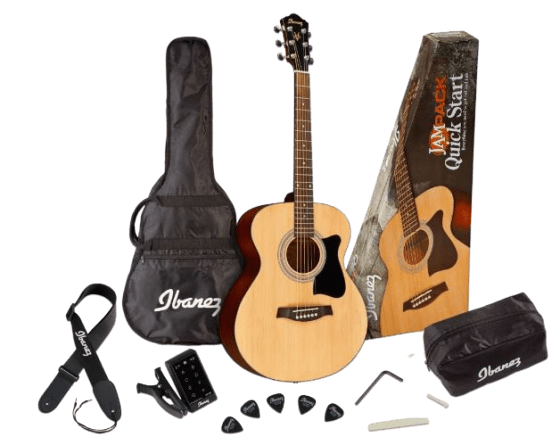 A top pick of experienced guitarists, Ibanez is one of the best rock guitar brands on the market. Though it may not win the best design award, it is a simple, clean, and elegant instrument. It features a dreadnought body shape along with a laminated spruce top.
The mahogany neck is glued into the body for additional stability. The neck is also equipped with 20 frets and white dot inlays. The guitar comes with a rosewood bridge that has an Ivorex 2 saddle.
When it comes to sound, this best acoustic guitar offers a robust dreadnought resonance along with the minimal fret buzz and a clear, bright tone. Other useful accessories of the guitar kit include a tuner, strap, and a gig bag.
Solid Guitar
Excellent Sound
Best Choice For Beginners
Comes With A Gig Bag
Plastic Saddle
4. Fender Squier Dreadnought Acoustic Guitar Bundle with Gig Bag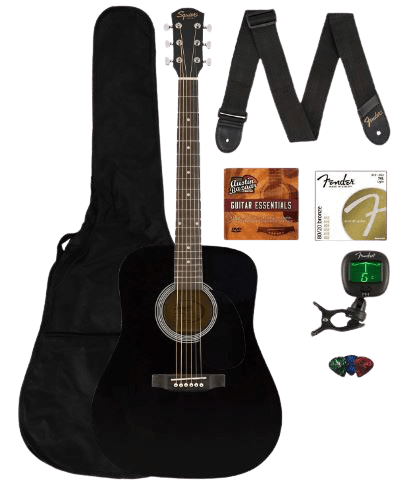 This full-sized steel-string acoustic guitar offers a big sound at a small price. In fact, it is one of the most durable acoustic guitars on the market that can easily withstand everyday use. It comes with all-laminate construction, linden wood top, and mahogany back and sides.
This best acoustic guitar also has scalloped X bracing, durable dark-stained maple fingerboard, and a mahogany neck to give you the instrument that not only looks well but also sounds perfect. Featuring a slim, easy to play beck along with the full-bodied dreadnought tone, this acoustic guitar is the best choice for all rookie strummers.
Looking at the handy accessories, there is a strap to help you while performing standing up. Also, a gig bag keeps it safe while traveling. Other accessories include a clip-on tuner, picks, and an Austin Bazaar instructional DVD.
Full-Bodied Dreadnought Tone
Solid, Reliable Construction
Comes With An Additional Set Of Strings
Affordable Price
Instructional DVD
5. Fender FA-115 Dreadnought Acoustic Guitar Bundle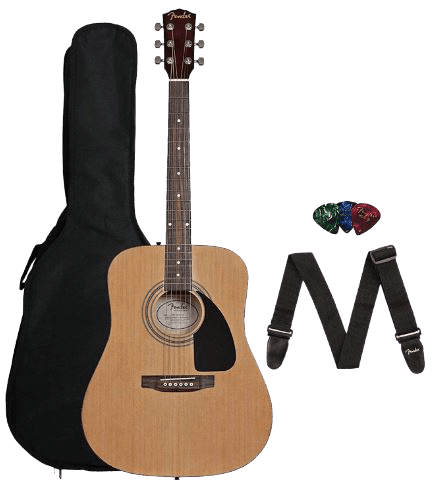 Another masterpiece by Fender that offers an excellent sound, the FA-115 is a famous beginner acoustic guitar. Featuring a spruce top, the guitar has a bright and clear tone. In fact, it is an ideal pick for hard strumming and fast flat-picking. It comes with a dreadnought shape that offers a well-balanced tone and superior low-end projection.
They are best for lead or rhythm work, and also their rounded shoulder provides a comfortable feel for any performance. Everything you need to start playing guitar comes in a single box.
Picks are added to the guitar kit so that you can start playing right out of the box. The gig bag protects your guitar, whereas the tuner keeps the instrument in proper tune. You also get extra strings, a strap, and an Austin Bazaar instructional DVD.
Superior Low-End Projection
Well Balanced Tone
Gigbag
Laminated Mahogany Body
Chrome Finish
Lightweight And Durable
6. Yamaha F325D Dreadnought Acoustic Guitar Bundle with Gig Bag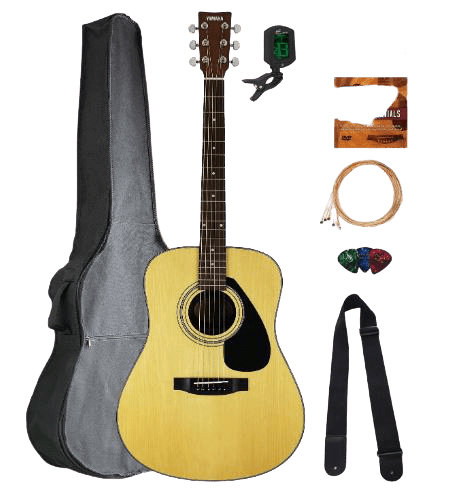 If you are looking for the best budget acoustic guitar, then Yamaha F325D is made for your needs. Featuring a classic dreadnought shape with excellent sound, this best acoustic guitar is the combination of the laminate spruce top, meranti back and sides, and rosewood fingerboard bridge.
The gold die-cast tuners of the instrument offer smooth and accurate tuning. To give it a bit more style, the manufacturer has added a tortoiseshell Pickguard. This is a perfect gift for beginners and students. Another notable feature of the acoustic guitar kit is the chrome tuners.
The neck comes with a rosewood fingerboard and a narrow nato design. As compared to a glossy neck, it is neck is smoother. Other notable features include a clip-on tuner, strap, additional strings, gig bag, Austin Bazaar Instructional DVD, and Austin Bazaar polishing cloth.
Available In Two Colors
Rich Sound
Stays In Tune
Excellent First Guitar
Affordable Price
7. YMC 38″ Coffee Beginner Acoustic Guitar Starter Package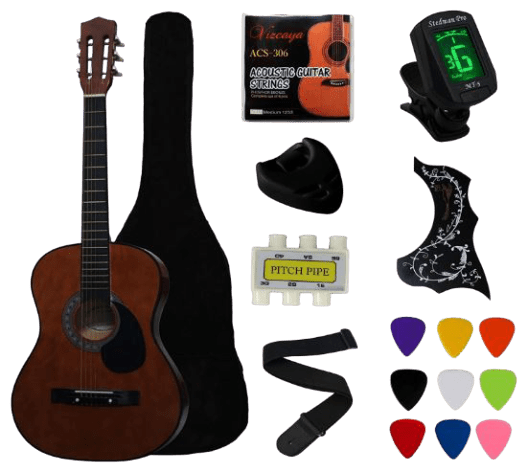 This entry-level guitar comes with a dreadnought body and offers a powerful and crystal clear sound. The best thing about this best acoustic guitar kit is the price that students can easily afford. The excellent sound, decent craftsmanship, budget-friendly price, and additional accessories make it an ideal choice for students and beginners.
Featuring an appealing appearance, the guitar has a complete wood construction. YMC 38″ Coffee Beginner Acoustic Guitar Starter Package comes with a linden binding, maple neck and fretboard, basswood top plus back and sides, and the glossy finish.
The size of the dreadnought is comfortable for beginners. This right-handed also has six steel strings and a set of additional strings for your convenience. Other accessories of the acoustic guitar kit include 2 pickguards, a pick holder, an electronic tuner, a gig bag, extra strings, and 9 pieces of ABS picks.
Decent Wood Construction
An Excellent Choice For Kids
Good Sound
Available In Different Shades
Affordable Price
8. 3/4 Spruce Acoustic Guitar with Advanced Kit – Best Entry Level Acoustic Guitar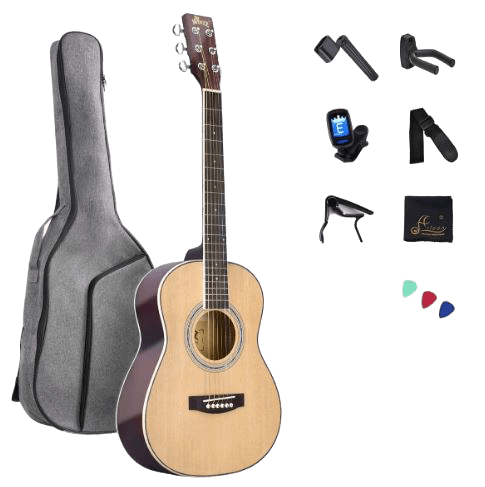 Style, quality, and price, this ¾ Spruce Acoustic guitar is the combination of these three key factors. It is excellent for intermediate musicians. The handcrafted spruce top, along with the X bracing structure, offers a bright and warm tone. This best entry-level acoustic guitar comes with high-quality strings that resonate well balanced acoustic tone while producing a smoother feel that decreases finger squeaks.
The chrome die-cast machine's head helps to keep the strings in tune. Also, the dual-action truss road offers a fine adjustment of the nato neck. The bridge of the guitar is manufactured with high-quality technical wood by hand. Linden plywood has been used in the back and the sides of the guitar. Though the guitar is meant for kids and students intermediate, even experienced guitarists can play it too.
One of the best features of this acoustic guitar is its convenient size, which makes it an ideal choice for travelers. A starter kit includes a clip-on electronic tuner, a high-quality waterproof padded gig bag, a guitar stand, 3 picks, and a clean cloth.
Excellent Craftsmanship
Stays In Tune
Best Sound
Best Choice For Travelers
Affordable Price
9. ARTALL 39 Inch Handmade Solid Wood Acoustic Cutaway Guitar Beginner Kit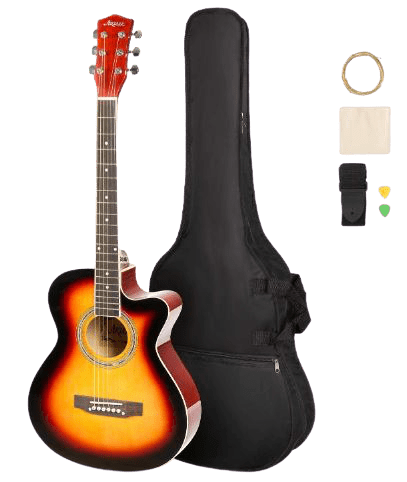 A complete kit for beginners, this Artall Handcrafted Acoustic Cutaway guitar is comfortable to play. Featuring an ingenious and creative shape, this best acoustic guitar comes with 19 inches size that makes it easy for beginners to play this instrument.
The guitar offers a clear, harmonious sound. In fact, the bright sound combines with the elaborate cutaway appearance to add to the great value of the guitar. It has a unique exterior design that comes with a natural, matte finish. The top and back of this reliable instrument are made with handcrafted Linden. It also has black sides with a maple neck, bridge, and fingerboard.
The best thing is that it is easy to tune because it comes with a specialized tuning introduction and E-tuner. This complete starter kit includes a strap, strings, nylon gig bag, and picks.
Solid Construction
Unique Design
Excellent Sound Quality
Compact Size
Affordable Price
10. Winzz 39 inches Classical Guitar with Starter Kit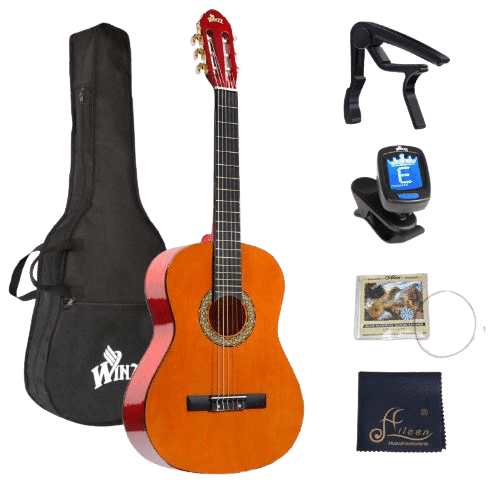 If you are looking for a comfortable and pleasurable playing experience, then this remarkable acoustic guitar kit is made for you. Featuring a solid construction with improved durability, the guitar comes with an ultra-lightweight of only 6.3 lbs, which makes it an excellent choice for beginners. If you want to use a guitar for the long term, then you should go for it.
Equipped with a selected basswood top, back, and size, this compact-sized guitar offers a smooth, warm, and velvety tone. It also has a high gloss varnish with a delicate pattern around the classic soundhole. The nylon strings are ideal for producing a bright and full tone. Also, the dense manmade wood of the bridge adds to the supreme sound of the instrument.
The top has been made with spruce plywood, whereas the sides and backs are constructed with Sapele plywood. This complete acoustic kit includes an E-tuner, an interiorly padded gig bag, a backpack straps capo, a cleaning cloth, and extra strings.
Ultra-Lightweight
Good For Beginners
Nice Rounded Soundhole
Excellent Sound
Unique Appearance
Buying Guide For Best Acoustic Guitar Kit
Every acoustic guitar kit or bundle is different depending on the marketplace and manufacturer. For instance, some kits have many accessories, while others offer limited ones. However, here are some essential things to consider before buying an acoustic guitar kit.
Guitar
Of course, the most essential accessory of all, the guitar, should be selected wisely. The price of every kit reflects the quality of a guitar, as other accessories are not as expensive as this one. In fact, it is your budget that helps you to make the decision to buy the best acoustic guitar kit.
Strap
Another crucial accessory for steel-string acoustic guitar, the strap allows the user to play standing up while providing additional support when sitting down. The straps used in the beginner kits are typically ordinary ones and can be flimsy and cheap in feel. But, they also offer a quick solution, allowing the user to update it to a better strap when you are ready. Remember, a classical guitar kit won't have any strap as the user rarely plays a nylon-stringed guitar while standing up.
Case
Also, every kit comes with a carrying case to store your instrument. It may be in the form of an essential gig bag, a hard-shell case, or a padded case, which is also an excellent solution to store and transport guitar.
Tuner
Typically there is a tuning device with every kit to keep the guitar in proper tune. Some may have a pitch pipe, which is a good option, but it is not as convenient and accurate as a digital tuner. Such digital tuners are available in the form of a clip-on device, which allows you to clip the tuner to the headstock. Electro-acoustic sometimes features built-in tuners into the preamp control.
Instructional DVD
Such DVDs are commonly provided with beginner-focused kits along with the appropriate content changing from brand to brand. Though they are not a type of comprehensive course, they still offer an excellent introduction to the guitar.
Plectrums
An essential and standard addition to the kit, they are cheap and thus offered generously.
Spare strings
You will also find a set of spare strings, which can be handy if you need to replace an individual string.
Polishing Cloth
A must-have cloth to wipe the strings and the body of your guitar, especially when the glossy finish attracts fingerprints. Such clothes are just like plectrums, which are easy to produce.
Capo
Though it may be available with every acoustic guitar kit but, to be honest, it is one useful addition. But capo is made for experienced players that want to change the pitch of their acoustic quickly.
Foot Rest
It is not a common addition and can be seen only with nylon-stringed guitars to support the raised foot when playing in the common classical position.
String Winder
You will find this handy too with classical guitars as it commonly takes a long time to wind nylon strings using your hands.
Stand
Another great addition to acoustic guitar kits, the stand helps to balance your guitar against the wall when you are not using it.
Conclusion
No matter what your skill level or budget is, don't make your decision in a hurry. Try to decide what you actually need and then go for it. Buying an acoustic guitar kit can offer excellent value and convince for both beginners and experienced players.  For instance, accessories like spare strings and plectrums are handy but don't cost much to produce, whereas strap and gig bag are quite basic accessories. Remember, it depends on your needs and budget to buy the best acoustic guitar kit.