When it comes to the smooth, crispy sound of the acoustic guitar, you have to choose the best acoustic guitar strings. The design, material, and gauge all team up with wood vibrations to give your enchanting tone. Though acoustic guitar strings are inexpensive but they are the fundamental aspect of guitar tone. Whether you are looking to buy the best acoustic guitar or replace the old strings with the new one, you need to find the best strings with excellent sound quality. There are many types of strings available on the market. Each string is made to produce a different kind of sound. If you are looking for the best acoustic guitar strings for beginners or professionals, we have covered them for you in this top 10 list having the best acoustic guitar string reviews in the market.
Best Acoustic Guitar Strings Reviews 2021
1. Elixir Strings 80/20 Acoustic Guitar Strings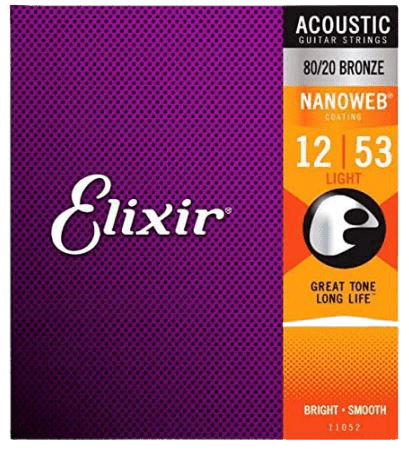 Elixir is one of the reputable brands for musicians. The company has been successfully producing premium acoustic guitar strings for more than 25 years. Elixir was born in 1995 with an experiment that was held on coating guitar strings with the PTFE.
The company is famous for producing high-end music products. In fact, Elixir is one of the brands that took the game to an entirely new platform. The brand has introduced 80/20 acoustic guitar strings. All you need is to put them on your acoustic guitar, and you will love the premium sound for years.
The phenomenon of Polyweb coating was used to produce a quality tone, but something was missing. Most players who were looking for the traditional feel were not satisfied with this coating. Elixir Strings 80/20 Acoustic Guitar Strings come with a nanoweb coating to give you a classic feel.
The type of coating offers a brighter and crispier sound with the same traditional feel. Debris and dirt may affect the appearance, but the sound quality of these strings remains the same for years.
Everyone looks for the outer surface coating, but it is essential to consider the inside of the strings. These best acoustic guitar strings are coated all around to protect the outside but also fill the gaps between the windings. The junk that builds up in these gaps can make your experience worst. These strings feature anti-rust plating, nanoweb coating, and full coating for crispy sound.
Ultra-thin NANOWEB Coating
Anti-Rust Plated
Easy on fingers
Highly durable
Longer Life and Better Sound
2. DR Strings VTA-13 Acoustic Guitar Strings
When we talk about skill, passion, and consistency, there are very brands like DR Strings. The handmade craftsmanship of this best guitar string brand is hard to beat. DR String believes in the old fashioned way as, according to the manufacturer, modern machines are full of flaws.
Dr. Strings produced the Veritas series that is one of the long-lasting acoustic guitar strings you can find on the market. This new range of durable strings was made to last 4X longer than other contemporary strings. Many professionals stated that they use only a single pack of strings to rock up many concerts.
This VTA-13 is a new kind of phosphor bronze acoustic guitar strings that are manufactured for every musician. The accurate core technology has been used to reinforce the core wire and also fill in the imperfections with the whole core.
Overall, these guitar strings offer supreme stability and enhance pitch retention. It's the core wire that is the prime reason behind the premium feel, durability, and above all, accurate tones.
Simply install the VTA-13 set, and you will love the robust and resonant tone of your acoustic guitar. Remember, there is neither coat nor any treatment used on the outer surface of these strings.
Accurate Core Technology
It lasts 4 times longer than other acoustic strings
Superior core wire
Loud and bright
Robust tones with best sustains
3. D'Addario EXP16 Coated Phosphor Bronze Acoustic Guitar Strings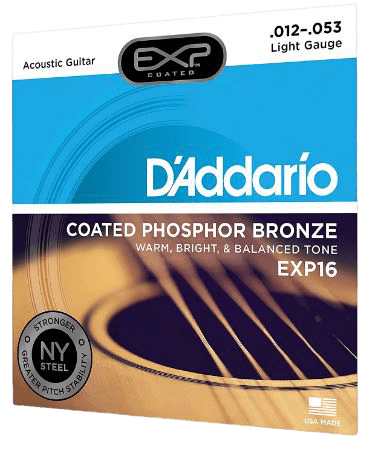 D'Addario is making high-quality guitar strings for all genres, but this is one of the best acoustic guitar strings they have produced. The strings are coated with Phosphor bronze to create a warm note. Overall, they offer good volume with perfect balance and are very easy on playing style.
The strings are made from steel high in carbon. With its durable build quality, EXP16 keeps its tuning and pitch for a long time. These reliable strings are made to be durable and long-lasting.
You may not find them a bit lower than the plain strings as they are coated. But the freshness offered by this strings set is really admirable. A plain string may lose the initial brightness quickly, but coated strings like EXP maintain their basic sound for a long time.
One of the best things about these acoustic guitar strings is that they have natural warmth rather than being too bright. Due to the coating, the strings may feel a bit heavy. But there are various gauges to give you the right feel. Remember, they are not heavy strumming strings but the best option for the more delicate style of play.
Long-lasting Offers natural Warmth
Well constructed
Strong and durable
Great tuning stability
Increased lifespan
4. Ernie Ball 2146 Earthwood Medium Light Acoustic Strings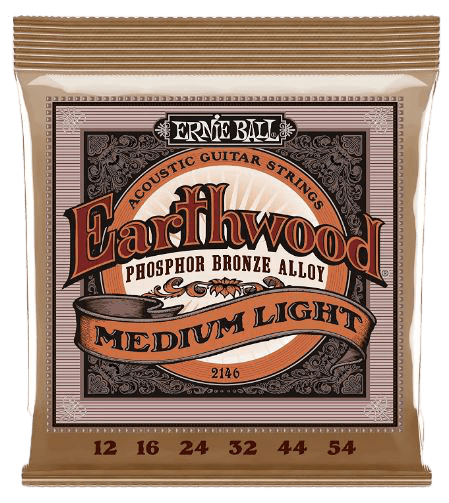 This man from Los Angeles has single-handedly revolutionized the guitar string technology. The repute of this brand is excellent in musicians. The company manufactures different types of high-quality guitar strings.
 Ernie Ball 2146 Earthwood Medium Light Acoustic Strings are made with the wire encased in the Phosphor Bronze wrapping. These strings offer an excellent sound of concert quality along with the bright treble tones at its top end. It is combined with deep resonance for lower frequencies.
Being a light gauge, these strings are very easy and comfortable to play with. Earthwood is one of the great strings that are used by many famous players. Overall, strings feature the best quality with an excellent sound at a very reasonable price.
The core is created from brass plated high carbon steel hex wide that provides excellent durability.
Warm, rich tone
Phosphor Bronze wrap wire
Element shield packing
Superior clarity
Easy on fingers
Concert quality strings
Not recommended for beginners
5. Vibe Acoustic Guitar Strings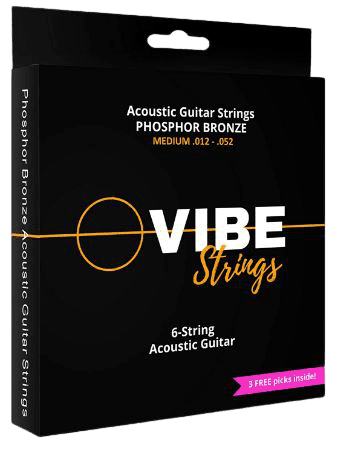 Though Vibe has been in the business for a short period but the strings of the brand are making a tremendous impact on music lovers. They are specially producing premium quality acoustic guitar strings.
This Phosphor Bronze string by Vibe comes with a unique coating. The coating has been applied to prevent unwanted elements like moisture and dust from damaging the guitar sound. The string is made with the round wound Phosphor bronze on the core of its steel.
These strings offer a comfortable feel while playing. The sound is bright and clear with a warm resonance, and they also enjoy a decent level of sustain. One of the best things about this acoustic guitar string set is that they offer great sound from the beginning and don't need a settling down period.
Their medium gauge with the way of construction makes them ideal for the heavier style. They can take some heavy strumming without snapping or detuning. But these strings are not particularly flexible.
Clear and bright sound
Holds tuning
Comfortable play
Premium quality materials
Not recommended to play solo parts
6. Martin Acoustic Guitar Strings (MM12)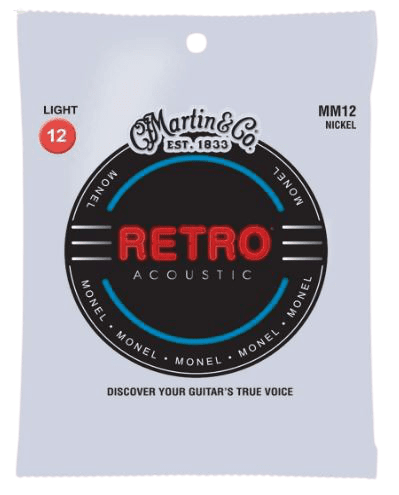 In the 1970s, Martin stopped the production of the nickel alloy acoustic guitar known as Monel. But soon, they realized that there is no proper replacement on the market for the particular sound. So, Martin went back to create the retro version.
Manufactured from the similar nickel alloy, these acoustic guitar strings sound unique to the days past. The set offers a sweet and bright sound to your guitar.
Besides their bright features, they still produce warm and quite mellow sounds. A famous bluegrass player Tony Rice helped in the design of the strings. The string contains various styles of playing, and you can also notice a little extra buzz and possibly quite a bit of twang.
This best acoustic guitar string set was made to cut through, and therefore, you may experience some unnecessary features. You need to handle them with a little care because the strings are lightweight.
Good value for money
Recreating a retro string sound
Warm vintage tone
Lightweight
7. Gibson SAG-MB10 Masterbuilt Premium Phosphor Bronze (Extra Light)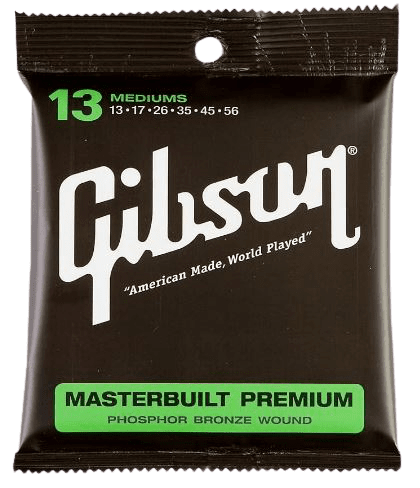 Gibson is another reputable brand in both the electric and acoustic guitar world. These best acoustic electric guitar strings are known for producing high-quality musical instruments. Gibson SAG-MB10 Masterbuilt Premium Phosphor Bronze is the best example of their flawless artisanship.
This ultra-light gauge string by Gibson produces excellent quality sound. If you are looking for clarity and projection, this is the best choice for your acoustic guitar.
The extra light string has undergone Gibson's proprietary Tension Release system that slows winds the strings for the best tone. The Phosphor/bronze-wound strings are made to give your acoustic guitar a bright attack with sustained warmth.
They can also produce excellent sound with other acoustic brands like Martin D8, Ibanez, Takamine, and more.
Ultimate clear sound
The bright and vibrant tone
Easy playability
Versatile strings
8. D'Addario Phosphor Bronze Acoustic Guitar Strings (EJ17)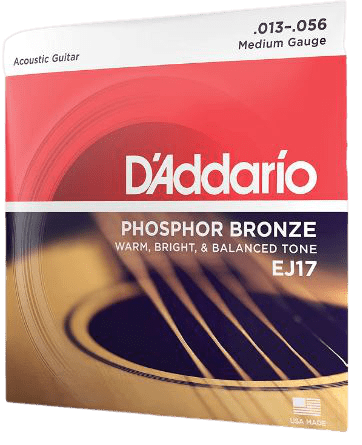 This is another high-quality guitar string with a Phosphor Bronze coating. Though there may be some similarities, but D'Addario EJ17 is heavier than EXP16.
These strings are coated with Phosphor bronze, which has 2 prime effects. First, they can create a warm tone which stays with it for a long time without losing the brightness.
The second is that it makes the string durable and hard-wearing. It means, these strings can last longer than other strings without losing tone. But remember they are also heavier than other strings.
That's why they are used for heavy strumming. They are practically best for blues and folk styles, including finger-picking. Heavier strings also produce extra sound with various style options.
If you like to play loud and use a lot of power chords, then D'Addario Phosphor Bronze Acoustic Guitar Strings are the best choice for you. However, they are less flexible and tough to bend, and there are recommended for experienced players.
Long-lasting span
The warm and well-balanced acoustic tone
Well made
Corrosion-resistant
Inspiring performance
9. Martin Acoustic Guitar Body M540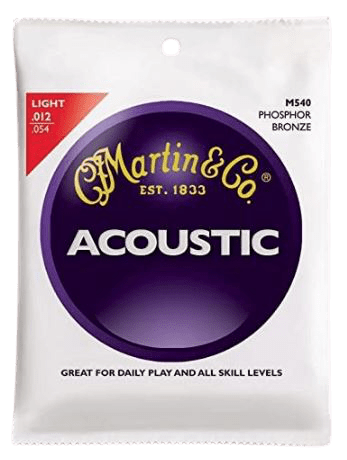 Whether you want to perform live or in a studio, this Phosphor Bronze string is an excellent choice for you. Being bronze alloy-based, you can use them for a long time with less loss of tone.
These strings offer a clear and bright tone with a great response to all styles of music. One of the best features of the M540 is its light gauge, which makes it easy to play. M540 offers a certain level of movement to produce a natural vibrato and also can bend when needed.
Though they may not be as resonant at the bottom end, like other strings, but the sound of these strings is very clear and crisp.
If you are replacing them with coating strings, there may be some difference in feeling and hearing. So, don't expect these strings to produce the same sound. But you can expect the warmth of the tone for a longtime.
Warm and bright natural tone
Quality lightweight string
Smooth playability
Versatile nature
10. Martin MSP6100 SP Acoustic Guitar Strings
Producing advanced machines with excellent quality materials, the Martin family is famous in the music market. This family-owned company is manufacturing different guitar equipment for decades.
MSP6100 SP by Martin is the best choice for those that are looking for a long-lasting, rich tone. With plenty of trust and experience, these best acoustic guitar strings ensure that you are accompanied by the best in the business.
One of the worst enemies that damage your guitar set in sound and appearance is environmental elements. But MSP6100 SP is different from standard strings. This robust pain of guitar strings repels dirt and grit to offer a premium quality long-life jamming experience. You won't even feel the ultra thing dust repelling coating.
From the Avett brothers to Cody Simpson, all professionals believe that Martin's acoustic guitar strings provide unmatchable sound. The strings are designed to last longer so you can enjoy bright and vibrant tones without any issues.
Bright and vibrant tone
Clear tone proprietary technology
Recommended by professionals
Oil and dirt repelling
Ultra-thin coating
You Might Also Want to Read: How To Restring An Acoustic Guitar
How to Find Best Acoustic Guitar Strings
Are you thinking about how to buy guitar strings? Though acoustic guitar strings are cheap, you still should know how to choose acoustic guitar strings to fulfill your needs. Whether you are a beginner or a pro, you should consider the following aspect to enjoy crystal clear sound for a long time.
Gauges
Among many factors to buy guitar strings, the gauge is the most important one. Lighter gauged strings are relevantly easy to fret and bend. Therefore, it is an excellent choice for beginners and fingerstyle players. They are also great for small-bodied guitars like travel acoustic guitars and parlor guitars. For vintage guitars, lighter strings can be ideal as they exert less tension on the neck.
On the other hand, heavier strings are hard to play but can produce a considerable volume with more excellent sustain.
A dreadnought body shape acoustic guitar is made to offer lots of resonance. The type of guitar can achieve a louder sound when combined with medium or heavier gauge strings.
When it comes to the playing style, most strummers choose medium to a heavy set. Though there is no specific standard but here are some commonly found gauges.
A pack of light strings has a gauge of about .012-.054.
A medium pack comes with a gauge of about .13-.56.
A heavy string set features around .14-.059.
There are also extra light gauges and hybrid sets that provide treble strings along with medium bass strings.
Materials
When it comes to tone, string material is significant. Bronze and Phosphor bronze are the two most popular materials used in acoustic guitar strings.
Bronze is referred to as 80/20 bronze because it is made up of 20 percent zinc and 80 percent bronze. These strings offer a bright and crisp sound. But they may lose the sheen and tone quickly as compared to other metals.
Phosphor bronze usually lasts longer than other metals as it is protected from oxidation. They offer a little warmer tone than 80/20 strings.
You will also find nickel bronze (natural and balanced tone), aluminum bronze (clearer and crisper than phosphor bronze), and bras strings (bright and metallic).
The last string is a compound (sometimes called silk and steel), which is handy for softer playing styles.
Coatings
Coatings play a vital role in the feel and sound of the best acoustic guitar strings. Some popular brands like Elixir and D'Addario's EXP range provide ultra-thin coatings to protect the strings from rust, dirt, moisture, and oil. The feature is also handy to increase the lifespan of the acoustic guitar strings.
However, coated guitar strings are expensive than other strings. They can last up to five times longer than others. But you can also find affordable guitar strings to save your money and enjoy high-quality sound.
Best Acoustic Guitar String Brands
Though they have been manufacturing strings since the 1930s but the brand was officially founded in 1974. D'Addario is one of the best and oldest guitar makers in the world. Professional guitar players like Jackie Green, Fats Kaplin, Dave Rawlings, along other popular acoustic bands have played these strings in their performances.
Martin was born in 1833, and still, the brand has excellent repute regarding acoustic guitars. So, it is no surprise that Martin is the best producer of quality guitar strings. Famous artists like Anthony D'Amato, Adam Levy, Porter and Sayles, and the legendary Eric Clapton have used these strings.
When it comes to innovation, this American string brand is one of the top-selling on the market. Established in 1995, Elixir is famous for its coated strings that include POLYWEB and NANOWEB coatings to protect the strings from rust, dirt, and corrosion. According to the brand, their strings can last three to five times more than other strings. The Polyweb coating offers a warmer tone, whereas the ultra-thin Nanoweb produces crisper and bright sound.
Conclusion
Playing an acoustic guitar may be easy but find the best acoustic guitar strings that can last for a long time with the same tone is one tough task. There are many strings, but you have to select the best one for your playing style. Whether you are looking for heavy string or ultra thing strings, don't compromise on the quality.