Just like a car or home, buying an acoustic guitar needs a wise investment plan. Though it is not a significant investment, if appropriately treated, it can last for a lifetime and may be passed onto another generation. An acoustic guitar is not just an instrument but also your best friend, because you are going to spend countless hours with it.
It doesn't mean that the best acoustic guitar should be the most popular or expensive one. But it should be the one that perfectly fits your playing level, playing style, and above all, your lifestyle. From size to specifications and everything in between, there are many things to consider before buying the acoustic guitar. From beginners to experts, we have spent countless days to pick and review the top-rated acoustic guitars for you.
Best Acoustic Guitar Reviews – Best Overall Choice
Markets are loaded with different types of acoustic guitars. But an acoustic guitar is not made for everyone. For instance, playing the guitar with complicated features is very difficult for beginners. On the contrary, intermediate to experts guitarists love to play acoustic guitar with their unique characteristics. Another factor is the guitar price. From cheap to expensive acoustic guitars, you will find different guitars on the market. Again, here the priorities are the prime difference. For learning purposes, there is the best acoustic guitar for beginners, and for intermediate to professionals, there are affordable and high-end acoustic guitars. Let's take a look at these best acoustic guitars.
1. Taylor 114e Acoustic Guitar – Best Acoustic Guitar for Beginners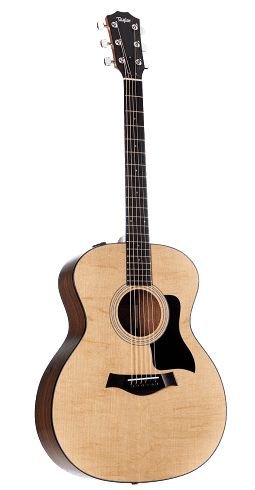 Quick Features
Grand Auditorium Body
Solid Sitka Spruce Top
African ebony Neck
Layered walnut backs and sides
Taylor is one of the most reliable and popular acoustic guitar manufacturers in the world. Taylor 114e is an acoustic-electric guitar that is really simple for beginners to play. Featuring a solid Sitka Spruce Top, layered of walnut back and sides with the forward shift pattern bracing, the soundboard offers a well-balanced and bright tone with excellent projection.
Also, the nut width is narrower as compared to other acoustic guitars. In other words, the strings are placed very close to each other, which makes it easy for beginners to play the guitar.
Another feature is the Grand Auditorium body style. Such a guitar style is ultra-comfortable to play. In fact, it is one of the most versatile acoustic guitars. From light fingerpicking to medium strumming, Taylor 114E is best for beginners to start with.
2. Takamine P3NY Acoustic Guitar – Best Affordable Acoustic Guitar

Quick Features
Solid Sapele Back
A mahogany neck and Rosewood Fingerboard
Natural Satin Finish
Built-in Tuner
The popular acoustic guitar brand Takamine started its business in Japan in the late fifties. Takamine is the first guitar manufacturer to produce acoustic-electric models in the world. Also, the company introduced the preamp-equalizer design in acoustic guitars.
Featuring CT4B ll preamp system along with three-band EQ, built-in chromatic tuner, and volume tuner, the Takamine Pro Series P3NY has a New Yorker body shape. This is the smallest-full-scale guitar by Takamine and one of the most comfortable acoustic guitars to play.
The sound is sweet, bright, and warm enough to make it stand out the instrument on the market. It has a solid cedar top and strong Sapele back. Sapele is also used in the sides, whereas the guitar neck is manufactured from mahogany. The rosewood fingerboard features dot-in-dot inlays. The beautiful satin finish, gold tuners, and amber buttons add to the premium look of the guitar.
3. Martin HD-28 Acoustic Guitar – Best High-End Acoustic Guitar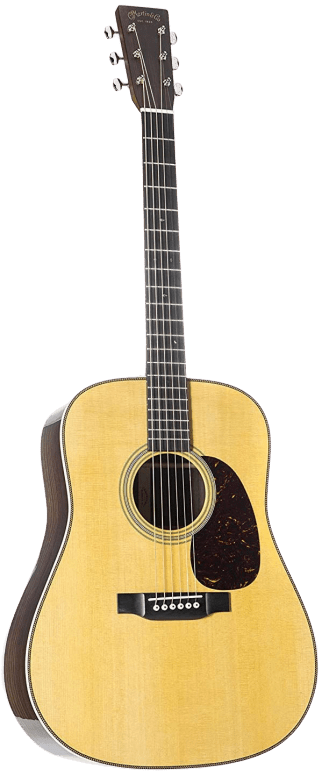 Quick Features
Solid Sitka Spruce Top
Ebony Fingerboard
East Indian Rosewood Back Sides
Scalloped X-bracing
Featuring almost the same specifications like the D-28, the Martin HD-28 has low profile neck, Sitka spruce top, ebony fingerboard, and bridge, forward-shifted X bracing, and East Indian rosewood back and sides. In terms of measurements, both HD-28 and D-28 are twins, which means both have the same feelings.
This high-end acoustic guitar was offered by Martin in the mid-70s. Besides the Herringbone inlays, it also has a tortoiseshell patterned pickguard. Whereas, the D-28 model features simpler striped inlays with a black pickguard.
For vintage appearance, a subtle aging toner top finish has been added to the guitar. When it comes to the sound, the warm, deep tone of the Martine HD-28 is enchanting enough to grab your attention.
It is always wise, to begin with, affordable or cheap guitars. It doesn't mean that such guitars are useless, but they can help to learn and polish your guitar skills. In other words, affordable guitars are made for beginners. These guitars are the decent pick for their playability, comfort, reliability, and sound. We have selected these Best Acoustic Guitars under $100 for beginners.
4. Jasmine S35 Acoustic Guitar

Quick Features
Chrome covered Tuning Machines
Laminated Nato Back and Sides
Rosewood Fretboard
Jasmine is one of the prominent affordable guitar brands offering a range of models for beginners and professionals. Featuring a classic 25.5" scale length dreadnought body which is created from X-braced laminated spruce on its top, paired with the reliable nato back and sides. Nato is also used in the back, capped with a decent smooth rosewood fretboard, twenty frets, and Pearloid dot inlays. This good looking acoustic guitar under $100 comes with a smooth satin finish, sleek playability, and durable manufacturing.
A rosewood bridge is paired at the bottom with the synthetic bone compensated saddle. A set of chrome-covered sealed tuners is present at the headstock to hold tuning firmly.
Jasmine S35 offers a well-balanced tone along with a big and bright projection. Though not made for stage performances but the sound works perfectly fine for beginners and experienced guitarists.
5. Yamaha FG800 Solid Top Acoustic Guitar

Quick Features
Nato Back and Sides
Solid Sitka Spruce Top
Diecast Tuners
Rosewood Fingerboard
Unlike the expensive FG830 model, the Yamaha FG800 is a perfect looking guitar with an uncluttered 25" scale non-cutaway dreadnought body. It is manufactured with a blend of a scalloped-braced solid Sitka spruce and a laminated nato on the back and sides.
It is one of the most comfortable models of the Yamaha. The Yamaha FG800 features a sleek glossy finish, white and black multi-ply binding. The nato made neck is joined at a 14th fret and hand-friendly satin finish.
The premium quality components improve the consistency, reliability, and tone of this best acoustic guitar. The headstock also has a sealed die-cast chrome tuner set, urea nut, a saddle, and a typical rosewood bridge at the bottom.
The sound is extremely loud and resonant, which is an advantage of a dreadnought shaped body. It is slightly thinner in tone as compared to rosewood-backed F830. In simple words, it is one of the best guitars for the money.
6. Yamaha FG820 Solid Top Folk – Best Yahama Acoustic Guitar For The Money

Quick Features
Solid Spruce Top
Traditional western body
Mahogany Back and Sides
Scalloped bracing
Another best guitar for beginners with an excellent tone, superb quality, and comfortable playability, the Yamaha FG820 is a traditional western body style acoustic guitar. This dreadnought has one solid spruce top along with a newly developed scalloped bracing for increased resonance and projection.
Yamaha has used mahogany on the back and sides for a warm and robust sound. Its body sport a decent gloss finish. This best budget acoustic guitar also sports a smooth, matte-finished nato neck that is topped with a rosewood fingerboard.
Other prominent features include a rosewood bridge, 1.69-inch nut width, urea nut and saddle, rosewood headstock overlay, and diecast tuning machines. If you are looking for a reliable acoustic guitar with excellent sound, Yamaha FG820 is made for you.
The sound is rich with just a perfect mix of warmth and brightness. A set of new strings can make the sound even better. Guess what you can find FG820 in many colors like Black, Autumn, Burst, Sunburst, and Natural.
7. Takamine GD20-NS Dreadnought Acoustic Guitar – Best Mid-Range Acoustic guitar
Quick Features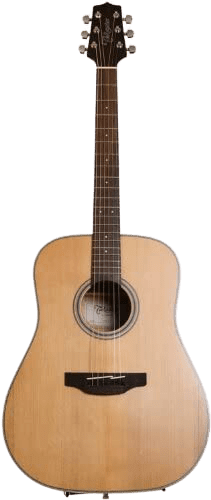 Solid Cedar Top
Slim satin-finish
Split-saddle design
Pin-less rosewood bridge
When it comes to quality acoustic guitars, Takamine needs no introduction. Takamine is famous for producing entry-level and lower mid-range Acoustic guitars. Gd-20 is one of their most successful models. Featuring many innovations, this Takamine model is a combination of a durable cedar top with a mahogany back and sides. The slim mahogany neck with right gripping chords offers deep feelings.
The pin-less rosewood bridge is fitted elegantly with a bone split saddle. Such components are mostly used in expensive acoustic guitars. Also, the nut is made of bone, and its headstock has a set of perfect tuning machines.
After suffering severe issues with the previous GD-330 model, Takamine upgraded the platform and solve the problems. GD-20 is a glaring example of the Takamine efforts for perfection. Featuring a thick cedar top, this newly designed Takamine G-20 acoustic guitar was able to clear the tone along with adding better intonation. Though you can easily find the best acoustic guitars within your budget, guitars like Takamine are rare on the market.
8. Ibanez AW54CEOPN Acoustic Guitar

Quick Features
Solid mahogany top
Dreadnought body with cutaway
Rosewood bridge and Fretboard
Mahogany back and sides
This dark beauty is the best combination of performance, affordability, and premium features. Featuring a classic dreadnought shaped body, this gorgeous acoustic guitar has a single-cutaway and 25.6-inch scale length. The dark brown body and a solid mahogany top are a great addition to such an affordable price range.
The body of AW54CE has an open pore finish that adds to its rustic aesthetics but doesn't make any difference to the guitar sound. The neck joins the body at the 14th fret to keep the mahogany theme going. Other features include classic rosewood Fretboard, simple dot inlays, and 20 frets. For ultra comfort, the neck has a hand-friendly satin finish. Featuring an appealing tortoiseshell pickguard,  this is a simple yet very stylish acoustic guitar with an excellent vintage attraction.
Besides its classic appearance, the guitar is rich with some tech features that are great for both performance and tone. For instance, Fishman Sonic ore pickup with an Ibanez AEQ210TF preamp.
Looking at the sound, the guitar produces a lovely rich tone. With a solid mahogany top and a dreadnought body, there is a great resonance and natural projection. Its all-mahogany construction makes for the warm yet dark tone, which is articulated by the X-bracing.
9. Fender CD-60SCE Acoustic Guitar – Best Entry-level Acoustic Guitar
Quick Features
Mohagany back and sides
Solid spruce top
Dreadnought cutaway body style
Easy-to-play neck
If you are looking for the best beginner acoustic guitar, Fender CD60CS is made for you. Featuring a standard dreadnought body, Fender has tried to keep things simple. This acoustic guitar comes with a scalloped X-bracing and laminated mahogany all-around. With a decent rosewood fretboard and compensated saddle, the CD60CE neck is also a mahogany piece.
Fender has used Fishman Isys lll for this model. You enjoy three-band EQ to work with for tone shaping. There is also a rosewood bridge and a composite saddle. The manufacturer has used a die-cast tuning machine set, which is pretty cool as long as you don't push it outside the comfort zone. Tuning, along with intonation retention, allows you to focus on other important things while playing it.
This Fender acoustic guitar model brings an impressive performance for a laminated cutaway dreadnought. CD60CE offers a balanced tone color with proper warmth and projection. Thus the steady frequency range makes it one of the best acoustic guitars on the market.
10. Gretsch Guitars G5022C Cutaway Acoustic-Electric Guitar
Quick Features
Solid Spruce Top
Mahogany Neck
21-fret rosewood finer wood
Gloss Polyester finish
This modern-day electro-guitar comes with a large body, 25-inch scale length, and a deep Venetian cutaway. Featuring a solid spruce top, G5022CE Rancher features a solid spruce top along with a scalloped X-bracing. Durable laminated flamed maple has been used in the back and sides. Its glossy mahogany neck with the rosewood Fretboard has 21 frets cut.
This beautiful acoustic guitar comes fitted with the Fishman Isys III preamp and the Sonicore under-saddle pickup. It offers pretty simple controls, just bass, volume, treble controls, and a phase switch. Also, there is a built-in digital tuner that helps for stage playing.
If you want a bright and twangy sound, then G5022CE is made for you. It has a vibrant, crisp, and articulates that it is best for fingerstyle and slide guitar. Though it lacks a little lo end this, not a significant problem when plugged in and helps when playing on stage.
11. Martin X Series 00LX1AE Grand Concert Acoustic Electric Guitar
Quick Features
Grand Concert body
Sitka Spruce Top
Optimal resonant tone
Mortise and tenon neck
This Grand Concert guitar by Martine offers exceptional quality and sound. Martin 00LX1AE is an excellent choice for beginners that suffer from guitar handling. It has a solid Strike spruce top with a high-pressure laminate Mahogany back and sides. Some guitarist doesn't like laminate tonewoods, but it has different advantages. The high-pressure laminate tonewoods are very durable and resistant to environmental changes.
The sound of 00LX1AE is simply amazing, with the combination of the solid top plus laminate back and sides. It offers excellent sound projection, just like the dreadnought guitar. But the body of this guitar is lighter than the dreadnought, which makes it easy to handle and play.
One of the best features for beginners is easy playability. The neck is narrower as compared to traditional neck design. It is a 6-string acoustic guitar with a faux tortoise pickguard. The guitar gets better when it is connected to the Fishman Sonitone electronics. Even when you boost the tone strength, the system can easily maintain its natural sound quality.
12. Takamine GD30CE Acoustic-Electric Guitar
Quick Features
Solid Spruce Top
Slim Mahogany Neck
Pin-less Rosewood Bridge
Mahogany back and sides
This dreadnought acoustic guitar with the Venetian-style cutaway design offers easy access to the higher frets. Featuring solid spruce top and mahogany back and sides, this is one of the best acoustic guitars for beginners. The perfect blend of tonewoods gives this guitar a rich sound that can be amplified with the built-in Takamine preamp system.
The slim mahogany neck is specially made for beginners. Its rosewood fingerboard improves the comfort and playability of the guitar. Other notable features include synthetic bone nut, rosewood head cap, slip bridge saddle, pin-less Rosewood Bridge, Pearloid dot inlays, chrome die-cast tuners, and a decent gloss finish.
The guitar has an excellent tone with a sufficient volume, even when it is unplugged. It is just because of the dreadnought shape body. The onboard preamp features a three-band EQ and gains controls.
13. Fender Paramount Series PM-1 Standard Acoustic Guitar
Quick Features
Open-pore mahogany top
Scalloped X-braces
Durable ebony bridge
Deluxe hard-shell case
Fender has been producing affordable acoustic guitars. They have released a new line of guitars around 3 years ago. The Paramount Series offers excellent specs for the money you are spending. Fender usually uses spruce and mahogany in their guitars. The PM-1 is different from typical acoustic guitars. The mahogany top offers excellent texture, which makes it just like a vintage guitar. People love to buy vintage-looking guitars; however, Fender successfully managed to keep the price low.
Typical acoustic guitars featuring solid backs and sides have heavyweight, but PM-1 is lightweight. Due to its lightweight, children and adults can use this guitar. It is because of the open-pore finish. The C-shaped neck with rolled edges makes it ultra-comfortable to hold and play. People with small hands will surely love this feature.
The rosewood fingerboard and mahogany body is a great combination. Another cool feature is the scalloped x-bracing construction that helps to keep the top strong and improves the resonance. One of the prime features of PM-1 is its vintage tuning keys to bring out the purity and fullness of the sound.
14. Fender FA-115 Dreadnought Acoustic Guitar
Quick Features
Gloss finish
Dreadnought body style
20-fret walnut fingerboard
Spruce top
Another masterpiece by Fender with a simple design, FA-100, has a basic soundhole rosette with a black pickguard. This acoustic guitar offers a dreadnought body with a comfortable feel that makes it the best choice for beginners. To keep the cost down, the manufacturer added laminated spruce on its top and basswood on the back and sides. Also, the glossy C-shaped maple neck is cost-effective. Overall the guitar feels really comfortable on all types of hands.
There is a truss rod used in the neck for simple neck adjustments, whereas the headstock is rigged with the chrome sealed tuner set. It helps to hold your tuning secure. To give it a more comfortable feeling and consistent tone, Rosewood Bridge with a nut and synthetic bone compensated saddle is used in the Fender FA-100.
This best-budget acoustic guitar offers a decent projection for the materials, helped by the X bracing, whereas the sound us bright, crispy, and pleasant. For practice, lessons, and campfire performances, you can't find any better option than FA-100.
15. Yamaha L-Series LS6 Concert Size Acoustic-Electric Guitar
Quick Features
5-Ply neck
Acoustic Resonance Enhancement
Rosewood Back and Sides
SRT Zero Impact Pickups
One of the successful series of Yamaha, the L series (L stands for Luxury), was introduced in 2014 with innovative features to increase the comfort level and tone. The LS6 is a small-bodied acoustic guitar with a blend of solid and laminate woods to keep the price in range.
This is one seriously good-looking acoustic guitar with a traditional design and some luxurious appointments like abalone soundhole rosette and gold hardware. It features a small 25.56-inch scale length concert-sized body that is crafted with robust Engelmann spruce on the top. Also, the guitar features a rosewood laminate back and sides.
One of the prime features of this best acoustic guitar under 500 is the Acoustic Resonance Enhancement (A.R.E), which emulates the aging process of solid wood, whereas it also has advanced bracing. Other prominent features include a 5-ply mahogany/rosewood neck, which is thin, stable, sleek, and tapered for a beautiful hand-feel.
This acoustic also features Yamaha's SRT Zero Impact pickup that remains hidden. Another best thing is the solid wood that offers rich, warm, and loud sound. Thanks to the rosewood and spruce combo, with a powerful projection. Besides no onboard controls, the guitar tone sounds quite natural.
16. Yamaha A-Series A3R – Best Acoustic-Electric Guitar
Quick Features
Solid Sitka Spruce Top
Satin mahogany neck
Dreadnought cutaway body
Comes with a soft case
Yamaha's acoustic guitars are best known for their durability, playability, and affordable value. The new A series is produced for both acoustic and amplified applications. Yamaha A-Series A3R Acoustic Electric Guitar comes with a Venetian-style cutaway body and is made with a solid Sitka spruce top. The rosette consists of a decent, interweaved rosewood and mahogany pattern.
One of the most appealing parts of the A3R is its playability. Offering a bright tone that is not bassy, the guitar is designed for acoustic-electric use. The sound is well balanced with a clean bass notes ring. For flat picked bluegrass, it is crisp and conies whereas for fingerstyle, it is warm and pleasant.
Another versatile and impressive feature of this best acoustic guitar is the new SRT (Studio Response Technology) by Yamaha. If you want an acoustic guitar with a decent acoustic tone, best playability, and fully-featured electronics, the Yamaha A3R is an excellent choice for you.
17. Yamaha 6 String Series A3M Cutaway Acoustic-Electric Guitar
Quick Features
Material   Mahogany
Guitar Weight 6.8 pounds
Number of strings 6
Top Material Spruce
No matter what your price range is, Yamaha has produced the best acoustic guitars for everyone. This A3M from A Series offers comfort, power, and excellent sound for gigging guitarists. One of the best features of this extraordinary acoustic guitar is its elegant and attractive design. The dreadnought body size features a 23.65 inches scale length along with a deep cutaway on the treble side. Made from solid wood, including solid Sitka spruce top and solid mahogany on the back and sides, the guitar is equipped with A.R. E (Acoustic Resonance Enhancement) treatment by Yamaha to provide excellent tone.
The mahogany neck is super comfortable with a straight taper and hand-rolled edges located on the rosewood fretboard. Equipped with a matte finish and 19 frets, the body cutaway offers great access to higher frets. There is Yamaha's own Studio Response Technology (S.R.T) system, blending the combination of Piezo pickup and microphone. Yamaha has controlled the preamp with the master volume and typical 3-band EQ (treble, bass, and middle) using a subtle dial on the side of the body. Other notable hardware includes a strong set of sealed die-cast chrome tuners, a urea nut and saddle, an ebony bridge, and a fine set of Elixir coated strings.
From acoustic projection to plugged-in tone, the sound is simply amazing. The combination of solid spruce and solid mahogany offers a well-balanced tone. Overall the tone is full and rich with perfect warmth. There is a soft case for safe storage and portability.
18. Epiphone DR-500MCE Acoustic/Electric Guitar – Best Acoustic Guitar For Money
Quick Features
Slim Mahogany body
Solid Sitka Spruce Top
Slim Tape "D" Profile
ESonic2 preamp technology
Featuring a scale length of 25.5 inches, the Epiphone DR-500MCE is a premium quality acoustic electric guitar made entirely of solid woods. The solid mahogany is used on the back and sides of the guitar. Some best features like the one-piece satin-finished mahogany neck, Slim Taper D profile, 20 medium frets with rosewood Fretboard make it one of the best acoustic guitars on the market.
It is fitted with reliable components, which makes it in good shape. Being an electro-acoustic guitar, it also has an eSonic-2 Stereo preamp, which is excellent for gigging. The guitar comes with a decent control panel, including a phase switch, tone controls for both pickups, and a stereo blend. With a built-in tuner, the guitar is versatile in nature and gives it a great sound.
Offering a robust voice and lovely tone, the DR-500MCE is one of the powerful acoustic guitars. The perfect pairing of Solid Sitka spruce with solid mahogany ensures its sites properly in the middle of bright and warm with decent low end.
19. Taylor 214CE Deluxe Grand Cutaway Acoustic Guitar
Quick Features
Sitka Spruce Top
Layered Rosewood
Cutaway Design
Saddle Neck
Indian Rosewood Binding
With its solid Sitka spruce top and layered rosewood back and sides, this all-purpose acoustic guitar is one of the best Taylor acoustic guitar under $1500. It has an ebony Fretboard, Venetian cutaway, and Italian acrylic mall Diamond Fretboard inlays. Its ultra-lightweight makes it one of the best acoustic portable guitars.
This 214CE DLX is actually an improved version of the standard 214CE model. The layered rosewood of 214CE DLX makes it affordable and resilient too. The guitar's sound may not be complex like the solid-guitars, but its manufacturing makes it more resistant to the temperature and humidity changes. Its tone is extremely clear and balanced because of the layered wood, which is paired with the solid top.
The Taylor 214CE Deluxe body features a lovely gloss finish, whereas the neck has a satin finish that works great for playing. It is also loaded with Expression System 2 electronics with treble, bass and volume controls.
20. Martin 000-15SM Acoustic Guitar
Quick Features
Solid Genuine Mahogany Top
12-fret body design
Morado Fingerboard
Perhaps one of the solid small-bodied acoustic guitars with a similar look of the Martin 000-15M, the 000-15SM, is the improved version of the previous model. With its solid mahogany, the acoustone not only settles in but also improves whenever you play this masterpiece. This mahogany body gives the guitar a warm and powerful sound with lots of projection.
Though a bit expensive to buy, you will never regret your investment in such a quality guitar. This is a 12-fret model with an East Indian rosewood fingerboard. Besides its mahogany top, neck, back, and sides, it also features an abalone inlay of diamonds and squares, faux tortoise pickguard, sued mounted Golden Age tuners, old-style script logo on its head plate and above all, the classic bright finish.
The square-tapered slotted headstock of the guitar's neck adds to the visual appeal. The guitar is overall easy to play, built to last, joy to sing, and simply amazing to hear.
21. Takamine EF341SC Pro Series Dreadnought Acoustic-Electric Guitar
Quick Features
Solid Cedar Top
Maple Back and Sides
Black Gloss Finish
Mahogany Neck
One of the first guitar makers to produce acoustic-electric guitars in the market, Takamine is a well-reputed brand in the market. The EF341SC dreadnought is one of the best acoustic guitars under 1500. From premium quality materials to an onboard electronics, the Takamine acoustic guitar has many appealing features.
With solid cedar top, laminated maple back and sides, mahogany neck, chrome tuners, and rosewood fingerboard, EF341SC, this is the best option to spend your money. It is specially designed for stage performances. Due to its classic appearance and quality features, famous artists like Bruce Springsteen and Jon Bon Jovi consider this guitar as a favorite in their live performances.
The model not only comes with a beautiful tone, but it is effortless to play. Its cutaway design allows quick access to the upper frets. With a stunning gloss black finish, it looks great under the stage lights. Also, the preamp system is simple to use and is perfect to deliver a naturally amplified acoustic sound. Whether plugged or unplugged, E341SC works exceptionally well both on and off the stage.
22. Taylor 314CE Acoustic Guitar
Quick Features
Sitka Spruce Top
Sapele Back and Sides
Ebony Fingerboard
Expression System 2 Electronics
This brand's signature shapes acoustic guitar by Taylor is the most versatile one in this list. From strumming to fingerstyle, this best acoustic guitar will never disappoint you with any playing style. For those who want an all-purpose guitar, Taylor 314CE is the best choice.
Featuring a solid Sitka top, it has a Sapele back and sides. A West African wood Sapele is a highly sustainable and fast-growing used widely in guitar manufacturing. The tonal resemblance of this wood is just like mahogany. Thanks to the higher wood intensity, it has a slightly brighter sound along with more sparkle on its top end.
The combination of the Sapele and Sitka spruce is a consistent and well-balanced tonal output across the spectrum. Genuine African ebony has been used in the Fretboard while the neck is manufactured from the tropical mahogany.
The Venetian cutaway helps in easy access to the highest frets. For the natural amplification, the guitar also has an Expression System 2 along with the behind-the-saddle pickup.
23. Taylor 414CE-R Acoustic Guitar – Best High-End Acoustic Guitar
Quick Features
Sitka Spruce Top
Indian Rosewood Back and Sides
Taylor ES2 Electronics
V-Class Bracing
Another masterpiece by Taylor, the 414CE-R, is a premium acoustic guitar for expert guitarists. The Grand Auditorium body shape and the Venetian cutaway are perfect for easy access to its upper frets. It has solid Sikta Spruce top, ebony fretboard, mahogany neck, and solid ovangkol back and sides.
This Ovangkol hardwood grows in tropical West Africa. The hardwood offers the same tone features as the rosewood. It gives the guitar a striking exotic appearance and also adds to the naturally bright sound. You can also find the rosewood version of the Taylor 414CE-R that utilizes Indian Rosewood for the back and sides.
This best acoustic guitar sports an Expression System 2, a pick up a design that has three pickup sensors. When it comes to the sound, there are only two words for it "simply amazing." Though you have to spend a healthy amount of Taylor 414CE, you will surely enjoy the melodies tone for a lifetime.
24. Martin D-28 Acoustic Guitar
Quick Features
Select Sitka Spruce
East Indian Rosewood
Genuine ebony fingerboard
Limited Lifetime warranty
Martin D-28 is one of the most popular high-end acoustic guitars on the market. Some celebrated musicians of the world like Eric Clapton, Johnny Cash, Body Dylan, and Jimmy Page, along with many others, have used this masterpiece by Martin.
Featuring the solid Sitka spruce top, ebony fingerboard, and bridge, mahogany neck, solid East Indian rosewood back and sides, and fingerboard inlays.
Originally the D-28 was introduced in 1931 and has been modified into various designs to increase sound quality and playability. For example, the reimagined D-28, which was introduced in 2017, has now forward-shifted the X-bracing pattern that helps in more excellent bass response. Also, it gives the guitar a mature sound. Along with the more resonant bass, Martin D-28 has a great tonal balance.
If you want to enjoy it for a lifetime, buy a durable case to protect it.
25. Taylor 714ce Acoustic Guitar
Quick Features
Indian Rosewood Back and Sides
Lutz Spruce Top
Mahogany neck
Taylor ES2 Electronics
Ebony Fingerboard
With its lovely design, Taylor 714CE Grand Auditorium acoustic guitar is just perfect with different playing styles, whether you are into aggressive strumming or mellow fingerpicking. Featuring a soundboard made of Lutz Spruce, the tone of the guitar is really impressive.
Such tonewood takes the excellent qualities of the two and combines with a robust output linked with Adirondack spruce. This is one of the prime reasons why it has impressive sonic horsepower that is characterized by a rich tone and plenty of projection.
Its V-Class bracing is best for optimum volume, sustain, and intonation. Its Lutz Spruce Top is fantastic paired with the Indian rosewood that is used for the back and sides. This best acoustic guitar also features kea binding, tropical mahogany neck, weathered brown pickguard, a Doulas fir herringbone rosette, and West African ebony Fretboard. Last but not least, it is fitted with the Expression System 2 with 3 pickup sensors.
26. Epiphone Hummingbird PRO Acoustic Guitar
Quick Features
Solid Spruce Top
Fishman Sonitone Pickup system
Mahogany Back and Sides
Slim Taper D Profile Neck
This is a reintroduced version of the famous Gibson Hummingbird; the Epiphone Hummingbird Pro is the best acoustic guitar for beginners for various reasons. Besides its classic clean sound, it offers effortless playability.
Epiphone Hummingbird Pro has a solid spruce top along with the laminated select mahogany wood back and sides. For beginner's ease and comfort, there is a D-shaped neck with the Slim Taper profile. These features make the learning chord very easy for beginners.
The guitar is also equipped with the Shadow NanoFlex pickup and Shadow performer preamp. The parallelogram inlays on its rosewood Fretboard are beautiful and serves as an excellent visual aid. It helps the beginners to place their fingers on the Fretboard. Other features include sloped dove wing headstock, pickguard artwork, and the faded cherry burst color.
27. Ovation Celebrity Acoustic-Electric Guitar
Quick Features
Quilted Maple Top
Mid Depth Lyrachord Cutaway Body
Rosewood Fingerboard
Chrome Hardware
The striking appearance of the Celebrity Elite Plus CE44P-TGE model is awe-inspiring. The exclusive design includes the various sound holes on the top of this Ovation guitar. Such design allows it to produce a well-balanced bass response with focused lows and extremely clear highs.
Another prime feature is its stunning transparent Tiger Eye finish. The Ivory white binding gives it an elegant contrast and improves the guitar shape. Quilted maple top, rosewood fingerboard and bridge and nato neck with a satin finish are some other notable features of the Ovation Celebrity Acoustic guitar.
The guitar also has a mid-depth body style, which is the typical aspect of the Ovation guitars and improves the tone richness and overall projection. Other features include onboard Ovation Slimline pickup and the OP-4BT preamp system with volume control, a tuner, and the three-band EQ for ideal sound during live performances and recording sessions.
How To Buy The Best Acoustic Guitar – Ultimate Acoustic Guitar Buying Guide
Buying an acoustic guitar is an exciting and unique experience. However, before investing in acoustic guitars, it is vital to consider some essential things. For instance, the music type you play, the features, and, above all, your budget. Don't be fooled by cheap or expensive slogans. Just look at the playability, comfort, and sound of the guitar before you pay for it. Here are some essential things that will surely help you to choose the right guitar.
Difference between Nylon and Steel String Acoustics
Though the steel and nylon string acoustics may look the same at first glance, there are some differences between the two. Nylon strings are mostly used in classical and flamenco acoustics and produce a mellower tone. Classical guitars have a wide neck to offer more space between the strings and feature a short Fretboard as compared to steel-string acoustics. Such type of acoustic guitars has more power and volume with a crisp and cutting tone. They are commonly used in country, rock, and pop and bluegrass music.
On the other hand, nylon strings feel gentle on the fingers. But remember, such strings are not interchangeable on the same instrument. The selection between the steel and nylon string acoustic must be less about how they make fingers feel and more about the music style you want to play. But the decision depends on preferences. It is better to try them before buying an acoustic guitar.
Understanding Shapes and Sizes of Acoustic Guitars
There are different shapes and sizes available in acoustic guitars. The factors have a decent effect on playability and sound. An acoustic guitar with a more significant body produces more resonant sound. On the contrary, small body guitar offers increased comfort and playability. Here are some of the great acoustic body sizes and shapes available on the market.
Dreadnought
Dreadnought is one of the most common acoustic guitar shapes used for all popular music styles. It was initially introduced in 1916 by Martin. This guitar shape has a deep body with a full waist that offers plenty of projection with a big and bright sound.
Jumbo
These are big and boomy guitars with decent resonant space. Such a design helps them to project loudly along with an energetic bottom end.
Auditorium and Grand Auditorium
The auditorium (orchestra) acoustic is a mid-sized guitar featuring body width like a dreadnought but has a small waist. The body type produces a big and bright sound with an ideal treble-bass balance that makes it the best choice for fingerstyle playing.
A grand auditorium (000) also features a smaller waist but has a wide body as compared to a dreadnought. Such acoustic usually has excellent volume and dynamics.
Auditorium, Grand auditorium, and Jumbo are great shapes for 12-string guitars. 12-string acoustic guitars are typical variations that are played like the standard 6-string acoustic.
Concert and Grand Concert
The concert acoustic is a well-balanced and compact guitar that offers an articulate range of the tone with ample but no boomy, low end. They work best when played at fingerstyle or a full strum.
However, the Grand concert (00) acoustics are bigger and provide the same high-end chime but with powerful bass response.
Parlor
Single "0" or Parlor acoustic guitars were popular in the late 19th century. Such types are named because of the old reception rooms or Parlors in which guitars were played. They are slender guitars with small bodies and rounded upper bouts. Such features make them very comfortable and best for fingerpicking. They have a dynamic midrange tone with plenty of warmth and volume.
Mini Acoustics
These types of guitars are considered as the best acoustic guitars for beginners and kids. If you are looking for extra comfort to improve your guitar skills, Mini acoustics is your best friend. Featuring the same shape and sound of the standard acoustic, they have a relevantly short scale.  Beginners can easily hold and move these small scale acoustics.
Types of Tonewoods
Tonewoods are the different varieties of wood with their original sound and tonal properties, which make them the right choices for use in instruments. The weight, firmness, and density of a species of wood aid shape its tone. Each wood has unique variations in color and grains, which contribute to the appearance and feel of an acoustic. Here some of the most common types of tonewoods used for acoustic guitars.
Mahogany
A reasonably dense wood that offers natural compression, Mahogany is commonly combined with spruce tops. Such type of tonewood helps to add depth and fullness to the cutting tone of the spruce. When utilized as a top wood, mahogany can produce a punchier or pronounced midrange.
 Spruce
There are various species of spruce, such as Adirondack, Engelmann, and Sitka. They are the famous tonewoods for the top of steel-string acoustic guitars. Spruce is lightweight but durable, which makes it one of the expensive tonewoods with balanced dynamics and articulate tone.
Cedar
Cedar is a soft yet less dense wood that is highly responsive to a light touch. This is perfect for fingerstyle playing. It is a top choice for the tops of flamenco or classical acoustic guitars.
Walnut
The tonal qualities of Walnut and mahogany are almost the same. When walnut is used in bodies, it adds meat to the midrange with fullness to the bottom end. But, it has more clarity and tightness as compared to mahogany.
Rosewood
Different kinds of rosewood, such as Indian and Brazilian, may be different in appearance and density, but the tonal qualities are the same and highly desired. The back and sides of Rosewood offer complex overtones with extending sustain. Among all the tonewoods, Rosewood produces the strongest bass responses. Granadillo (or Mexican rosewood) and Rosewood, are mostly used for fingerboards and bridges.
Difference between Laminate and Solid Wood
Most acoustic guitars are created of either laminate or layered wood or solid wood or the blend of the two. Premium-grade sold wood is hard to find and made than laminate wood, which is why the wood is costly. The acoustic guitar's top has the most impact on its overall tone. Perhaps this is the reason why most acoustic guitar manufacturers use solid wood top and laminate bodies for best results.
Solid wood offers more luxurious overtones and also sustain that enhances with age. The improvement in tone and resonance is the prime reason why vintage acoustic guitars are famous. The main benefit of using laminate wood is for budgetary and structural purposes. Neither laminate nor solid wood vibrates and produces a dark tone with less volume.
Laminate wood is highly durable and can comfortably withstand the temperature and humidity changes. If you want to travel with your guitar, laminate wood is the best choice for you.
Various acoustic brands use composite wood as a cost-effective and eco-friendly alternative to solid wood for fingerboards and bridges. This wood is the combination of the paper, wood chips, or sawdust that is pressed and bonded with adhesive or resin.
Acoustic-Electric Guitars
There are many acoustic guitars with onboard electronics. These pickup systems are built inside the guitar body. They simply help in live performances and recordings. Such guitars are known as acoustic electric guitars. Piezo pickup is one of the conventional acoustic guitar pickup systems which utilize crystal to translate the string sound, and vibration caused the wood resonance into an electrical sign. A preamp helps to make the signal stronger.
Conclusion
Don't waste your money on buying a guitar that doesn't fit your playstyle and interest. But to be honest, finding the best acoustic guitar can make your teeth sweat. The market is loaded with a variety of models. Remember, it's the playability and sound of the guitar that makes it best. Wasting money on expensive guitars doesn't mean you are going to enjoy it. But the one that fits your needs, playing style and interest, will be your best buddy. From affordable to high-end acoustic guitars, beginners to expert acoustic guitars, we have shared the best possible information about each and every guitar brand. Now it's your turn to buy the best acoustic guitar, after all, it is your choice to make the decision.
Frequently Asked Questions (FAQs)
1. Which is the best acoustic guitar for beginners?
Here are the best acoustic guitars for beginners.
Rogue Starter Acoustic Guitar
Jasmine S35 Acoustic Guitar
Taylor 114e Acoustic Guitar
Oscar Schmidt ODN Dreadnought Acoustic Guitar
Epiphone DR-100 Acoustic Guitar
Epiphone Hummingbird PRO Acoustic Guitar
Ovation Celebrity Acoustic-Electric Guitar
Takamine GD30CE Acoustic-Electric Guitar
2. Is it hard to learn acoustic guitar?
Though it is not really hard to learn acoustic guitar it can be a challenging task for beginners. Some people play acoustic guitar with the fingertips, but you can use picks and thumb picks to play acoustic guitar.
3. Should I learn acoustic guitar before electric?
You should begin with an acoustic guitar as it is hard to play and can make your fingers and hands stronger much more quickly. Yes, you should start with an electric-acoustic guitar because it is easy to play.
4. Which is the easiest guitar to play?
An electric guitar is the easiest guitar to play. The strings are typically thin with low action and therefore, the strings are very easy to press down.
5. What are the top 5 acoustic guitar brands?
Take a look at the top 5 acoustic guitar brands.
Fender
Taylor
Epiphone
Yamaha
Martin & Co