Are you looking to add a new member to your music family? Bing the best acoustic guitar can be overwhelming, especially when you are new to the guitar world. That's why most people like to go with popular acoustic guitar brands, and Fender is, without any doubt, one of the most popular acoustic guitar brands on the market. Since 1946, Fender has been producing high-quality guitars with excellent features at modest prices. Thanks to the unique and innovative design options, you can easily find, from a classic dreadnought to the best fender acoustic guitar for your playing style. To make it convenient for you, we have created a list of the best fender acoustic guitars based on the features, price range, and user reviews.
Best Fender Acoustic Guitars For 2021 Reviews
1. Fender FA-115 Dreadnought Acoustic Guitar – Best Entry Level Acoustic Guitar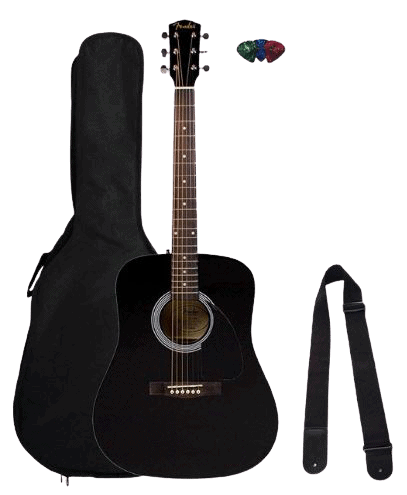 Quick Features
Dreadnought Body Style
Spruce Top With "X"-Bracing.
Hardwood Bridge With Compensated Saddle
20-Fret Walnut Fingerboard
This new entry-level acoustic guitar series by Fender is quite impressive for this price range. If you have heard about the FA-100 acoustic guitar, you can easily understand the features as it is an upgraded model of the predecessor. But still, there are some noteworthy differences between the two models, such as FA-100 has a laminated top but FA-115 features a solid spruce top with X-bracing.
Fender FA-115 is a traditional acoustic guitar featuring a 20-fret fingerboard. The solid spruce top is durable and compliments a variety range of playing styles. This is a prominent leap over the laminated top in this acoustic guitar. It comes with a laminated hardwood fretboard and a nato neck. The guitar also boasts laminated basswood back and sides.
The hardwood bridge of the Fa-115 Bridge sports a compensated saddle. In fact, the best feature of this guitar is a solid spruce top with X bracing. This full-sized 6 string acoustic guitar is specially designed for beginners. Though the top is manufactured from solid spruce, most of the body is made from no-frill materials. Whether you are a beginner or a guitar freak, the narrow neck is ideal for long playing sessions.
When it comes to sound quality, the Fender FA-115 will never disappoint you. There are few guitar brands that are known for their excellence, and Fender is one of the best on the market. In fact, it is the spruce top that offers a bright sound with a dynamic range. A perfect blend of the solid top with dreadnought body style makes for the best acoustics. The mid to upper ranges are strong, loud, and refined. Other notable features include a gig bag, high gloss finish, guitar strap, extra set of strings, and Fender clip-on chromatic tuner.
Best Entry-Level Guitar For Beginners
Comfortable And Easy To Play
Excellent Sound
Durable Build Quality
Comes With A Gig Bag
2. Fender CC-60SCE Concert Acoustic Guitar

Quick Features
Solid Spruce Top With Scalloped "X"-Bracing
Single-Cutaway Concert Body Style
Mahogany Back And Sides
Fishman Low-Profile Pickup/Preamp
The new CC-60SCE is produced to provide beginners an easy-playing acoustic guitar at an affordable price. This concert-size body is an ideal choice for smaller guitarists of those searching for a more manageable shape as compared to the dreadnought. Its solid spruce top helps harmonic vibration along with the clear, bright quality to the sound of the guitar. Featuring a classic appearance, the guitar is available in black and standard natural finish. The neck, back, and sides are all made from mahogany with a 21-fret rosewood fingerboard. The easy-to-play neck shape is super comfortable which is a cross between thin, fast-playing shapes and fuller acoustic necks.
The classic fingerboard features a standard 12-inch radius, whereas the edges are also slightly rolled to improve comfort and playability. A remarkable cutaway offers easy access to play up with the very top of the neck. You will find the scalloped X bracing inside the body to keep the guitar lightweight and also improve the tone and clarity.
Another noteworthy feature of CC060SCE is its Piezo pickup and Fishman preamp along with the onboard EQ. The electric feature allows switching immediately from an unplugged set to an amplified one. Still, it maintains the acoustic tone also, the equalization control and tuner help to dial in the great tone for any gig.
The best Fender acoustic guitar also has a walnut bridge with a compensated saddle, Fender chrome die-cast tuners, and plastic nut to keep the intonation and tuning stable. This model has a strap peg on the upper bout of its body, which means you don't need to tie a strap or drill holes around the headstock.
The sound of the CC060SCE is crisp and clear with decent full surrounding lows and bright highs. The body size makes it an ideal choice for finger-picking because it is a traditional strumming. The electronic pickups maintain the acoustic flavor. Overall the guitar can plat almost any acoustic style.
Excellent Sound Quality
Comes With A Built-In Tuner
Easy To Play Neck
Durable Build Quality
Affordable Price
3. Fender Malibu Classic – California Series Acoustic Guitar – Best Acoustic Guitar for Small Hands

Quick Features
Painted Solid Spruce Top
Fender-Exclusive Malibu Body Shape
Natural Solid Mahogany Back And Sides
Mahogany Neck
Featuring a smaller compact body, this Fender Malibu Classic acoustic guitar is the best for beginners. Easy to hold and balance, this guitar feels comfortable even in long playing sessions. Though an experienced player may not feel appreciate the small body size and the lack of premium quality sound. A simple, no cutaway design provides a decent appearance and style. The Mahogany back and sides are ideal for a deep tone.
This unique body shape by first introduced by Fender in 1965. This updated version comes with a vintage-inspired appearance with modern tonal features. Made for improved resonance and sustain, this best Fender acoustic guitar is made with a solid spruce top, solid mahogany back, and sides for a powerful and well-balanced tone. The Fishman preamp is specially voiced for the California Series body shape with a tuner, phase control, and frequency (treble, bass, and middle).
The matching painted Strat-style 6-in-line headstock comes with a rock and roll attitude of Fender into this acoustic-electric guitar. One of the best features of this instrument is the Slim-Taper "C" shaped mahogany neck. It feels great to electric players and is best for acoustic guitarists looking for a slimmer neck.
With comfortable padded backpack straps, durable and tough outer material, multiple pockets, and a reliable boot for drop protection, the deluxe gig bag offers top-notch protection while traveling.
Excellent Sound When Amplified
Easy To Hold Slim Neck
Unique Body Shape
Deluxe Gig Bag Included
Powerful And Balanced Tone
4. Fender CD-60 Dreadnought Acoustic Guitar – Best Budget Acoustic Guitar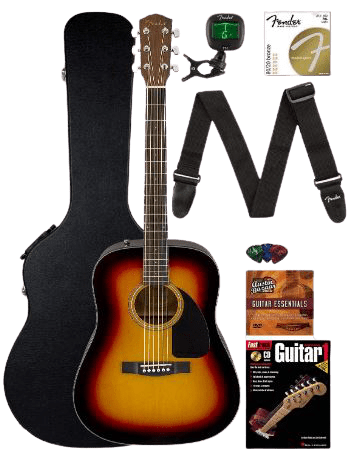 Quick Features
Dreadnought Body Style
Spruce Wood Top
Mahogany, Neck, Back, And Sides
Die-Cast Tuners
If you are looking for an affordable acoustic guitar with easy playability and a high-quality tone, then you should consider Fender CD 60. Featuring a spruce top, mahogany neck, sides and back, scalloped X bracing, and GraphTech NuBone and saddle, this guitar has some quality features that are often available for inexpensive acoustic guitars.
The spruce wood and mahogany are a great combination to produce a well-balanced tone. The scalloped X bracing is lighter than non-scalloped bracing, and thus it allows the soundboard to vibrate more freely. It results in a fuller, more dynamic sound, which is an excellent aspect of this fender acoustic guitar. The mahogany neck is resistant to warping and also has a dual-action truss rod for convenient adjustment.
Sound quality is something you cannot neglect when buying an acoustic guitar. The mahogany back and sides add warmth to the sound, whereas the spruce top provides decent brightness. The laminated wood construction offers crystal clear sounds with a decent amount of sustain.
Another noteworthy feature of this best Fender acoustic guitar is GraphTech NuBone white bridge and white nut. The NuBone has many of the tonal benefits of the bone and also supports tuning stability. This Fender acoustic guitar is available in three different finish options, including natural, sunburst, and black.
The Tone Is Consistent
Available In Three Finishes
Stays In Tune For A Long Period Of Time
Affordable Price
Easy To Hold And Play
Not Recommended For Fingerstyle Playing
5. Fender FA-125 Dreadnought Acoustic Guitar

Quick Features
Laminated Spruce Top
Nato Wood Neck
Walnut Bridge And Fingerboard
Gloss Finish
Yet another stunning acoustic guitar by Fender, The FA-125, is manufactured to provide you the best musical notes. Featuring a sleek neck design combined with bracing at an affordable price, this is a great choice for both beginner and intermediate players. This best Fender guitar features a modern headstock, colorful finishes along with the traditional style inlays; this visually pleasing guitar is a perfect choice for stage players.
The laminated construction makes it a robust instrument and also resistant to creaking from humidity changes. Big and bold sounding, the dreadnought body of Fender FA-125 offers a rich, deep voice with prominent low end and warm mids. The modern 3+3 headstock creates a smooth playing experience and also adds a touch of the traditional style of this acoustic guitar.
The Nato neck comes with a C-shape and rosewood fingerboard, which offers ideal playability. It also has 20 frets that give more tonal options to choose from. One of the great hardware features that improve the playability and performance of the guitar is simple but powerful chrome tunes and a Pickguard.
Thanks to the dreadnought body, spruce, and mahogany combination, the Fender 125 comes with an exceptional sound profile. Last but not least, the gloss finish improves the appearance of this acoustic guitar.
Comfortable Playability
Stunning Traditional Look
Affordable Price
Durable Build Quality
Perfect For Beginners
Not Recommended For Seasoned Guitarists
6. Fender Tim Armstrong Hellcat Acoustic Guitar

Quick Features
Solid Mahogany Top
Scalloped X Bracing
Laminated Mahogany Back and Sides
Fishman Preamp
Featuring a smaller concert body with a 25.3 inches scale length, this great acoustic guitar is more comfortable to hold and play as compared to a dreadnought. With that dark grain, the Hellcat is an all-mahogany guitar with laminated back and side along with solid wood on the top.
The top comes with the scalloped X bracing under the hood, whereas the creaming binding adds protection externally. There is a four-ply tortoiseshell Pickguard along with Tim Armstrong's signature on its truss rod cover. The maple neck is highly playable with a C shape and slender satin finish.
Being electro-acoustic, this signature model features a respected and famous system from Fishman, the Isys lll. This system has an active onboard preamp with a volume and 3-band EQ controls (treble, mids, and bass). The preamp also has a convenient built-in digital tuner, which is great for both beginners and experienced players. Though you don't need to use the set of vintage-style tuners often with aged white plastic buttons as it does a decent job to hold your tuning stable.
The all-mahogany manufacturing with solid top offers a true, rich, and warm tone. Despite the smaller construction, the acoustic projection is best with ample resonance due to the bracing pattern. Using the Fishman system, the tone of the guitar is pretty organic, and also, there is plenty of sound tweaking abilities. For an affordable guitar, such a rich tone is great.
Chrome Hardware Finish
Urea Nut And Saddle
Satin-Finish Maple Neck For Smooth Playability
Consistent Bright Tone
High-Quality Onboard Electronics
Finishing Needs Improvement
7. Fender CP-60s Parlor Acoustic Guitar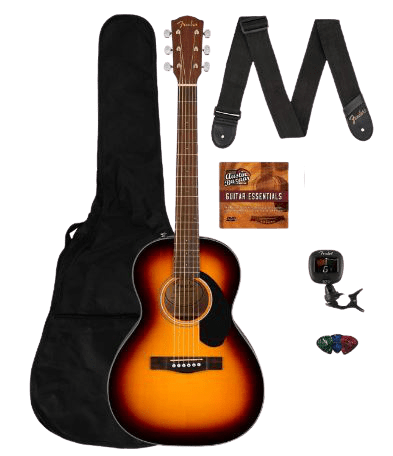 Quick Features
Solid Spruce Top
Laminated Mahogany Back and Sides
Rosewood Bridge
Chrome Die-Cast Tuners
This is a relatively new Fender parlor acoustic guitar that has been produced to replace the CP-100. With various upgraded features, the guitar comes with a surprisingly small price tag. Featuring a solid spruce top complemented by laminate mahogany back and sides, the CP-60s acoustic guitar has an appealing look with a glossy finish and a Pearloid rosette. The guitar is available in either an attractive vintage-style sunburst or a natural finish.
The neck joins the body at the 14th fret and has been created of gloss-finished mahogany along with a rosewood fretboard. Featuring 20 vintage frets, the fretboard is one of the highlighted features of the CP-60S. It sports an easy to play rolled design by Fender to make the playing experience ultra-smooth for both beginner and experienced players.
On the headstock, there is a set of sealed chrome tuners, which is ideal for keeping tuning in check, whereas on the other hand, the rosewood bridge ensures perfect stability. It also comes with a Dura-Tone 80/20 set of Fender Bronze coated strings. However, the nut and saddle are made of plastic, which is the only downfall of the hardware section.
When it comes to sound quality, it follows the trend of newer parlor guitars by offering an excellent tone. Though this best Fender acoustic guitar is not quite on the level like a dreadnought, it surely packs a punch for such a small instrument. There is a strong midrange, but the tone remains tight, focused, and versatile for different playing styles.
Superior Build Quality
Rosewood Bridge
Vibrant Finishes With A Solid Material Construct
Chrome Die-Cast Tuners
Excellent Tone
8. Fender FA-235e Concert Bodied Acoustic Guitar

Quick Features
Flame Maple Top With Mahogany Back And Sides
Walnut Fingerboard And Viking Bridge
All-Laminate Construction
Fishman Electronics
Though Fender is known for making dreadnought guitars, the FA-235E comes with a concert body shape. The entire body of the guitar is fully laminated. The back and sides of the acoustic-electric guitar are created of laminated mahogany. Featuring a nato neck, the guitar is very comfortable to hold and play.
The fretboard and the bridge are made of rosewood. Available in three colors, including the classic natural finish, 3-Tone sunburst, and Moonlight burst, the guitar comes with a fantastic appearance. The comfortable neck features 29 frets along with a GraphTech TUSQ nut and Pearloid Keystone inlays.
Being an electric acoustic guitar, there are onboard controls with bass, treble, and volume for stage-ready amplification. It also features a 3+3 headstock that adds a touch of traditional style to this concert guitar. The sound is exceptionally warm and lively with prominent highs n the trebles. You can easily compare it with high-end guitars from other popular brands like Martine & Gibson.
The built-in tuner also has its own backlight, so you can easily tune the guitar on stage, even in dark conditions. Last but not least, the Walnut Viking style bridge sits perfectly at the base to complete the gorgeous appearance.
Unique Design
Great Value For Money
Suitable For Beginners & Advanced Players
Bright Tone
Striped Ebony Top
Not The Best Tone When Amplified
9. Fender CD-60SCE Dreadnought Acoustic-Electric Guitar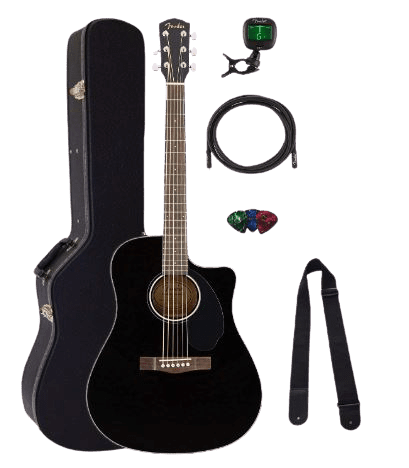 Quick Features
Mahogany Back And Side
Spruce Top
Scalloped "X"-Bracing
Venetian Cutaway Body
With the combination of powerful onboard electronics, build-in tuners, and easy playability, this CS-60SCE is an excellent choice for beginner to intermediate players. Featuring a Venetian-cutaway body for convenient upper-fret access, easy to play neck, a solid spruce top for improving the volume and crisp sound, mahogany back and sides, this best fender acoustic guitar is ideal for the couch, the coffeehouse, or the campfire. The classic dreadnought-style guitar offers better access to upper frets. The choice of solid spruce top, mahogany back and sides, and Fender X-bracing adds maximum resonance to this masterpiece.
The CD-60SCE features a Fishman Isys lll, which is a common system for beginner and intermediate guitars. Other notable electronics include onboard preamp along with chromatic tuners, volume, treble, bass control to allow you basic but ideal control over the sound. Such a system reproduces the acoustic sound without any buzz while maintaining the tone intact.
The guitar looks just as great as its sound, featuring a black finish, chrome tuning knobs, black and white neck, and body binding, above all, a mother of pearl style acrylic design around its soundhole. This Austin bazaar bundle also includes a guitar strap, hardshell case, clip-on digital tuner, guitar strings, guitar picks, an instructional DVD, and polishing cloth.
Full, Rich Sound
Easy To Play
The Neck Is Comfortable To Finger
Low String Action
Switches From Strumming To Fingerpicking Easily
Saddle And Nut Can Come Loose
10. Fender Newporter Player Acoustic Guitar

Quick Features
Solid Spruce Top
Mahogany Neck With Slim-Taper "C"-Shaped Profile
Mahogany Back And Sides
Walnut Fingerboard And Bridge
Featuring a fully-painted gloss metallic solid spruce top, the Fender Newporter Player is a medium-sized acoustic guitar with a round treble-side cutaway body. The back and sides are manufactured with mahogany and also 6-in-line matching headstock and crème binding. This optimized binding is perfect for reducing the mass to provide supreme resonance.
The neck of the guitar is carved to a Start-like slim-taper "C" profile to make an ideal choice for different playing styles. This slim neck has a laurel walnut fretboard with 20 frets and a sport 25.6-inch scale length. The fretboard has dot inlays, whereas the neck has a satin finish. Sealed nickel has been used for creating tuning machines, and saddle and nut are made of GraphTech NuBone for maximum sustain. The Fishman preamp system allows convenient amplification of the sound output without compromising the rich, pure, and resonant nature of this guitar.
For easy playability, the slim C shape neck offers ultra comfort and an exceptional fret-hand feel. You can either play it acoustically or plug it into an amplifier. The lows are not deep but lively and bright. If you are playing both flat-picking and finger-picking, this guitar is the perfect choice for you as it is highly responsive to changes in picking style.
Slim Neck For Easy Playability
Excellent Tone
The Metallic Top Looks Great
Perfect On-The-Go Travel Guitar
Comes With The 6-In-Line Headstock
Needs To Amp For A Louder Sound
Conclusion
Fender is popular for its iconic Telecaster and Stratocaster guitars, but the acoustic guitars by Fender are extremely famous for their high-end features and affordable price. Buying an acoustic guitar from a reputable brand like Fender will surely boost your confidence, especially for beginners. Don't forget to consider your playing experience before buying because buying an expensive guitar that doesn't suit your needs will waste your money. So consider your budget, playing level, and then go for the best Fender acoustic guitar.
Frequently Asked Questions
1. When was the Fender brand founded?
Fender has been producing high-quality guitars since 1946.
2. Where is the headquarter of Fender?
The headquarters of Fender is located in Scottsdale, Arizona, United States of America.
3. Who was the founder of Fender?
Clarence Leonidas Fender founded the brand back in 1946 in Fullerton, California, United States.