The wood configuration plays a vital role when it comes to acoustic guitar performance. The wood selection for the guitar body, neck, and fretboard makes the majority of the construction of the best acoustic guitar. Many well-known brands like Taylor, Gibson, etc use high-quality tonewoods but in the modern guitar industry, the trends have been entirely shifted. One of the reasons for this change is due to the restriction of circulation of many rate kinds of wood such as granadilla, rosewood, and Bubinga. 
Nowadays, guitar manufacturers are moving towards different wood types to maintain the quality of their instruments. For a new user, it is essential to understand different types of acoustic guitar tonewoods. That's why we have composed this in-depth article on the best wood for acoustic guitar, but first lets know that what's the difference between the sounds of tonewoods.
The Difference Between the Sounds of Tonewoods
When it comes to wood sounds such as some produce brighter sounds whereas others offer dark and full sounds, not everyone necessarily knows why?
Wood is an organic material and it keeps on changing shape and density with growth. For instance, with age, a wood develops deeper grain that may change immeasurably during its lifespan. The ever-changing and unpredictable nature of the wood's growth leads to inconsistency and imperfection at every level of detail. Different types of wood have various types of characteristics and imperfections in their makeup. This variation makes them sound distinctive from each other.
Just image two rooms, one large and another small one. 
When you strum your acoustic guitar in a small room, there is less space for the guitar sound to move around in. The sound will die down quickly but clearly. On the contrary, when you strum the guitar in a large room, you will notice that the sound echoes around more. However, the sound will last for longer but with less clarity. 
Solid Wood vs. Laminated Wood
When it comes to manufacture acoustic guitar, wood can be arranged and used in different ways. One of the most common comparisons is that between solid wood and laminated wood. The wood pieces that are used to manufacture acoustic guitars are thin because they need to be manipulated into a specific shape that works perfectly with the intended design.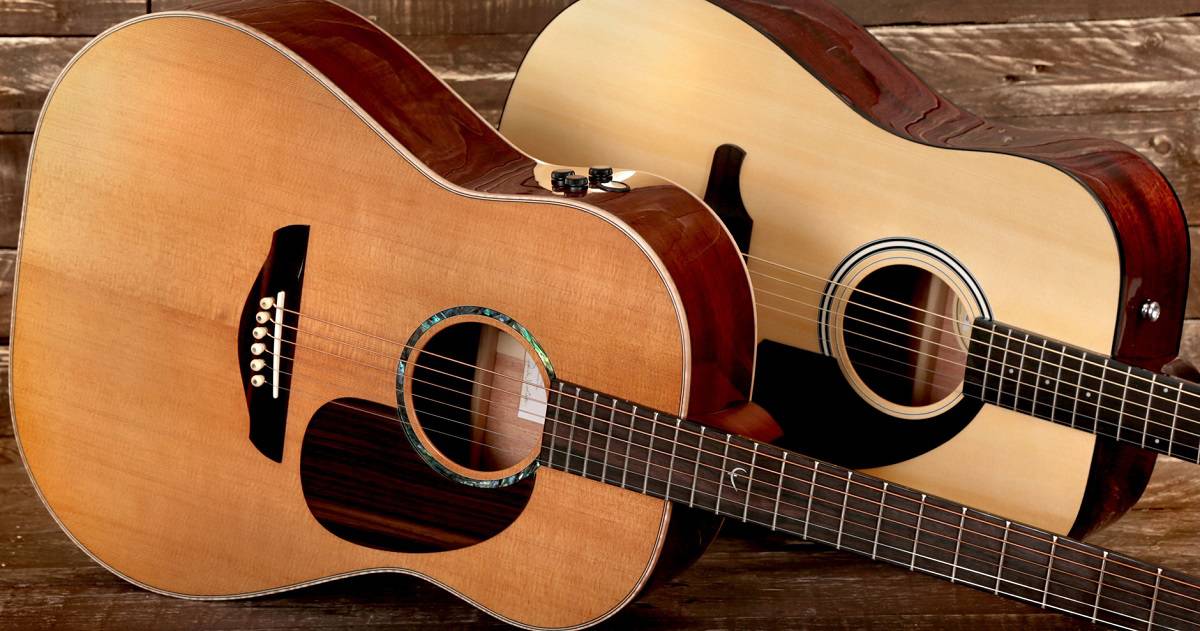 Laminated wood features a number of thin layers stacked together with each other to form a sheet. The common reason for this is that the guitar can have an appealing natural grain on its surface without needing to utilize a thick wood piece. The luthier takes the thinnest piece and reinforces it with low-cost material. 
In other words, the attractive wood piece can be easily used for a number of instruments.  Solid wood is something different. You simply use thick and more expensive wood pieces. In many cases, the solid wood piece is divided into two and mirrored. You probably have noticed that the distinctive divide in the middle of the instrument top when this is the case.
Employing solid pieces is more expensive and without any doubt, it yields supreme results.  Laminated wood is typically quicker to wrap and mark due to its compound nature. Also, solid wood offers a more resonant sound due to its uniform grain and thickness. In simple words, better vibration means decent sustain and good tone.
Every manufacturer has a different approach to it. Popular guitar manufacturers including Taylor, Alvarez, and Sire offer solid top on their all acoustic guitars. Ibanez uses laminate to provide supreme aesthetics and durability at a reduced cost.
Best Wood For Acoustic Guitars
The Tonewood Used for Back and Sides of Acoustic Guitar
The wood used to create the back and sides of an acoustic guitar sound chambers works more than just improving the appearance of the instrument. Through amplifying the various frequencies produced by the strings, the tonewoods have a prominent effect on the overall sound generated by any given guitar. 
Therefore, the combination of tonewoods needs to be considered carefully. Typically, manufacturers use different types of woods on the back and sides as compared to the top. Here are the most used woods on the acoustic guitar back and sides.
Made famous by Gibson and Martin in the pre-war era, mahogany was introduced as the cheaper alternative to rosewood. By cheaper, it doesn't mean that the quality of the wood is less but it's just different in features.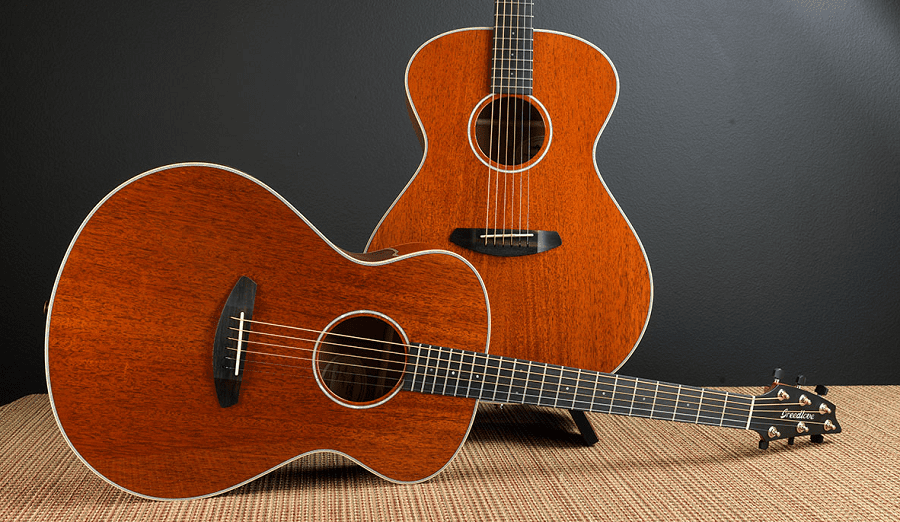 Featuring a rich dark reddish-brown color, this tonewood is very easy to spot. Mahogany is a stiff, hard, and dense wood that offers a warm tone. Denser mahogany sets can begin to take on some of the sonic characteristics of rosewood. However, this tonewood generally offers a punchy and well-balanced tone with an emphasized midrange. 
As mahogany matures, the tendency of the wood to produce a focused fundamental sound will start to give way to make room for maximum overtone content. As a result, it produces a more character-full and colorful tone. One thing you should keep in mind that the tone quality generated by mahogany changes through time.
Due to its rich heritage and position in guitar history, the back and sides of mahogany can be heard on loads of old-school recordings. Cutting long things short, mahogany provides a punchier and darker tone with a prominent midrange.
Rosewood is the most famous and enduring tonewood used in acoustic guitar manufacturing. There are two major varieties that have been employed throughout the decades including East Indian rosewood and Brazilian rosewood which is more elusive and expensive.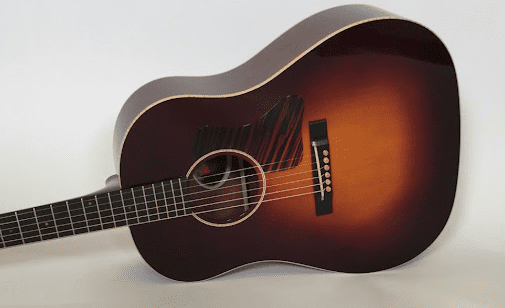 Brazilian tonewood offers a luxury appearance along with a rich and sparkly tone which has great demand in the guitar industry. However, due to CITES regulation changes, this wood has become less common and East Indian mahogany is more used in acoustic guitar manufacturing.
The best thing about East Indian Mahogany is that it is not only easy to produce but also cheaper the Brazilian Rosewood. The Brazilian wood has a more striking appearance of these two with a dark brown complexion and rich orange hints. Also, it has fine back lines in the figure.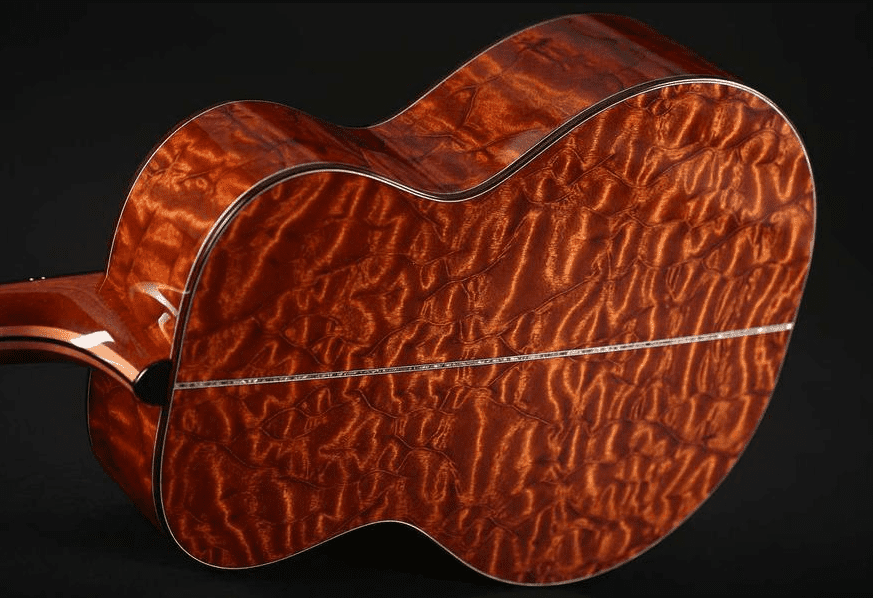 This African tonewood is closely related to Mahogany in appearance and sound. The particular woo trees are properly protected which makes them sustainable wood that is being responsibly harvested. Although, the deep, pronounced grain is of mahogany is very reminiscent but Sapele tends to lighter and can be stripped between large dark and light patches.
This best wood for acoustic guitar offers strong low-end and midrange bark which are similar to mahogany. However, it provides a more top-end definition as compared to its African counterpart. It is one of the most versatile woods used for acoustic guitar and can be suitable for a number of styles.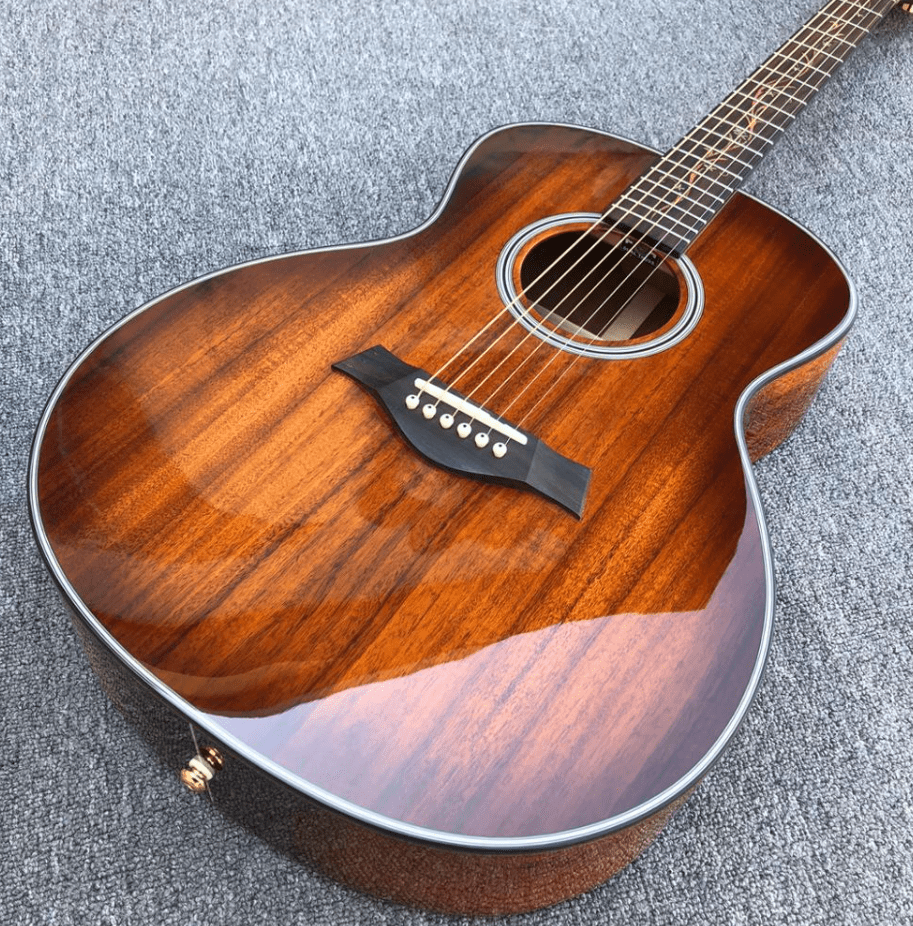 Koa hails from Hawaii where this wood is known as the traditional wood for choice for manufacturing ukuleles. But, KOA is not cheap wood and it is used on special or limited edition acoustic guitars. Popular acoustic guitar brands such as Taylor uses KOA in a wide range of models.
The most striking feature of KOA is its stunning appearance. You can't deny the quality of its extremely bright sound. KOA is not recommended for plectrum players due to its bright sound feature. If you use pads on your fingers or strum with thumbs, this high-quality tonewood is the best choice for you. A KOA-made acoustic guitar will be bright at first but it will mellow out with time.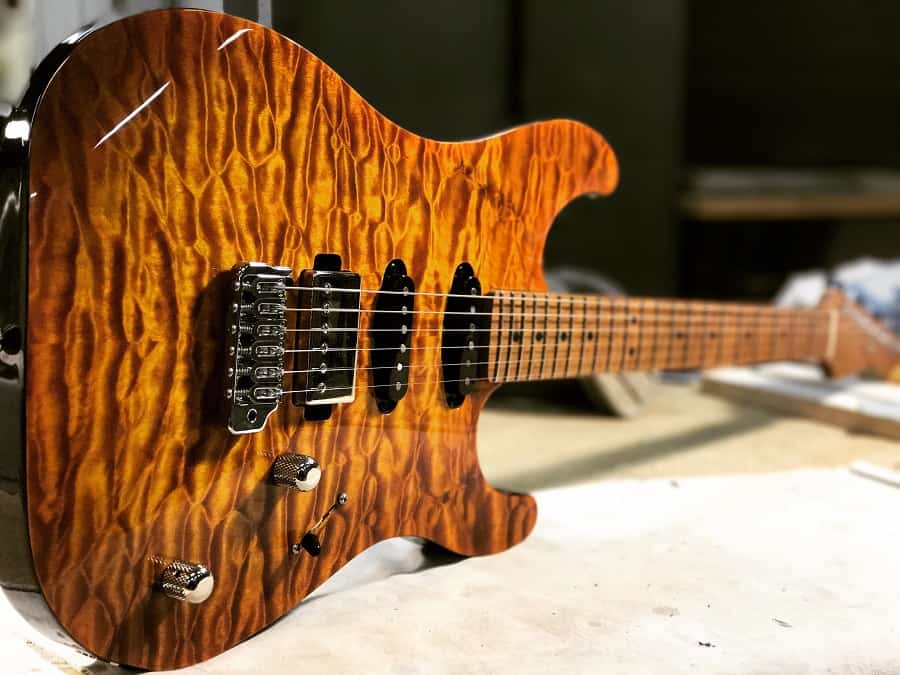 Commonly used to create the back and sides of violins, Maple is widely used in acoustic guitar construction. There are many reasons for using it but it is ideal for different finger patterns. Two commonly used types are Curly (flamed) maple and quilted maple. This is an excellent choice for live performance, thanks to the clarity of tone cuts. It is also popular for making a guitar sound bright and loud. 
Maple also offers great separation where each tone sounding at the same time has an ultra-clear definition. In simple words, this supreme quality tonewood makes it easy to identify each tone. Transparent is a word mostly used to describe the inherent sound of maple. It also offers more treble as compared to mahogany and rosewood.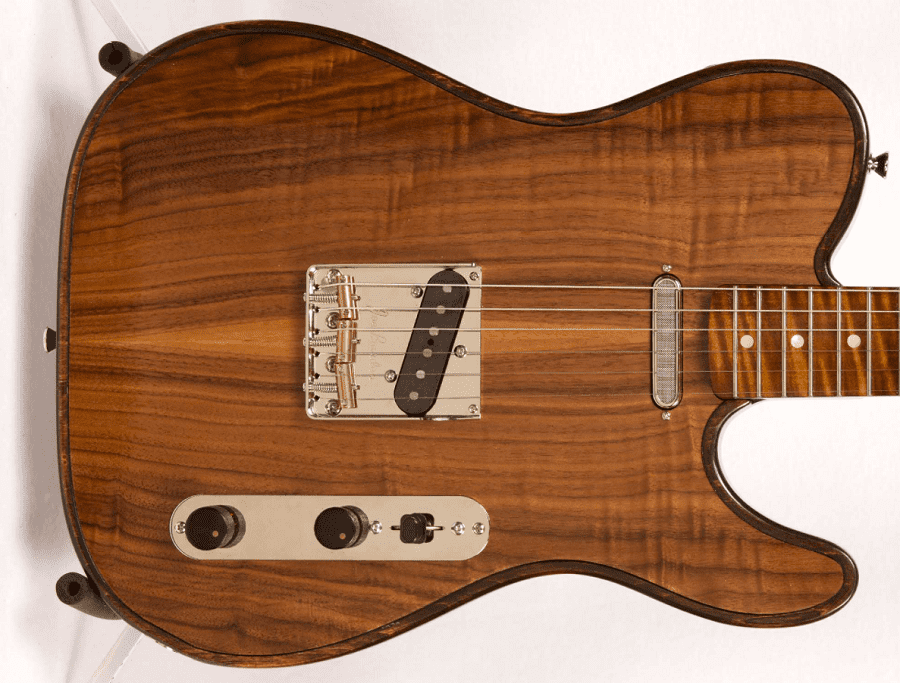 Walnut is another dense wood that produces a sparkly brightness. Its midrange is distinctive with a decent bark that it's somewhere in between mahogany and rosewood. The best thing about Walnut is that its tone becomes warmer and softer with age. 
It is an excellent alternative to KOA with an affordable price tag. The tonal brightness, dark, rich appearance, and woody midrange have proven famous among many luthiers. 
Acoustic Guitar wood – Necks & Fretboards
You will commonly find either mahogany or maple neck in acoustic guitar. This is due to its convenient playability and excellent response. The fretboard is where users tend to get a broader variety because this one of the prime parts that you are in contact with when playing an instrument. Perhaps, this is one of the main reasons why fretboard wood is an essential aspect to consider in terms of playability and feel. Take a look at the best wood for acoustic guitar necks and fretboards.
One of the most popular fretboard woods for years, Ebony is also used in electric guitars. The decent dark appearance is both striking and subtle at the same time. There are two types of ebony used in fretboard manufacturing; Asian and African.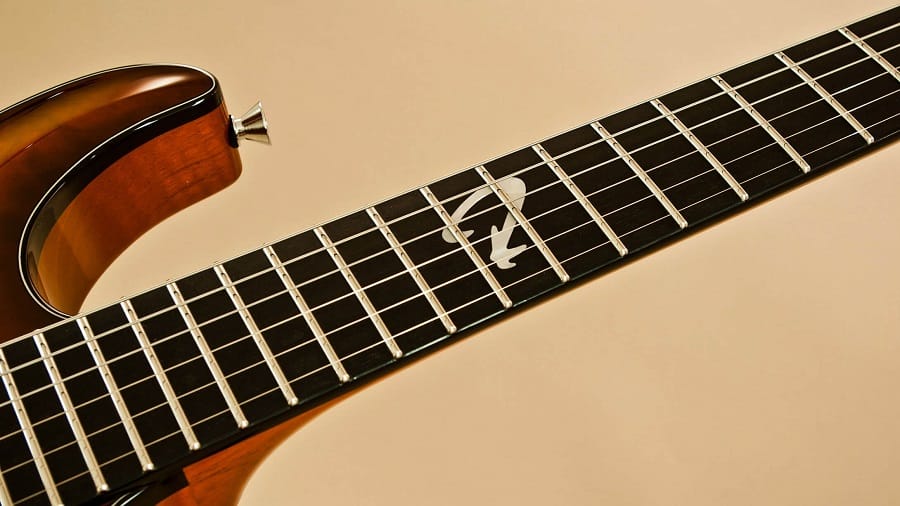 The Asian ebony has brown stripes that may not feel good while looking at the frets. On the other hand, African ebony has a uniform color that is typically used in acoustic guitar fretboards.
Although ebony is extremely dense and heavy it is a smooth tonewood. It comes with a rich natural oil content which means that it can be left unfinished. It is an appealing feature for many players who tend to refer to it as playing fast, thanks to its naturally smooth, solid feel. Also, it wears very well and can hold up to a long time. In terms of tone, this excellent acoustic guitar tonewood offers a very responsive bright, snappy and crisp attack along with a smooth sustain.
Another famous fretboard wood, Rosewood comes in two types including Indian and Brazilian. Although Indian rosewood is widely used in acoustic guitar fretboards Brazilian rosewood has undergone CITES restrictions. 
Rosewood is famous for fretboards due to its smooth feel but it is highly durable wood too. It is not susceptible to staining or wearing out just like some softer tonewoods can be, so it's ideal for fretboards. Another great feature of Rosewood is that it is naturally oily which means it feels ultra-soft and natural under your fingers.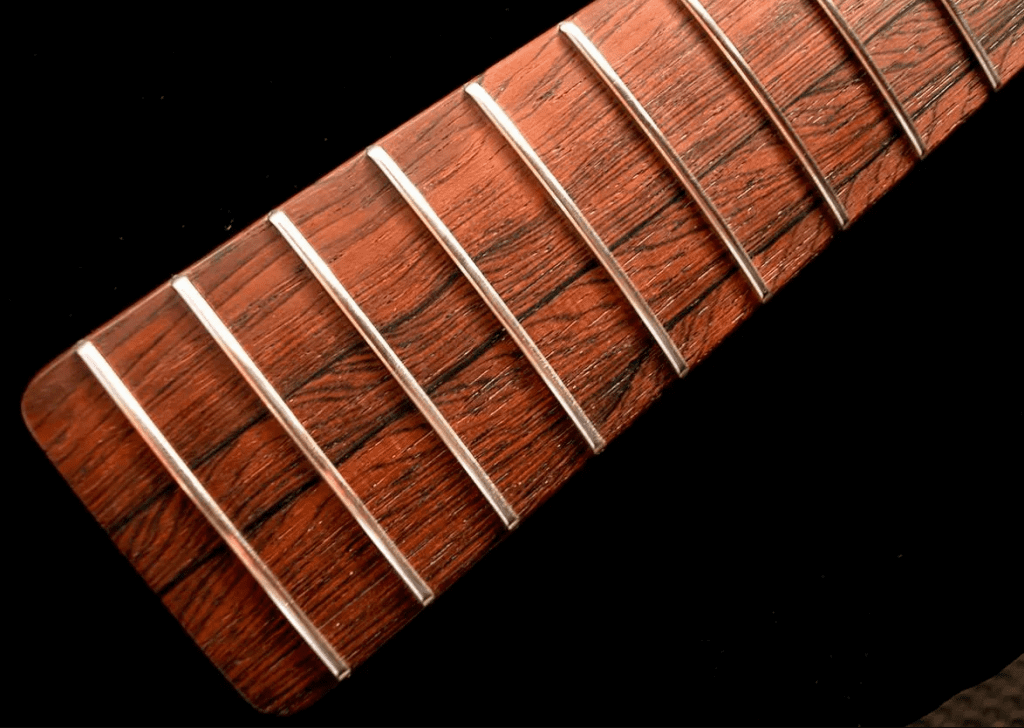 Micarta is not technically a type of tonewood but it is becoming more famous as a prominent alternative to expensive fretboard woods. It's technically a brand name but it means a composite of materials in the guitar world that is bonded b a number of resins. It results in a tough, resilient material that lends itself perfectly to fretboard use.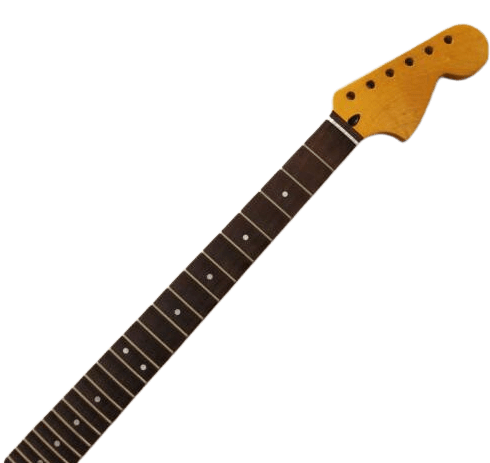 Maple is famous for its density which results in a bright, loud, and transparent tone. Although maple is not commonly used in fretboard manufacturing it is used on electric guitars. Darker woods are more appealing for acoustic guitar fretboards. This wood is a good choice for a fingerboard it the body wood provides a darker, warmer tone. The maple can balance it out and offer a more balanced tone.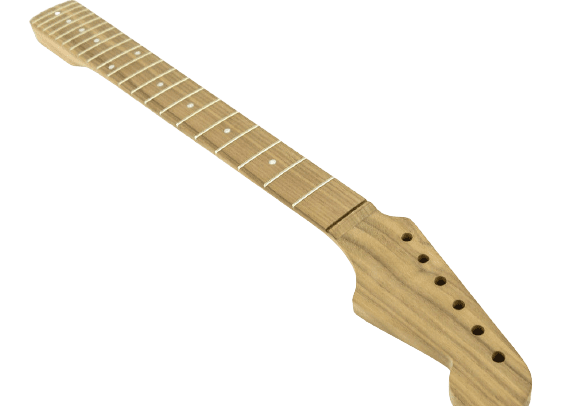 Walnut is a flexible wood similar to rosewood. That's one major reason why walnut is a great option for a fretboard. However, you will not find it on acoustic guitars commonly. The use of maple may be due to its dark appearance as acoustic guitars with darker appearances are widely appreciated around the world. 
Walnut comes with a fabulous appearance when used for the back and sides of acoustic guitar. It has smooth playability and a super bright sound.
Acoustic Guitar Wood – Tops
Besides improving the appearance of an acoustic guitar, the top wood plays important role in the sound of your instrument. The top stands in between the strings and the bulk of the body. Therefore, it is essential to consider the wood used on the top.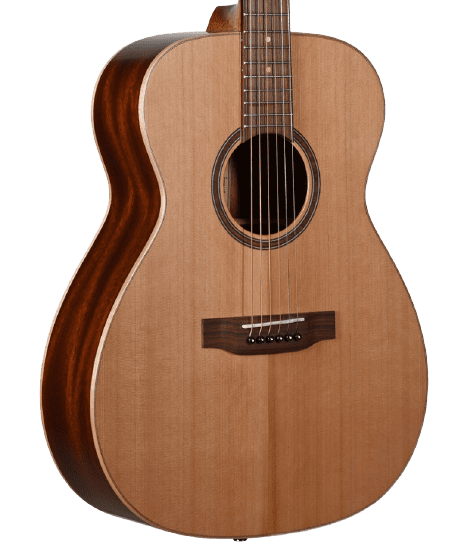 Traditionally, cedar is used on classic guitars and is becoming immensely famous in steel-string guitars. The dense nature of the Cedar provides a slightly darker tone. It produces rich overtones which only makes the tone with less sparkle but also more character. Due to its less stiffness along the grain, this best acoustic guitar wood is relatively quiet as compared to other tonewoods.
However, it may lose clarity if driven hard. That's one prime reason this wood is not recommended for those who play hard with a pick. But, due to its prominence of the overtones, it is an ideal wood for fingerstyle players looking for the value of quality and character of the sound above clarity and volume.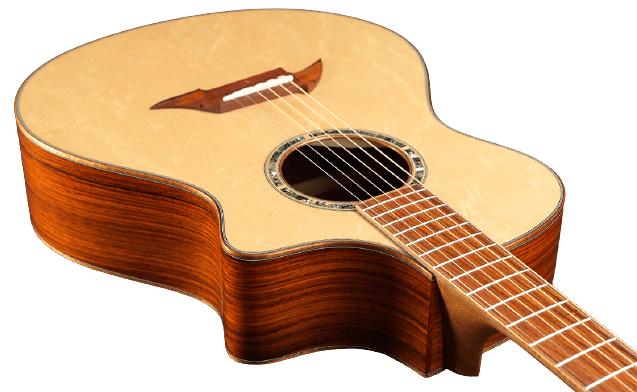 The most used tonewood on top of the acoustic guitars; Spruce is available with steel-string acoustic guitars. One of the best features of this acoustic guitar top wood is that it is ideal for any playing style.
You can easily found various types of Spruce including Engelmann, Sitka, and Adirondack. This tonewood offers a broad dynamic range along with a crisp, little hormone complexity.
 You will enjoy consistent sound no matter what playing style you prefer. For instance, Engelmann spruce is light and less stiff which provides slightly less projection. On the other hand, Adirondack is heavy and stiff which results in louder guitar. 
Spruce comes in creamy white to pinkish light brown color. For example, Engelmann is a bit whiter and creamier as compared to Sitka. However, all spruce tonewoods fall in the creamy white category.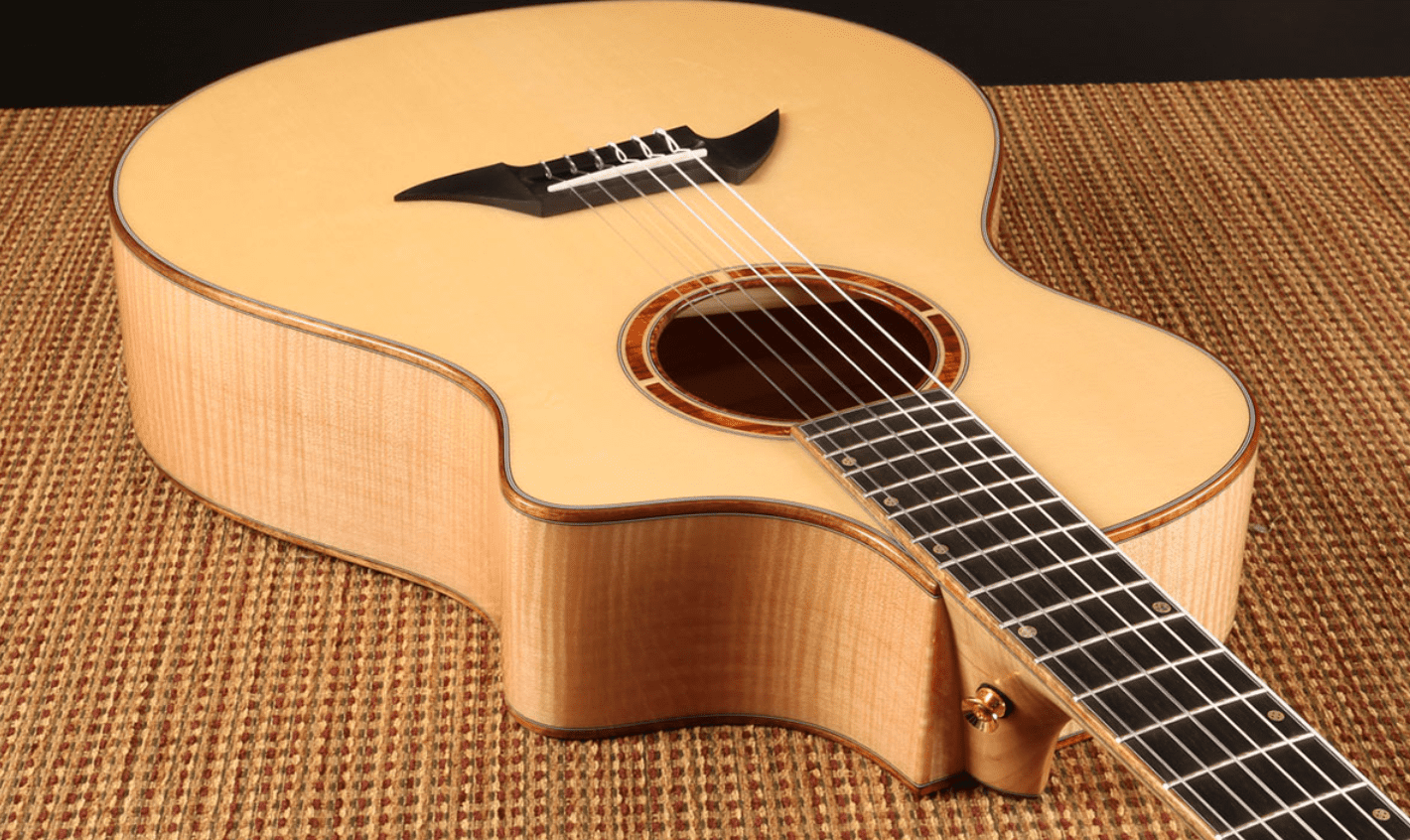 Although you will find maple commonly in the back and sides its appealing nature makes it a suitable choice for top. Maple is popular for its dense brightness and definition. Thanks to this quality note definition make it an ideal choice for plugged-in performances. The brightness and clarity respond perfectly to the guitar pickup systems and microphones which allows it to sit elegantly in any mix.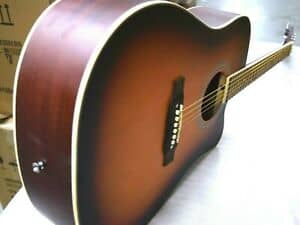 Another commonly used tonewood in acoustic guitar tops, mahogany has been utilized since the '20s. You will mostly found the wood in the back and sides but it is also used as a soundboard in many acoustic guitars.
It features a distinctive reddish appearance which makes the wood easy to spot. The most interesting fact about mahogany tops is that manufacturers don't polish the top to keep the natural aesthetics of the wood. 
This wood is stiff, dense, and hard that offers a distinctively wood and warm tone. You can enjoy a punchy and well-balanced tone along with the relatively emphasized midrange.