Whether you are finding a set of pickups to add some tonal variation to your guitar or want to upgrade your guitar pickups, there are different types of guitar pickups available on the market. Therefore, choosing the right pickup set for your guitar can be confusing, especially when you don't have the proper information. For instance, pickups for acoustic guitar and electric guitars are entirely different from each other.
All pickups convert the vibrational signal of the strings into an electric signal that can be amplified and altered throughout the rig. Let's take a look at different types of guitar pickups and help you find the best pickups for your guitar.
What are guitar Pickups?
In simple words, pickups help to pick up the vibrations from your guitar strings and turn them into sound waves. These are magnets with copper wiring properly wrapped around. When the strings on the guitar vibrate, these magnets are disturbed, and it converts the nearby wire into a signal. This signal then traveled out of the guitar through effect pedals and finished the journey at the guitar amplifier.
Different Types of Guitar Pickups
Guitar pickups have their own distinctive tonal features depending on where they are located and also whether they are angled or straight.
Acoustic Guitars Pickups
Amplifying an acoustic guitar is a bit tricky as many guitarists want to reproduce the tone of the genuine instrument. However, reproducing the original tone can be a challenging task. Take a look at four types of acoustic guitar pickups.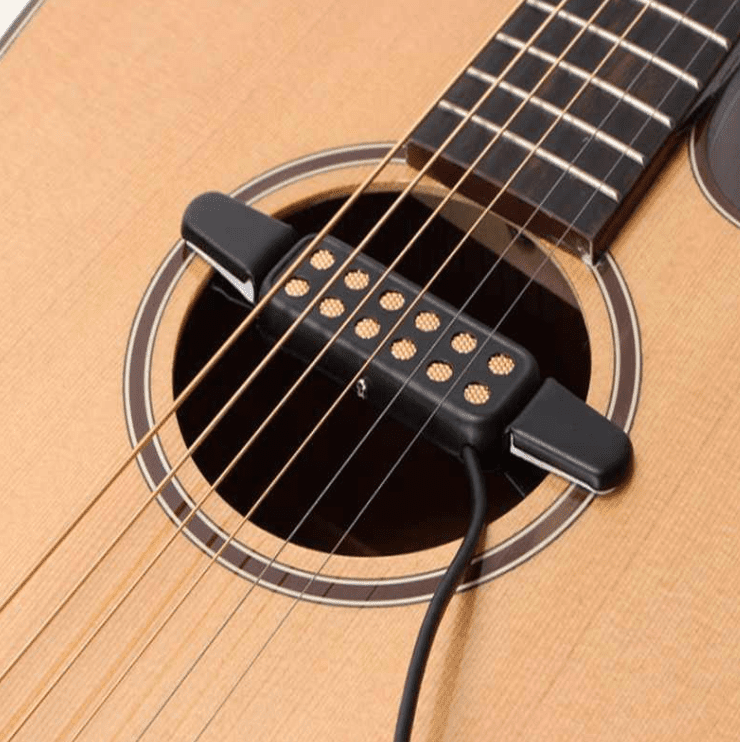 One of the best pickups used by popular musicians to reproduce original acoustic tone, the transducer pickup sits under a guitar soundboard and listens, translating the tone into an electrical signal. Although it may not be as accurate as an in-body microphone, it can be a better option for acoustic guitars.
If you want to gain the closest representation to the guitar, this type of pickup is best for you. However, the only disadvantage is the feedback. If you are looking for the closest thing to the tone of the guitar, you may be willing to live with in-body microphones.
A soundhole is a great choice for those who want to avoid feedback. These pickups are similar to electric guitars. Their sound is unique but can lack some of the nuances as compared to other pickups.
The Piezo pickups are just like transducer, but it goes under the saddle where the guitar strings pass over. Piezo listens to the strings rather than the soundboard and produces a more synthetic sound. The transducer may be overly sensitive; thus, Piezo is a decent choice with feedback. However, it is still prone to the Piezo quack.
Electric Guitar Pickups
Take a look at three types of pickups for electric guitars.
These pickups use a simple magnet to transform strings vibration into an electromagnetic signal. The best thing about such pickups is that it has been used by popular guitarists. Despite the hum, it can produce bright and twang sounds.
Genres including country and surf have used these for excellent effect, but they have also been used by many other genres such as folk and blue. Generally, a single-coil doesn't take too well to maximum distortion. That's why players of metal steering and hard rock mostly use these pickups.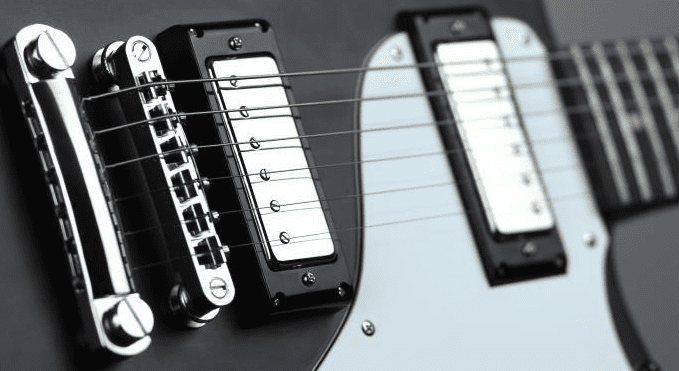 Do you know it was the interference of the single-coil pickups that led to the invention of humbucker pickups? Rather than using one magnet, the manufacturing of the humbucker has two magnets that are unique. The technique helps to reduce the hum and leads to produce a warm sound in the process.
The warm tone of the humbucker is incredibly famous with the jazz crowd, metal, and hard rock players. However, it depends on your needs to choose between the single-coil and humbucker.
P90 is a sort of hybrid between the above two pickups with higher output than the single coil. This type of electric guitar pickup is famous for blues and soft rock players. However, it is not recommended for hard rock circles.
Electric Bass Guitar Pickups
Although these pickups are similar to electric guitars, there are minor differences in the electric bass guitar pickups.
Offering warm and clear tone characteristics, J-Bass pickups are popular in jazz. They were first introduced to Fender Jazz Bass Guitars.
Famous with players of punk and rock, this electric bass guitar pickup system has two valves of a single-coil pickup. One of them is slightly further up than the other one. They produce a punchy tone.
Although this type is less popular, the dual coil belongs to the humbucking pickup category, which offers a warm tone. That's why it is immensely popular for a vintage sound.
Soap bar pickups belong to the J-bass category with wide housing. The prime difference is that such pickups are actually sealed, which protects them from degradation. These pickups also have pins that protrude from the pickup's bottom to help different wiring combinations.
Other Popular Guitar Pickups
Active and Passive Pickups
All the above-mentioned pickups are either active or passive pickups. Therefore, it is essential to know the difference between the two.
These pickups don't boost the vibration signal. In simple words, we can say that they passive circuitry. They use straightforward transducers, which work with different coils of wire wrapped around the magnet. The magnet location causes the strings to magnetize. When they vibrate, an electric current will pass through the metal wire.
You don't need to use any batteries with passive pickups. These can be found in Les Pauls, Stratocasters, and Telecasters.
On the other hand, active pickups have the ability to boost signals. It needs a power source for the active circuitry. It boosts the signals and kicks out a high output. 
Perhaps this is one of the prime reasons why this type of guitar pickup is popular in metal and hard rock genres, as they need more gain before feedback. Also, it lacks noisiness which brings clarity to the sound to provide a sterilized feel.
Magnets (Ceramic vs. Alnico)
One of the noteworthy factors that affect the pickup out is the magnets used.
Alnico is a material commonly used in such conditions. This material is a mix of nickel, aluminum, and cobalt. Alnico was immensely famous in the 50s and 60s, providing a classic soft and warm tone.
These pickups were widely used in the 1970s and had a high output. They were known for their clarity and strong sound. Ceramic pickups are cheaper than alnico pickups and produce a tight, loud growl.
Potting is when guitar pickups are sealed in wax to fill air gaps on the cover or in the coil. Such air gaps can create microphone feedback. The wax is a mixture of paraffin and beeswax, which is heated to the particular temperature that it is runny enough to properly fill the air gaps to stop air.
Wiring (Series vs. Parallel)
The quality of sound also depends on how pickups are wired. Parallel wiring is when every pickup is wired up to both inputs and outputs together, in parallel. It allows the signal to reach the output of the guitar through the fastest route possible, resulting in a nice, clean, transparent, and tawny tone.
They are wired in a series sometimes. This is when pickups are connected together before they reach the output. Such arranged produces an extremely high output, which simply means you can let out a higher signal before you into feedback issues. The drawback of the series wiring is that you may lose a lot of the higher-end frequencies too often.
Popular Guitar Pickup Brands
Here are the top five guitar pickup brands that have been producing high-quality pickups for guitar lovers.
Fishman Pickups
Seymour Duncan Pickups
Bare Knuckle Pickups
EMG Pickups
DiMarzio Pickups
Final Words
The guitar pickups allow your instrument to be heard. Just like the best wood for guitar, strings, and amp, it is crucial to consider the pickups for best performance. As mentioned above, pickups are available in various shapes and sizes. For instance, you can't use the same pickup for a country-style that you use for rock and metal. Therefore, finding the best guitar pickups is essential to play your favorite style.
Frequently Asked Questions
What kind of pickups does my guitar have?
The most convenient way to tell what pickups are used in your guitar is by removing the pickup. Now look on the back for the model or make a number or a series number.
How to tell if the pickups are alnico or ceramic?
If it is alnico, the pole pieces of the pickup will be either silver or grey. If the pickups are ceramic, they will be equipped with a big black magnet at the bottom.
Can I put any pickups on any guitar?
Yes, you can use it unless you are trying to use an active pickup battery pack into a guitar or fitting a humbucker on a single coil slot; you can easily put any pickup you want to use.