Ibanez guitars are getting incredibly popular for their superb sound, innovative design, and excellent features. Perhaps these are some of the prime reasons why best guitar players like Paul Gilbert, Joe Satriani, and Marten Hagstrom has used them throughout their career. But do you know the history of Ibanez guitars? How a small guitar manufacturer from a small city in Japan managed to turn it into one of the most reputable names in the music world? Let's dive in and take a look at the long and successful journey of Ibanez.
The History of Ibanez Guitars
The Beginning
In 1908, Hoshino Matsujiro, a Japanese entrepreneur, established a bookstore in Nagoya. Hoshino Matsujiro also used to sell sheet music and instruments in the same store. He soon realized that there was an instrument that has great potential in the future named Acoustic guitar.
Hoshino Matsujiro was keen enough to realize that this low-cost, versatile, and easy-to-learn guitar has the ability to attract guitar lovers. In 1929, he introduced a subsidiary Hoshino Gakki Ten company to import acoustic guitars manufactured by Spanish luthier Salvador Ibanez e Hijos. Hoshino gained knowledge from sales and feedback from the guitar customers and soon decided to manufacture his own line of guitars. The company was initially known as Salvador Ibanez (there was no connection with Ibanez himself).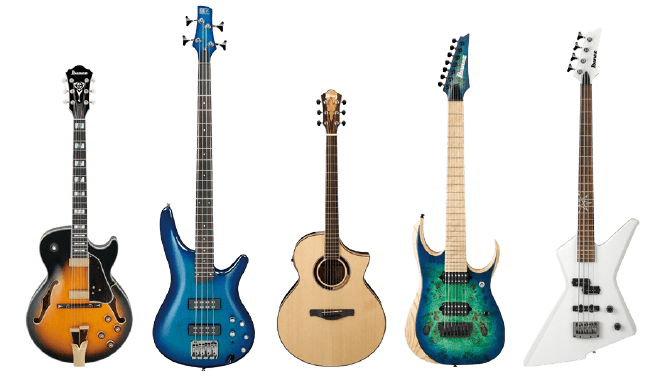 It was 1935 when the iconic name Ibanez was settled for the company. This is was the starting point of one of the most reputable guitar brands on planet earth.
The Difficult Period
World War ll was one of the difficult eras for Ibanez. The music industry was overshadowed by military production, and the factory in Nagoya was completely destroyed by US Air Force bombing raids. In fact, Japan was seriously suffering throughout and after World War ll.
It was in 1955 that the grandson of Matsujiro, Hoshino Masao decided to rebuild the factory in Nagoya, which is still in use. The demand for electric guitars skyrocketed, and Ibanez was well aware of it. The company produced some low-quality electric guitars and amps quickly. In addition to this equipment, they also produced drums and bass guitars. However, it was impossible for Ibanez to stay consistent in producing guitars and amps, and they started to contract other companies to help them in manufacturing their products.
In 1962, Tama Seisakusho Incorporation, the subsidiary of Ibanez, was founded to create electric instruments and accessories. Also, the company continued to manufacture acoustic guitars to meet the demands of traditional musicians. But before they became popular in the music industry, Ibanez became infamous. Thanks to the lawsuit that helped them to gain popularity outside Japan.
The Lucky Crime
Rock and roll were extremely popular, and every teenager in North America was mad to strum out chords with hopes of stardom. However, iconic American brands including Gibson, Rickenbacker, and Fender were unable to keep up with the increasing demand without altering the quality. Professional musicians were fed up with the decreasing quality and increasing demand for guitars from domestic manufacturers. This is where Hoshino found a breakthrough to enter into the US market.
In 1965, Harry Rosenbloom, a guitar manufacturer, gave up manufacturing. He realized that there is no room for an independent craftsman to meet the demands if giants like Fender are decreasing the quality and unable to fill the gap.
He offered his company Medley Music in Pennsylvania to Hoshino Gakki to become the sole distributor of Ibanez guitars in North America. Soon, Hoshino and Rosenbloom understood that appearance is everything.
It was common at that time to copy the design of popular companies and write your own name on the product. There were no copyright claims and another issue which was, in fact, an easy way to promote your own brand without any trouble.

Ibanez started to copy the headstock and neck design of popular Gibson guitars. Amateur guitarists who were unable to afford Gibson guitars had a much more accessible option to move towards Ibanez. With decent construction and performance, a lighter price tag, with better electronics, guitar lovers weren't bothered by the differences; Ibanez practically sold them.
In 1977, Gibson filed a lawsuit in Philadelphia against Hoshino Masao for copying their products. He settled out of the court the following year. However, the near-exact copies of Fender and Gibson guitars became popular as Lawsuit Era guitars. But these guitars weren't just good for intellectual property rights. For two decades, Ibanez had created a secure North American customer base and brand reputation, reinforced by the court case. With such a profile, they started to move away from copies and tried to put their efforts into their own designs like the now archetypal iceman or Roadstar series.
The 80s Success Story
With genuine designs and consistent sales on their side, the brand began to capitalize on decades of guitar-making experience. Hoshino was known as the copies of better design, and thus he tried his best to gain recognition as both an innovative design and quality manufacturer. He needed someone to give him an edge, with both the name as a reputable musician within the music industry.
In the 1990s, the company established a relationship with popular rock star Joe Satriani and jazz player Pat Metheny. Other famous musicians, including bassist Paul Grey of Slipknot, Steve Miller, and drummer Dominic Howard used Ibanez products that helped the brand a lot to become popular in the music industry.
Ibanez also tried to experiment with new materials like the pressure cast plastic Luthite for the famous Ergodyne series. Another excellent step that Ibanez took was that it carried on growing business and opened new branches in Los Angeles. At the same time, they expanded to China and South Korea for both manufacturers and to meet the demands of blossoming pop and rock scenes in these countries. Since then, the company didn't look back, and now we have Ibanez as one of the best acoustic guitar manufacturers on the market.