If you are a beginner and seeking some guidelines to understand how to amplify an acoustic guitar or how to make your acoustic guitar sound better, you're just on the right site. We'll help you understand the amplification of an acoustic guitar and different methods to amplify an acoustic guitar.
An acoustic amplifier performs the same function as any other guitar amp you'll encounter; it enhances the instrument's audio signal and projects its tone through a speaker. Acoustic amps, however, are optimized to accommodate the tonal characteristics of the pickup systems in electro-acoustic guitars.
These amps can be used to improve the instrument's sound and take it a step further. For example, there are some great cheap electro-acoustic guitars out there, but to stay cost-effective, many would be fitted with dull and anemic-sounding pickups. Therefore, acoustic amps can spruce weak pickups' sound, often by their strong preamps and onboard EQ parts.
The Complexity of Acoustic Guitar Sound
A traditional acoustic instrument's sound is a complex, ever-changing mix of several components. To use the most common example, an acoustic guitar's natural sound includes the vibrating soundboard effect as a whole, with several different parts of the soundboard vibrating independently, with differing phase, amplitude, and frequency relationships. An integral part of guitar sound is the sound-hole air resonance. The silent yet precisely delineated sounds come straight from the strings themselves. A well-placed air microphone captures all this. But a touch pickup transcribes only one-point movement on the soundboard, a very one-dimensional portrayal of what is essentially a multi-dimensional sound event. Nevertheless, you can also get a powerful sound from a touch pickup which will help to Enhance the Tone of an Acoustic Guitar.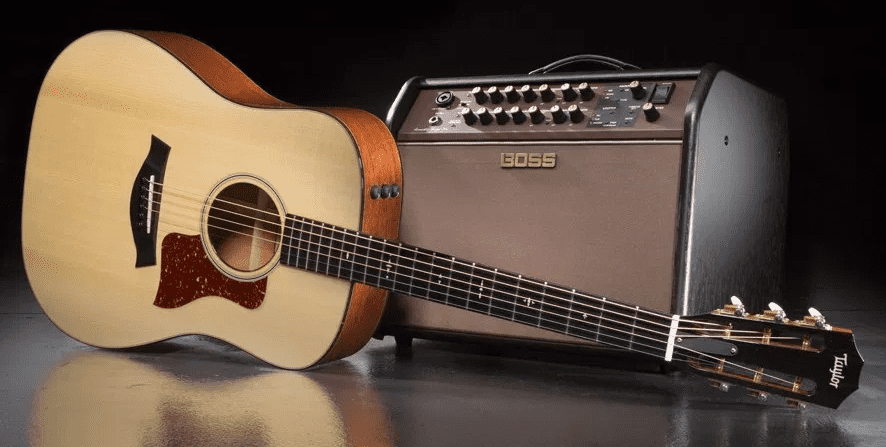 Features to Contemplate in An Acoustic Guitar Amplifier
While understanding the acoustic guitar and its amplification, it's necessary to first know about the amplifier and its considerations while buying it.
Onboard Effects
Acoustic amps also give specific built-in effects. These typically contain one chorus or reverb. Results differ in size, quality, and tweak ability. You can still extend the effects with external guitar effect pedals or multi-effects processors that can produce precisely the sound you're looking for.
So, as effects may be a determining factor between two identical amps, you may want to lower these features on your shopping requirements list.
Channels
Many acoustic guitar amplifiers have much more than just one channel, which means plugging into several guitars or other instruments, or a vocal microphone and guitar, relying on what you need. It's a significant benefit to have the most flexibility and dial the right sound for any of the instruments or mics you're plugging in, EQs, individual buttons, and effects.
Feedback Control
Most 20-watt acoustic guitar amplifiers have some form of feedback control. If you play in a scenario where you need to turn your amp more than halfway, this function might be vital. Looking at this feature, consider both user-friendliness and the effect on tone consistency. Some amps provide a total push-button feedback control that can induce a sound richness loss. Some amps have more elaborate switches, such as notch filters, to distinguish trouble frequencies. These buttons, though, can take some experimenting to dial correctly.
Inputs
Acoustic amplifiers give you great control over your guitar's sound and allow you to amplify your device. Yet to them, there's far more since acoustic guitar amps can also be used to project vocals.
Built to accommodate singer-songwriters, most acoustic amps are fitted with XLR inputs for microphone plugging. This then lets you amplify your vocals through a second separate tube, which will usually feature its volume control (and often EQ) to ensure that you can match the volumes of your voice and guitar.
Make sure you have the connection forms you like. For example, if you need microphone inputs for both your guitar and voice, you'll need two XLR connections on your amp.
Must Read: Best Acoustic Guitar Amplifiers
Methods to Amplify an Acoustic Guitar
With many new pickup technologies, acoustic guitar amplifications remain quite challenging. Now, you would be thinking How to Amplify an Acoustic Guitar? No need to worry we are here to guide you about different Ways to Amplify an Acoustic Guitar. In order to enhance an acoustic guitar, we need first to transform its acoustic sound into an electric signal that needs a pickup or a microphone.
In quiet settings, mics can be successful, but they create difficulties when playing noisy gigs or playing in a situation where the mic takes other instruments too. Alternatives can be used in body-mounted mini microphones or around the sound-hole like piezo pickups and magnetic pickups. There are various methods to amplify an acoustic guitar. Some of them include:
Piezo Pick-Up
Sound Hole Electro Magnetic Pickups
Contact Pickups
External Microphones
Mini-Microphones
Piezo Pick-Up
Piezo-electric pickup or under saddle (literally: under the bridge saddle) is one of the stringed instruments most commonly used for Amplification of an Acoustic Guitar. The piezo captures the guitar top's sounds and is equipped on all amplified instruments (which therefore requires a power supply via a 9V battery). Among the piezo's drawbacks, we find a very 'mediocre' sound that takes no account of the instrument's overall performance. However, among the advantages, we certainly have very high feedback resistance (useful in concerts to prevent involuntary screeching) and the price is more than appropriate. Used in the studio in conjunction with a microphone, mainly if carefully EQs can provide excellent results.
Contact Pickups or Transducers
At first glance, touch pickups can appear similar to piezo pickups: they essentially share the same technologies (typically, ceramic disk) while providing a different tone from the typical piezo 'undersaddle.' Typically mounted on (or inside) the guitar's bodyboard, they give an outstanding acoustic performance with a very natural tone and faithful to the instrument's non-amplified sound. They can sound a little "lifeless" for specific musical styles, working with a magnetic pickup to get the desired bass frequencies out.
Hybrid or Composite Systems
Using a guitar clip microphone, you face an apparent problem: what to do when the stage feedback is too noisy or need to support your guitar tone with another texture like the percussion on your fingers' strings or body? There are several solutions on the market such as the built-in microphone magnetic pickup. K and K Trinity Solo Mini combine a contact pickup's natural sound with an adjustable microphone. These systems are normally the most expensive solutions given the complexity of involved parts.
Magnetic or Sound Hole Pickup
Sound-hole pickups became common in the 1960s because they are so cheap and need no permanent installation. This basic pickup style is wedged directly under the strings into the sound-ho. Like an electric guitar pickup which is built with magnets that transform string vibration energy into electrical signals. Sound-hole pickups deliver an absolute, warm, and distinctly electric-sounding amplified acoustic note Boosting the Tone of Your Acoustic Guitar.
Microphones or Blend
Acoustic guitar microphones are the closest approach to the so-called "perfect acoustic guitar reproduction" principle and reproduce all instrument nuances. The classic condenser microphone at the front of the hole (and maybe a second microphone in the direction of the fretboard), particularly in the live concert venue, is not always the right choice: there is a lot of noise on stage, and also in the absence of a band, only a guitarist and a small audience are enough to produce so much noise and feedback considering the microphone's sensitivity.
Passive Vs Active Pickup
Passive pickups need no circuitry to change the signal (e.g., by adding bass frequencies) before transmitting it to an amplifier or PA system. Passives are the most similar to a primary microphone of all pickup types—they pick up the signal and pass it through a wire to your guitar amp or DI box. Many guitar pickups are passive.
Active pickups require battery power and add some gain (essentially, the ability to raise volume). Suppose you have an acoustic on its side with a control panel (also called a preamp). In that case, typical settings will be volume, tone-shaping EQ sliders or knobs, anti-feedback controls, and maybe a tuner—then it's also likely to have active pickups.
If your acoustic doesn't have amplification, however, you still want to use it to amplify your foray, almost any amplifier or pickup system you wish to use will entail some adjustment that you'll want a qualified professional to do in your local guitar shop.
Acoustic Guitar Power Amplifiers
An electric guitar amp is unfit to amplify an acoustic guitar. Many "lo-fi" amps use circuitries designed to deform attractively in an electrical environment. Guitar speaker cones are built differently from hi-fidelity speaker cones. In the output, the listener is likely to hear the guitar through the venue's high-fidelity PA system. Some have extra equalization to control feedback, reverb, or other effects.  Some have additional mic feedback to blend vocals with the guitar sound.
Summary
From all the approaches we've discussed, it's obvious you have a few different choices. Now, that you've learned how to amplify an acoustic guitar, choose the best one for your musical journey. There's no absolute right or wrong here; it's down to your genre tastes.
A dedicated acoustic amp would suit players who care about their sound. Their versatile features, provide the best influence. However, they are somewhat constrained in scale and are thus best suited for small venues. To ensure that you still project "your sound" to your audience, an acoustic preamp would enable you to control that to an extent.