Did you ever think a guitar sound is affected by its cleanliness? Do you know cleaning your guitar is as important as playing it? Yes, a clean acoustic guitar can produce a bright and crispy sound than the one loaded with dirt and dust. Not only sound but can also improve the lifespan of your best friend. So, are you thinking about the best way to clean acoustic guitar? Time to get your gloves and start cleaning your acoustic guitar. Let's take a look at the comprehensive guide on how to clean an acoustic guitar.
How to Clean an Acoustic Guitar
Before you start cleaning, it is better to collect your cleaning items together:
Dish Soap
Low tack tape
Old toothbrush
Soft bristle paintbrush
Q-tips
Steel wool
Duster/paper towels
If you want some professional items, you may include the following:
Polishing system
Fretboard Conditioner
Lint-free microfiber cloth
Wax polish
Choose a clean space and lay your guitar out. It is always better to get supplies in order. Take a soft towel and rest the guitar's neck for proper balance. It's time to start cleaning.
How to Clean an Acoustic Guitar Fretboard
Are you thinking about the best way to clean a guitar? Here lies the first step towards it, remove the guitar strings. If you are concerned about the release of tension by removing the strings, don't worry because it won't hurt your guitar.
When you are done with removing strings, you will realize that the fretboard needs some serious cleaning. Now use a low tack tape on the guitar body with the fretboard on both sides. Also, cover the soundhole with the same tape.
Slowly run your fingers along the fretboard and feel the positive roughness along with some greasy spots. You may notice some grime and grit that will be hard to remove. Take the conditioner and steel wool.
Your fingerboard will be unfinished and, most of the time, made from rosewood. Don't use any abrasive material as it may scratch the fretboard. Only use steel wool. Remove the grime from the fretboard by running the steel wool up and down in light motions. Now brush away all steel wool particles with the paintbrush.
When using a conditioner, apply a small amount of it to the polishing cloth for cleaning. Hydrate the wood with a cloth, and it will help to prevent cracking in the future. Rub the cloth along the complete fretboard.
Cleaning Guitar with Household Items
What if I ask how do you clean a guitar? Do you buy some special tools for cleaning it? So, let me tell you that this can be done with household items too. Look for an old toothbrush in your bathroom. All the conditioner and use this old toothbrush to buff the frets and fretboard. Use the paper towel to wipe down the remaining conditioner and enjoy a bright, deep-colored, and restored fingerboard.
Cleaning Acoustic Guitar with Vinegar
I used to think that can I clean my guitar with vinegar for my safety and providing it a clean and glossy look. So, I got to know yeah it is one of the best household cleaners, distilled white vinegar, can also be used to clean fretboard. But did you ever think of the bad smell? Simply put, a small amount of white vinegar on the clean cloth and wipe the fretboard.
Is Lemon Oil safe for Cleaning Acoustic Guitar?
Most people have this question in their mind that what can I use to clean an acoustic guitar? Is it safe to clean an acoustic guitar with essential oil? Being one of the best household cleaning agents, lemon oil is commonly used in cleaning projects.
Pure lemon oil can damage your guitar. Its acidic nature may dry out the guitar fretboard. Commonly, lemon oil guitar products contain very little lemon oil. You can easily use such products to clean the fretboards. They can remove grime and grit to give your shiny guitar an enchanting smell.
Apply a small amount of lemon solution to the clean cloth or paper towel and rub it into the fretboard. Buff out the excess with the clean side of the cloth.
Don't use lemon oil products on the maple fretboard. Also, never use household and furniture wood cleaners because they can damage your acoustic guitar.
How to Clean Acoustic Guitar Strings
One of the best times to give the guitar a thorough clean is when you are changing the strings. However, you need to deep clean your guitar two to four times a year. But, you may need to replace acoustic guitar strings more frequently than that. Cleaning guitar strings can be one tough task.
Most people use regular alcohol, such as isopropyl, but after all, it's still alcohol. It can be a great cleaning agent, especially between the coils of steel strings. However, some alcohol may seep down in your fretboard and will dry out after some time.
You can also use string solutions and cleaners. They can help to increase the life of the guitar strings, but if your strings are rusted, nothing can restore it for you.
How to Clean an Acoustic Guitar Body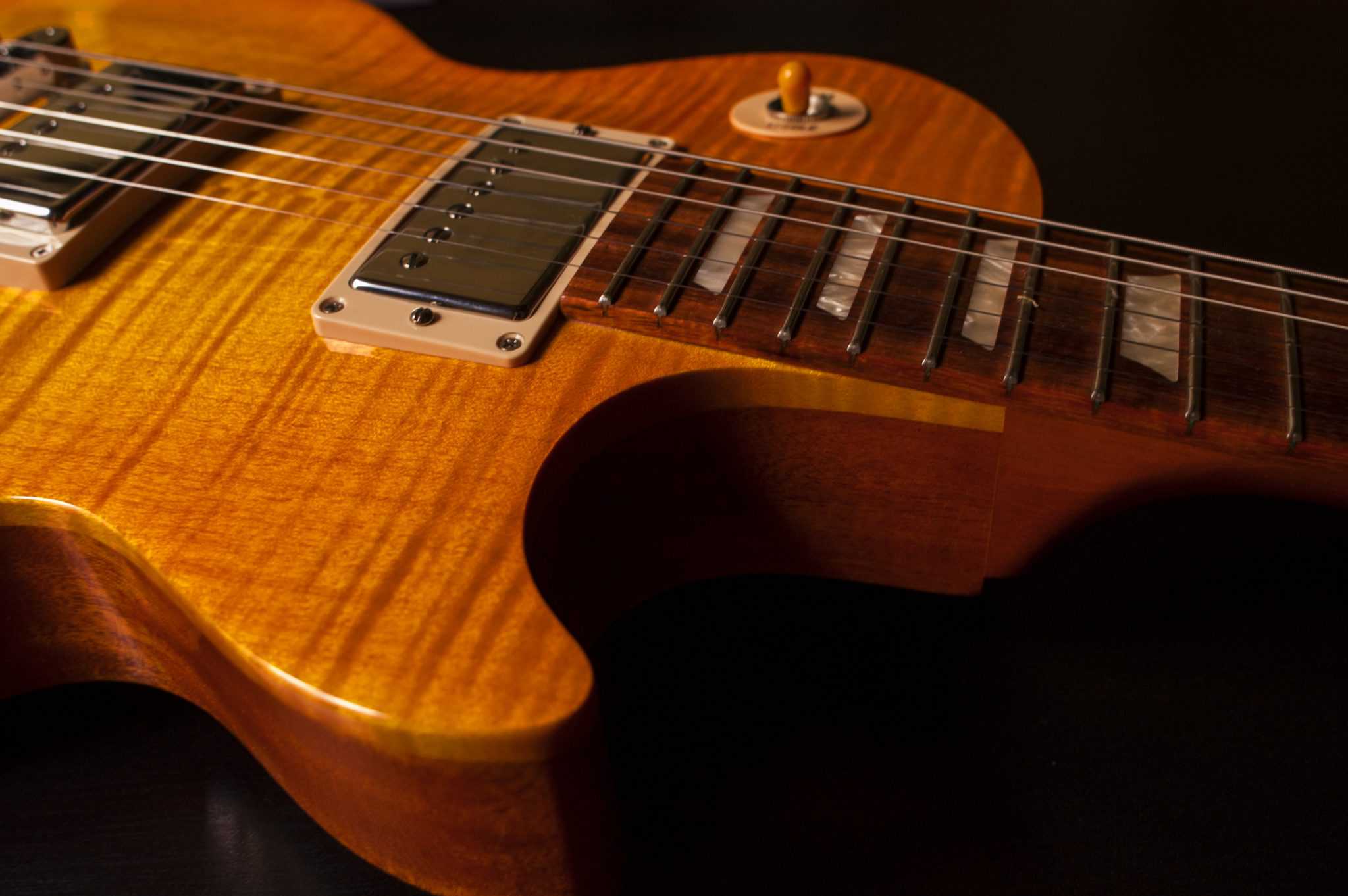 Are you visualizing how to clean a guitar or how to polish a guitar? Sometimes, you can use a clean cloth to clean the guitar body. Remember, don't use the paper towel as it can be too abrasive. You can easily find guitar polishing clothes or use an old cotton t-shirt for cleaning purposes.
How to Clean Raw/Unfinished Bodies
Never use any oil-based cleaner or wax on your guitar that has a raw wood finish. Such products may cause shiny spots on the guitar over time. Simply dampen a lint-free cloth with some water and rub down with a proper amount of elbow grease.
If you want to remove the heavy grim and give your guitar an entirely new and vibrant appearance, you will need to sand it down. But, eliminating the natural patina may devalue your vintage guitar.
Naphtha is a high-flash solvent and has a decent effect on the guitar body. It can be an excellent choice to lean the stubborn stuff. This light fluid is safe for cleaning vintage guitars.
Gloss Finish
Dish soap and water can be best for cleaning such guitars. Spray some solution on the cleaning cloth and wipe and rub-down the neck, back, soundboard and sides. The cleaning neck will help in better playability.
Satin/Matte Finishes
If you don't want to use plain water, then water-based cleaner can do it for you. Apply the solution on the clean cloth and clean it. Don't use any wax or heavy cleaner as they can leave some shiny splotches on the guitar body.
How to Wax a Guitar body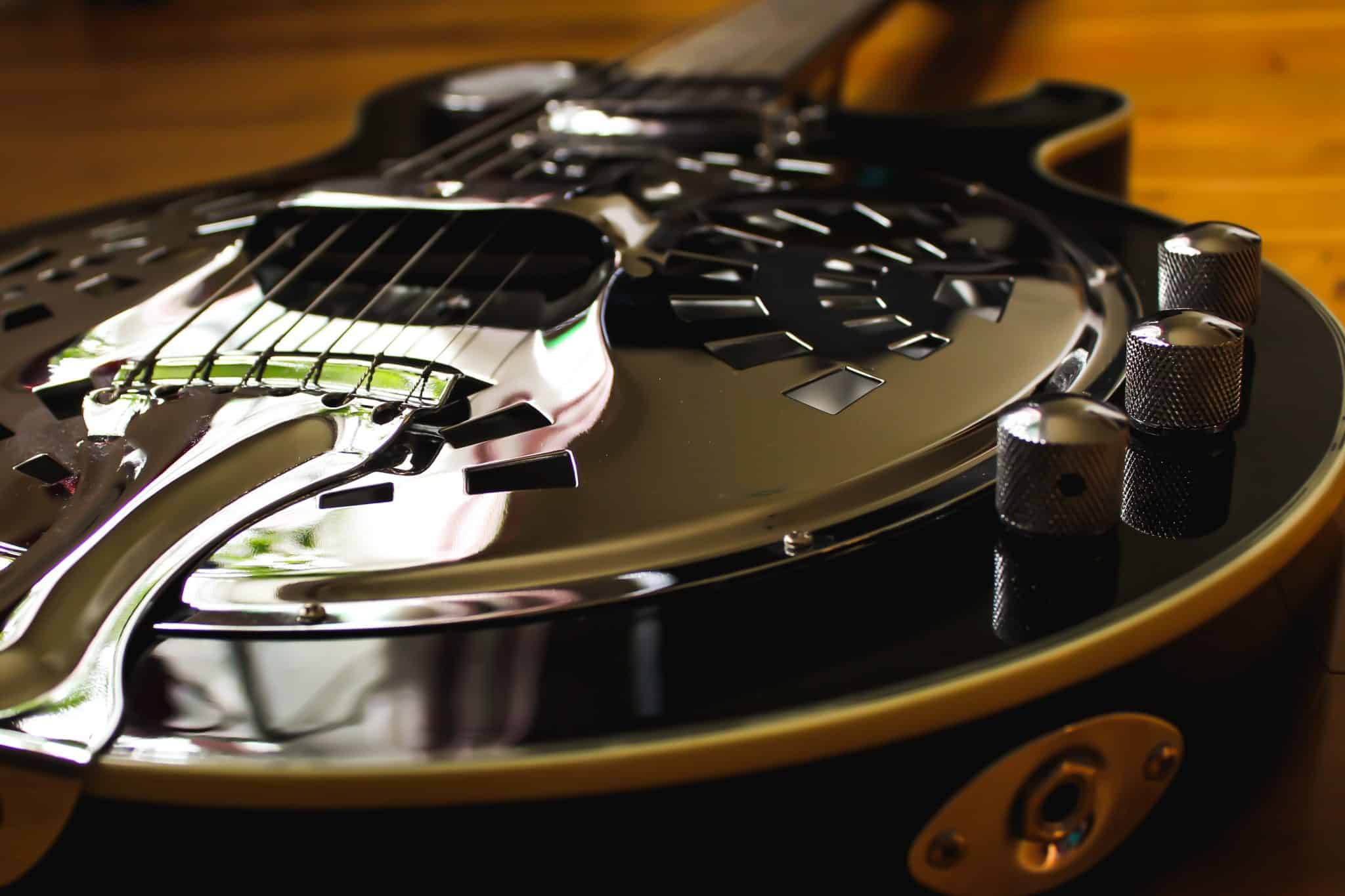 You can easily find the best wax for the guitar body. Most guitars can be waxed with a light coat to keep the splotches and fingers off. Don't use silicone-based or abrasive solutions and waxes for detailing the acoustic guitar.
Spray once onto the lint-free cloth and spread the cloth across the entire body. Open the cloth to the dry side and buff where you applied the wax.
How to Clean The Inside of An Acoustic Guitar
When changing or cleaning the strings, you should pay attention to the soundhole. Remember, the inside of the guitar is not treated with any finishes. Don't spray a cleaning product or water on the side.
All it needs is a small towel/cloth or sock on the hand and remove the dust bunnies and cobwebs from inside of the guitar.
What to Avoid?
There are countless cleaning products out there. But some of them are safe while others may damage the guitar body. Here are some products you shouldn't use for acoustic guitar cleaning.
Lacquer thinner
Household furniture cleaners/products
Bleach
Silicone
Final Words
Deep cleaning an acoustic guitar is always useful to keep it in perfect shape and tone. Whether you want to display it on our wall or stand, you need to clean it after some time. Before storing it in the guitar case, give the instrument a decent 10-second wipe down to eliminate the smudges.