The sound of an acoustic guitar depends on the type of wood, strings, pickups, effects, and amplification. There are different types of acoustic guitar strings available, each offering distractive sound features. The sound also depends on the gauge and material of the guitar strings. Acoustic guitar strings are available in different styles, sizes, and materials. Before buying the best acoustic guitar strings, it is essential to do some research. This ultimate guide on different types of acoustic guitar strings has everything you need to know before probing into the strings universe.
Types of Acoustic Guitar Strings | Materials, Gauges, Windings, Cores, Coatings
How Many Strings Does the Guitar Have?
Although six strings guitars are common, there are several types of guitars featuring more or fewer strings.
A bass guitar comes with four strings tuned at E-A-D-G and an extremely narrow fingerboard. However, just like other modern guitars, the bass guitars may have any number of strings, such as five or six-string models being the most common.
The most common type of guitars on the market, the six strings of the instrument is generally tuned to these pitches:
E2, A2, D3, G3, B3, E4
Many guitar players typically tune both electric guitar strings and acoustic guitar strings to this standard tuning.
Seven and Eight-string Guitar
Some electric guitars are equipped with seven or eight strings. These guitars are mostly linked with the progressive or hard rock playing style. A seven and eight-string guitar follows standard guitar tuning with additional pitches added below E2.
There are guitars with twelve strings, and each patch is double. These guitars are particularly famous in folk and country music.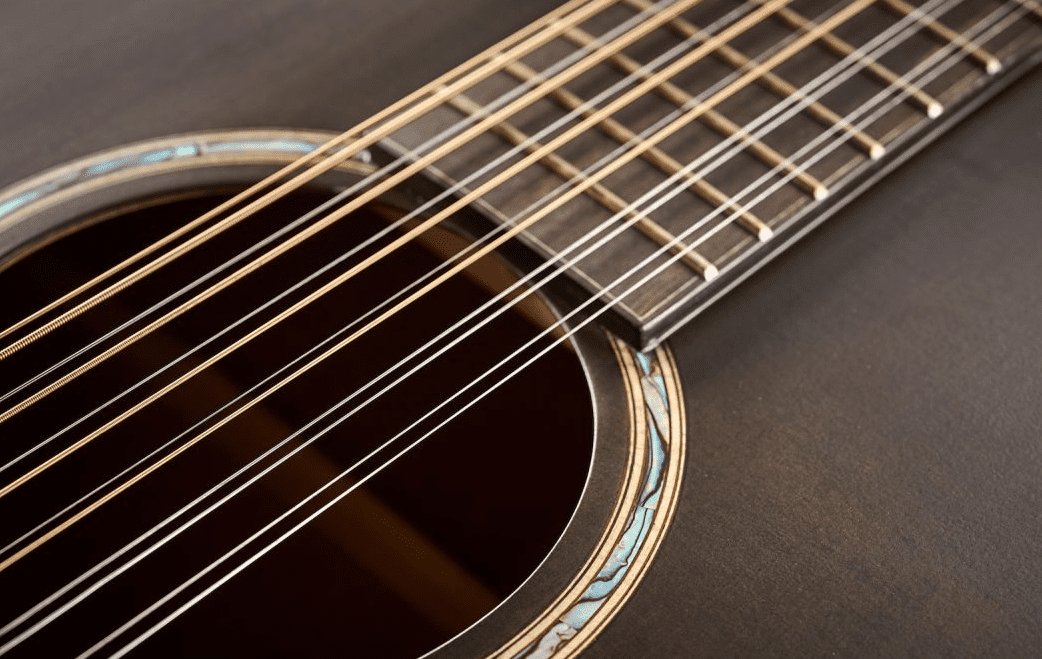 Acoustic Guitar String Materials
Acoustic guitar strings depend on the playing style and model. For instance, classical guitars have different strings as compared to folk and country acoustic guitars. Take a look at the acoustic guitar string materials.
These types of acoustic guitar strings are commonly used in classical guitars.
Manufactured from the intestines of sheep and other livestock, the catgut strings are one of the durable strings available. For centuries, strings were created with animal-based materials, but the material is rarely used with technological advancements. If you visit a boutique music store, you can still find classical guitar strings manufactured with catgut.
Nylon and silver-plated Copper
These acoustic guitar strings wrap a metal composite around its nylon core. Nylon and silver-plated copper has typically been used for the bottom three strings of classical guitars.
Featuring a phosphor component that improves string life but also sacrifices the natural brightness of the strings, Phosphor bronze is used by gigging musicians who are looking for consistent tone and prevent constantly resting their instruments.
Perhaps the most popular type of acoustic guitar string, 80/20 bronze, is used in both modern and classical acoustic guitars. Some classic guitar lovers use these strings for their bottom three strings, whereas some fold and country acoustic guitar lovers prefer to use them for all six strings.
These metal wound silk or nylons strings are best known for maintaining mellow sound. They are famous as low strings on classical guitars.

Types of Acoustic Guitar String Gauges
The tone of an acoustic guitar depends on the gauge of the strings. For instance, thinner strings are ideal for finger picking, whereas thicker strings are best for strumming. Here are four popular string gauges.
These strings start at .012 on electric guitars and at 0.14 on acoustic guitars. They are best for jazz music, which tends to focus on a bass-forward guitar tone and fewer strings bending. However, some rock and blues players prefer heavy gauge strings and detune the guitars by a whole step or a half step to create a heavy tone with effortless to bend strings. In acoustic guitars, heavy strings tend to produce more sustain and overtones, but they also need more finger strength from the player.
These gauge strings begin at 0.11 on an electric guitar and at 0.13 on an acoustic guitar. There are famous for blues and rocks, and they offer a substantial tone by allowing for some degree of string bending.
They refer to .010 to .046 gauges and from 0.12 to .053 for acoustic guitars. A light string set is more durable than an extra light set. The best feature is that it can easily maintain its durability and enchanting tone.
An extra light string gauge means .010 to .047. The extra light string gauge means .009 (maybe .008 gauge on the top string) on an electric guitar. The latter is also known as custom light strings. They are popular for their comfortable playability but also their tendency to break.
Types of Guitar Strings Windings
Every string manufacturer uses different ways to wrap the wire around the cores of the strings. There are three common strings windings users worldwide.
This type of string features a core wire wrapped with a flat outer wire. Flatwound strings are famous for acoustic guitar players, especially those who love to play bluegrass style. On the other hand, electric guitar players prefer Flatwound pairs with the semi-hollow types of guitar for jazz and blues.
Roundwound strings utilize round wire on the outer layer. They are one of the most versatile and commonly used types of strings on the market. You can find them from the lightest to the heaviest gauges.
This type of string split the difference between Flatwound and Roundwound strings. However, half-round strings are hard to find and can be expensive as compared to other string windings.

Types of Coated Guitar Strings
There are coated guitar strings available on the market. The coating is used to protect the strings against grimy build-up and oxidation. Also, it helps to enhance the life of your strings. There are polymer coatings used on both heavier gauge strings and light gauge strings. However, you have to compromise on the natural brightness of the strings when using the coated one. Here are the popular types of coated strings for guitars.
Such guitar strings feature dense polymer coating. They can effortlessly hold up for a long time of playing, but their coating may mute the pleasant upper frequencies associated with the new strings.
Nanoweb strings are equipped with a light polymer coating, and they closely replicate the sound of uncoated strings.
Types of Guitar String Cores
There are two different shapes used in the core wires of strings.
These strings have a round core wire that offers mellower sounds with maximum sustain. However, they may fall out of tune more easily. If you prefer finger-picked folk or jazz, around core strings set can be the best choice for you. However, many players use the reliability of hex core strings which is an excellent option.
These strings feature a hexagonal core wire. This wire runs from the ball's end all the way to its tip. The hexagonal shape helps to prevent the outer wire from slipping and creates a consistent tone from batch to batch. It's convenient to find hex core strings set, including from extra light gauges to the heaviest of gauges.
Final Words
Acoustic guitar strings are like the heart of the instrument, and one can't play guitar without them. These strings may have prominent differences in the sound, such as from loud or soft, bright or mellow. It's the strings set that define the tone of your acoustic guitar. Before buying strings for your acoustic guitar, make sure to consider the material, gauge, and brand to choose the right one for your instrument.