Are you stuck on what acoustic guitar should I buy or how to pick an acoustic guitar? Are you looking to buy the best acoustic guitar, you are surely going to confuse by the different types of acoustic guitars on the market. Things like Solid wood or laminate, cutaways or electronics, nylon or steel strings must be considered to make the right decision. There is a wide variety of acoustic guitars available out there. It is vital to understand the different types of acoustic guitar before buying. The best acoustic guitar depends on your needs and playing style. Let's take a look at the different types of acoustic guitars.
Different Types of Acoustic Guitars
Nylon String VS Steel String
The first thing you should consider is the string of an acoustic guitar. There are two acoustic guitar models commonly used that include Nylon and Steel strings. Both types are used for different playing styles and sound production.
Nylon string guitars are commonly used for traditional Spanish flamenco music and classical music. However, you can also use them with other kinds of music. They feature a wider neck and are also played differently.
When it comes to choosing the string type, it depends on your playing style. The steel-string guitar is common for country, folk, rock, bluegrass, and blues. If you are looking to play classical, Spanish-style music or some jazz fingerpicking, nylon string is the best option for you.
Classical Acoustic Guitar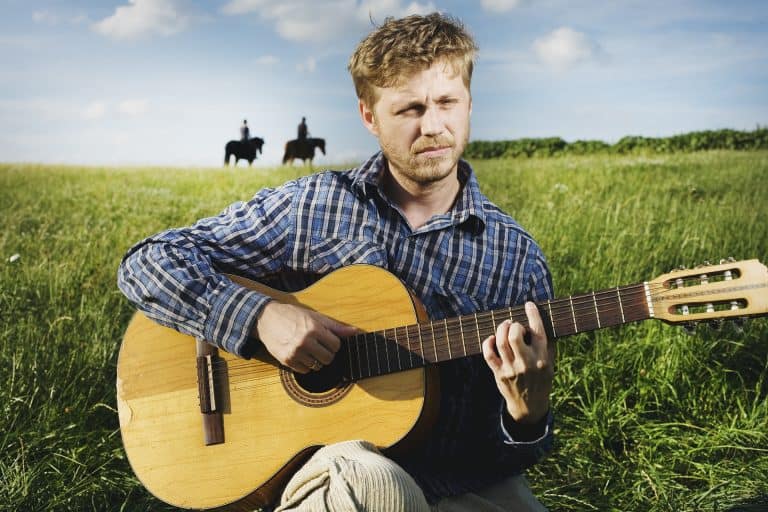 Classical guitars feature nylon strings and are manufactured by popular guitar brands like Yamaha, Kremona, and Cordoba. A typical classical guitar is different from a steel-string acoustic guitar in various ways. For instance, the classical guitar comes with a wider fretboard and neck to offer a more spacious surface area to play with. Such surface is also flattered as compared to the radiused fretboard of the steel-string acoustic guitar.
When it comes to scaling length, a classical guitar is longer than a steel-string acoustic guitar. Looking at the style, this type of acoustic guitar is joined to the body at a 12th fret and has a slotted headstock along with open-geared tuners.
Best for
Classical guitars are best for those who want to the soft and balanced sound of nylon strings that includes Flamenco, fingerstyle, and Spanish players. Also, this is the best choice for beginners as these strings are very easy on the fingers. However, strummers and Flat-pickers will not enjoy this type of acoustic guitar.
Jumbo Acoustic Guitar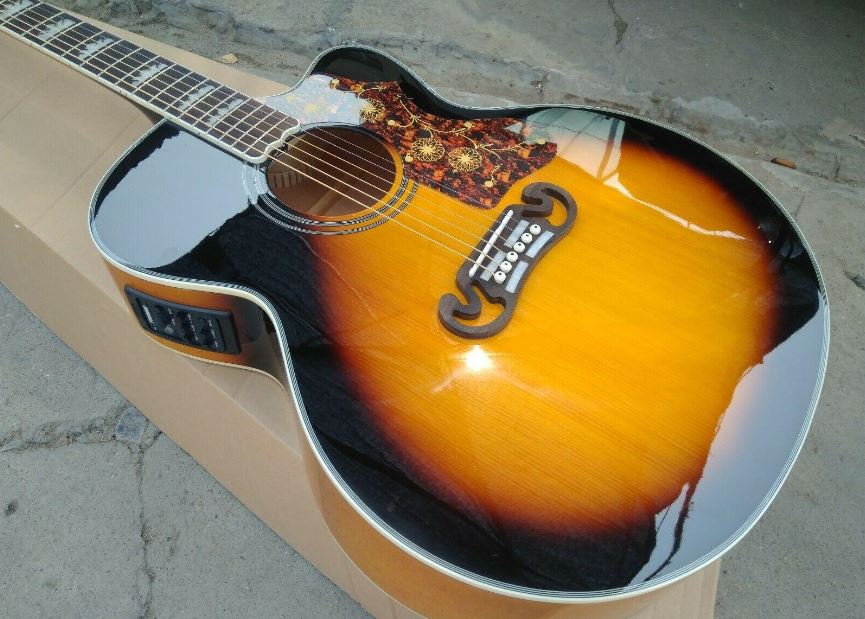 There are numerous acoustic guitar body types. The guitar size and shape vary for each model and Jumbo is the largest and the loudest guitar shape that was initially produced by Gibson. In the late 1930s, Gibson introduced this type of acoustic guitar for players that were looking for a big sound. However, the style hit its peak in the 20th century. But nowadays they are less popular as they are advanced acoustic guitars available on the market. The 17 inches width on the lower bout offers massive projection along with a high volume ceiling. It means this type of acoustic guitar can produce loud sounds without any distortion.
Jumbo guitars are perfectly well-balanced in tone and feature a big low-end boom. This type of acoustic guitar is also known as "Cowboy Guitar". It is immensely famous with country players and was the favorite of legendary Elvis Presley, who played Jumbo acoustic guitar throughout this career.
They are best for those players who want o perform in front of a large crowd with no added amplification. Due to its high volume ceiling, it is the best type of acoustic guitar for aggressive strummers.
Due to its bigger size, the Jumbo acoustic guitar is not ideal for smaller players. If you are looking for easy portability and storage, don't go with this size.
Travel Acoustic Guitar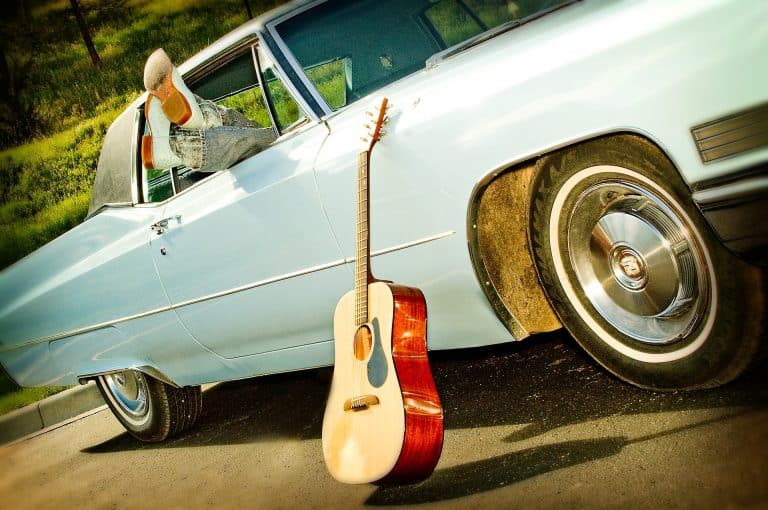 Travel guitars are popular among different acoustic guitars in modern players. Most of these guitars come with a full-sized fretboard and full-sized scale length. The guitar offers almost the same playing experience as a full-sized guitar.
Laminated wood is commonly used in travel guitars to ensure that they are lightweight, temperature, and humidity-resistant. Though the sound they produce is not bad but you can not compare it with a full-sized acoustic guitar. However, its small size offers soft projection.
As the name suggests, this is the best type of acoustic guitar for traveling. Whether you are traveling on a plane, bus or wandering in a city, you can easily carry it with you. Most of these guitars come with a gig bag for easy transportation.
Travel guitars are not suitable for crowd performances. If you are a bigger player, it can be hard for you to play it.
DreadNought Acoustic Guitars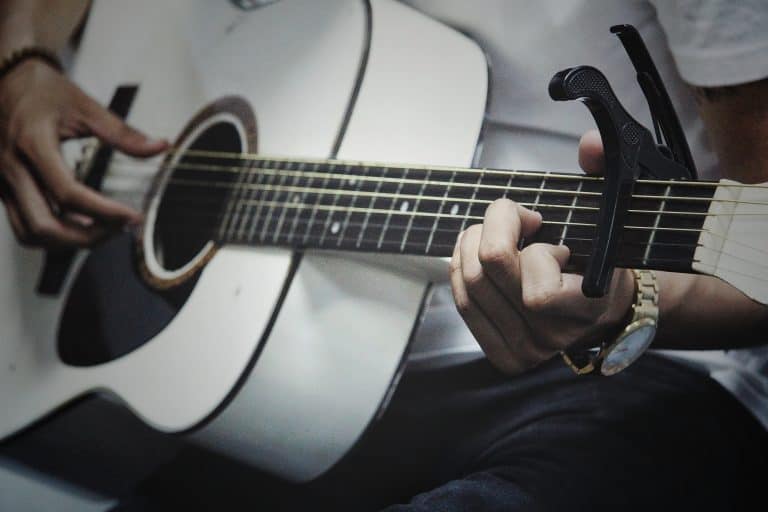 Undeniably, there are various acoustic guitar types to choose from but dreadnought acoustic guitar is the classic and most famous type of acoustic guitar. You can find Dreadnought in budget and expensive options. In 1916, Martin created the Dreadnought body and was named after the British battleships. The guitar features a large and full soundboard. It has a body length of 20 inches, a width of 16 inches, and a scale length of 25.4 inches.
The broad shape of this type of acoustic guitar enables it to produce a bold and balanced sound with powerful low-end and bright trebles. These features make it the best choice for bluegrass, country, and rock players.
Due to its high volume ceiling, it is a perfect choice for aggressive strummers and flat-pickers. But this is not the best fingerstyle guitar type.
Parlor
This petite sized acoustic guitar was extremely famous in the late 1800s. Though Parlor guitars disappeared by the 1950s but still some people love to use these guitars. Some popular guitar brands like Ibanez, Fender, and Washburn still manufacture Parlor guitars.
This compact style acoustic guitar features a small overall length along with an elongated body. The standard nut width makes it an ideal choice for all styles of playing.
Parlor guitar offers a focused, light, and well-balanced tone with less bass and more midrange emphasis. The guitar provides boxy sounds that are great for vintage players. It has a great attraction for slide, folk, and blues players. Naturally, they are quieter as compared to big acoustic guitars.
Their petite size makes them an excellent choice for small players and children. It is easy to hold, play and carry. But it is not recommended to tone purists as they don't have a wide dynamic range.
Concert/Grant Concert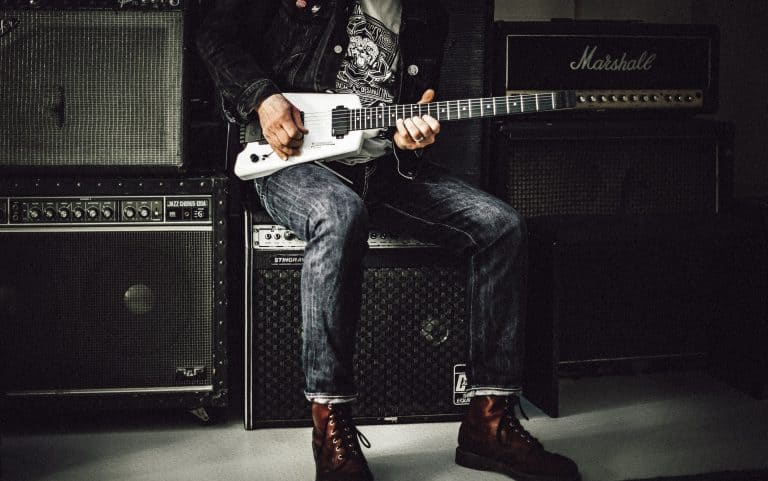 A concert acoustic guitar is a small type available on the market nowadays. It is also known as 'O' sized guitar. In terms of design, it is similar to Dreadnought and classical guitars with a bit small and narrow body with 13.5 inches width.
As compared to Dreadnought, Concert acoustic feature a narrow waist which makes a perfect choice for players that like to play while sitting down. They have a little shallow depth with a slightly quieter tone and less bass response.
Grand Concert is bigger than Concert guitar and has a lower bout of 14 inches to 15 inches. They produce a marginally, more significant sound.
Its smaller size makes it the best choice for smaller players. Due to its articulate tone, this is an excellent style for finger stylists. The low volume ceiling makes it a lousy choice for aggressive strummers.
Auditorium/Grand Auditorium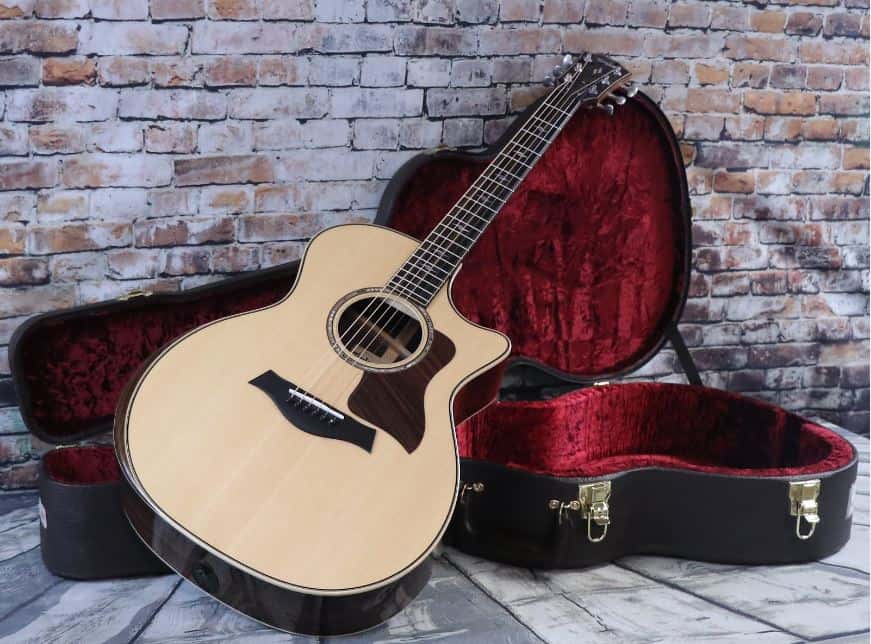 Are you choosing an acoustic guitar and looking for the type of acoustic guitar which is most trending these days? Auditorium and Grand Auditorium are the best choices for you. The auditorium was initially introduced by the Martine and Grand Auditorium by the Taylor. Both these types of acoustic guitars are the most popular ones on the market nowadays. They are famous for their versatile tone and performance.
When it comes to size, the Auditorium falls between the Concert and Dreadnought. The Auditorium comes with a 15 inches and Grand Auditorium with 16 inches width. They have a narrow waist which makes them easy to hold and play.
This type of acoustic guitar offers a bright, warm, and well-balanced tone. It is an ideal pick for Flatpicking, strumming, and fingerstyle playing. Also, they are famous for rock, blues, country, and folk styles.
This is an excellent multi-purpose acoustic guitar. For those that are looking for a lighter touch, Auditorium works excellent. The low volume ceiling is not suitable for aggressive strummers.