One of the biggest names in the music industry Yamaha was founded in 1887 by Torakusu Yamaha. They are specialists in manufacturing acoustic pianos and reed organs. An interesting fact about Yamaha is that they have been in the industry before anyone else started, and still they are producing the best musical instruments on the market. However, they started to manufacture guitars in 1942. From producing simple musical instruments to top-notch acoustic guitars, Yamaha is best known for its genuine, innovative craftsmanship. FG700s Acoustic Guitar is a perfect example of its remarkable design, features, and durable material. Let's explore the features of this musical instrument in a detailed review.
Yamaha FG700s Acoustic Guitar Review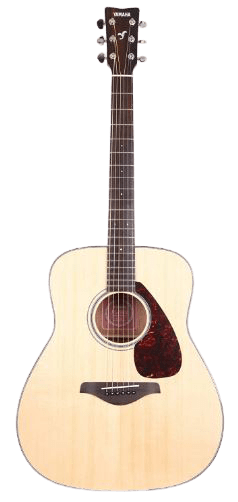 Quick Features
Accented With Black-And-White Body Binding
Solid Sitka Spruce Top
High-Gloss Natural Finish
Rosewood Fingerboard
Tortoise Pickguard
Die-Cast Tuners
Limited Lifetime Warranty
Design
Yamaha FG700s features traditional Yamaha's craftsmanship. This acoustic guitar comes with a classic dreadnought body shape and a natural high gloss finish.
Dreadnought Body
One of the biggest guitar body types, the FG700s has a dreadnought body. It means this acoustic guitar is slightly heavier than other guitars, but still, it is more comfortable to hold this beauty.
Also, the frets are slightly bigger, and it could conveniently pass on as the best beginner guitar even though it's not one genuinely. Remember, the bigger the body is, the maximum room there will be for reverberations.
High Gloss Natural Color Finish
Though most musicians prefer selecting a color rather than being stuck with only a single option, it's easy to say that this best dreadnought guitar has done it in the best possible way. It features a tortoise Pickguard along with a rosewood fingerboard.
A high gloss finish is a bad idea for full-bodied acoustic guitar as it makes them hard to handle when sweat gets involved in long playing sessions. However, the high gloss coating used on Yamaha FG 700s is a different one. There is no "Squeegeed window" feeling of contemporary coatings, and it offers a natural feel through the long playing sessions.
Sound
Perhaps the best feature of Yamaha FG700s is its excellent sound. It comes outfitted with the best tonewoods which offer an exceptionally bright tone. Also, the nato body provides it with a fantastic sonic signature.
Solid Spruce Top
The top of the FG 700s is created from solid spruce. A solid top is manufactured of one piece of wood whereas the others would prefer to ply-wood or more than a single piece glued together. Choosing the all-solid manufacturing is best because it offers a decent punch in the tone.
Solid spruce is way better than typical materials. It sounds exceptionally bright and more precise than most top materials such as Cedar.
Full-Bodied Sonic Performance
The FG 700s offer a thick and natural sound. This big-bodied guitar features a small soundhole which provides an airy resonance and accentuates the highs. Picked or Fingerstyle, the Yamaha FG 700s offers a rich, full-bodied sound which is one of the best features of this acoustic guitar.
Rosewood Fingerboard
Rosewood is a typical tonewood with sweet and warm tone features. As compared to Maple, Rosewood is softer and offers more playability. Telecasters and Starts are the two most famous examples of rosewood fingerboard guitars.
In fact, it's the warmth of rosewood that makes it highly versatile, but the odd side is that it underperforms when playing in a specific genre.
Volume
It's a known fact that dreadnought guitars offer higher volume as compared to the small ones. This best Yamaha guitar comes with an intense delivery that may disturb your roommates, parents, and neighbors.
Nato Body
Nato also is known as eastern mahogany is a fairly available tonewood kind. It's far from being near exotic, and most people tag it as a cheap substitute for traditional mahogany.
Excellent Sustain
Although such tonewoods are not made to offer the biggest sustain still, it's pretty decent for the price. Maybe the odd side is the tiny soundhole, but it's the quality of wood used in the manufacturing process that keeps it so pronounced.
Chrome Tuning Pegs
To be honest, the chrome hardware on the Yamaha's FG 700s is not superior, but still, it does the job correctly. This machine heads hold the tune nicely, and they are straightforward to use. Since they offer decent reliability, it will be ideal to perceive them as an aesthetic element.
Build Quality
Durability, aesthetically and sonically wise, the build quality of the Yamaha's FG 700s is highly versatile. This durable guitar is made to last for several decades, and you can assure that accidental falls and dents won't damage it. The most reliable aspects include a tonewood, rosewood fingerboard, solid spruce top and the nato body.
Versatile Nature
Even though this best acoustic guitar features a big body with distinguishable sound but it is also highly versatile. Most of the tones come from the particular tonewood combination. However, the most appealing aspect of Yamaha FG 700s is that it's incredibly responsive. In simple words, it can be warm, dark, loud, and bright, and pretty much anything you need from it depending on your playing style.
Price
One can't say that Yamaha FG 700s is a cheap acoustic guitar, but certainly, it's no expensive one. The guitar belongs to a moderately expensive price point category. When you consider the price for such classy features, the price is very reasonable. With absolutely breath-taking sound quality and massive pliability, one can't think twice about giving this beauty a shot.
Pros & Cons
Pros
Exceptional Craftsmanship
Produces Great Sound
Tuning Stays For A Long Time
Aesthetically Pleasing
Hard-Shell Case
Cons
Over-Sized Body For Smaller People
Product Specifications
Back Material              Nato wood

Body Material              Wood

Size                                Dreadnought

Color Name                  Natural

Material Type              Nato

String Gauge                 Light

Guitar Bridge System   Hardtail Bridge

Top Material                  Spruce Wood

Number of Strings       6

Fretboard Material      Rosewood

String Material              Bronze

Neck Material Type     Nato Wood

Guitar Attribute             Dreadnought

Instrument Key            C

Case Included:               Hardshell Case
Conclusion
Perhaps the biggest reason for the Yamaha FG series success is their no-nonsense approach. The best acoustic guitar brand has implemented a reliable function over form policy that has been exceptionally famous in music lovers. In a modern context, the Yamaha FG 700s brings rock-solid build quality, excellent material, and reasonable pricing. This feature makes it an ideal choice for experts rather than beginners/
Frequently Asked Questions
1. Is Yamaha FG 700S suitable for beginners?
Yes, this versatile guitar is an excellent choice for beginners and experts, but its full body can be hard to handle for new players.
2. Is Yamaha FG 700s too big?
This full-sized dreadnought guitar can be big for young children. For adults and experts, it's a top choice.
3. Are the strings on FG 700s close to the fretboard?
The strings on the Yamaha FG 700s are pretty close to the fretboard. However, you can easily adjust them according to your needs.
4. Does Yamaha FG 700s hold its tune well?
Yes, this best acoustic guitar can hold its tune well as compared to the other beginner acoustic guitars on the market. Depending on your strings, the guitar stays in tune for several weeks.