Whether you are playing at grand concert halls or entertaining at small venues, getting the best acoustic guitar pickup can help to get a bright, rich, and lively sound to reproduce the unique tonality of your guitar accurately. A high-end pickup is a must-have tool to project a class pure acoustic tone. However, find the best acoustic guitar pickups are always tricky, especially when you are a beginner. From the countless acoustic guitar pickups we have analyzed, these top acoustic guitar pickups made their way to help you find the best one for your acoustic guitar.
Best Acoustic Guitar Pickups for 2022
1. L.R. Baggs Anthem Acoustic Guitar Pickup and Microphone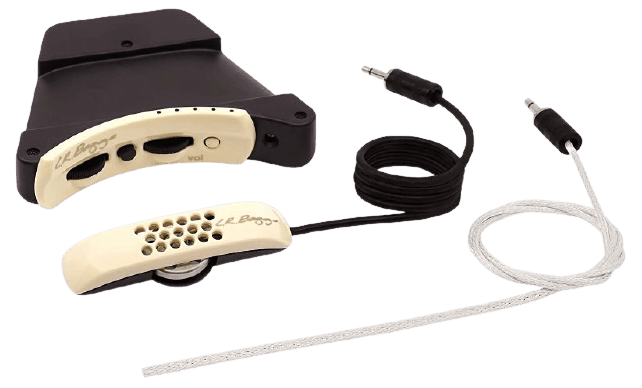 Featuring a patent-pending TRU MIC technology, this award-winning Anthem Series by L.R Baggs perfectly combines a proprietary consider microphone with the Element pickup to produce the warmth and fidelity of the studio mic'd guitar. A revolutionary microphone engineered at the heart of the anthem to capture a dynamic studio mic'd sound for both recording and live performance.
Mounted to the underside of the bridge plate, the TRU.MIC hovers just above the 3 mm surface to take benefit of the PZM or boundary effect. Combined with noise cancellation technology, this proprietary mounting system frees the Mic to perform flawlessly and keep excellent feedback suppression for the stage. It results in well-balanced frequency response with remarkable clarity for the most delicate sounds, so have never heard amplified.
This package also has a set of effortlessly accessible controls, including a phase switch, volume, and mix control.  Last but not least, the noise cancellation microphone technology eliminates the annoying honky, and boxy features from inside of the guitar.
Pre-Set Mic And Pickup For Ideal Performance
Element Pickup Carries Only The Lowest Frequencies
Noise-Canceling Microphone Technology
Soundhole Preamp Comes With Multiple Controls
Comes With Battery Bag
2. L.R. Baggs M1 Active Acoustic Guitar Magnetic Soundhole Pickup – Best Pickup for the Money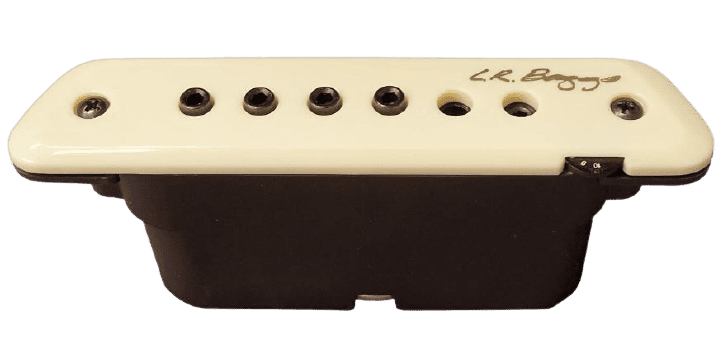 Pop the L.R. Baggs M1 Active Soundhole Magnetic Pickup in your best acoustic guitar and enjoy crystal clear tunes all night long. A perfect choice for live performers, this acoustic guitar pickup offers natural sound with excellent quality. One of the best features of this pickup is its sonic flexibility that offers you to enjoy the tune without modifying your guitar.
This best acoustic guitar pickup offers a well-balanced sound by amplifying the natural highs and lows of the acoustic guitar by capturing both strings and soundboard vibrations. It creates enormous and natural sounds from a single pickup. The M1 pickup comes with a built-in all class A discrete preamp and the L.R. Bagg's exclusive patent-pending Tri-Axial Dynamic technology.
The dual coil design provides pristine, broad tones with excellent body sensitivity and noise and hum, without cutting out the body and string sound. The best thing is you can easily adjust the volume using the fingertip control. Also, this M1 active comes with individually adjusted pole pieces with a soft, threadless top that allows for ideal balance in your acoustic guitar.
Highly Feedback-Resistant
Quiet, Hum-Free Operation
Adjustable Pole Pieces
Adjustable Volume With Fingertip Control
Built-In Gold Plated 1/8" Jack
Comes With A Pre-Wired Strap Jack Harness
3. Fishman Matrix Infinity VT Acoustic Guitar Pickup & Preamp System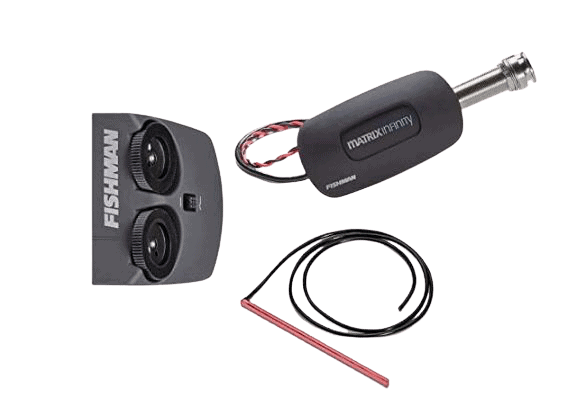 Fishman is dedicated to helping every music lover achieve the most authentic sound possible whenever they plug in their instrument. Specially designed to perform flawlessly with modern acoustic guitar amplifiers, this Matrix Infinity VT pickup, and preamp system is another excellent addition to the famous Matrix series. A redesigned, sealed enclosure for its soundhole-mounted volume along with the tone control module allows musicians to quickly make adjustments.
The Endpin jack mounted preamp of the Acoustic Matrix pickup is the new design soft touch housing. Ideal for nylon, 12-string, and bass, the package comes with a nylon string and steel string control modules. It also has an integrated LED low battery indicator, which is located on the internal preamp. The unique scoop tone control cuts the mids while boosting the bass and treble at the same time.
The preamp voicing switch is made effortlessly accessible, so even new players can accommodate various types of guitars, playing styles, amplification choices, and performance situations. Last but not least, the package also has mounting hardware and a chrome strap button.
Best For Nylon, 12-String, And Bass
Relocated, Accessible Voicing Switch
Redesigned Enclosure For Soundhole Mounted Volume & Tone Controls
Unique Scoop Tone Control
Solderless Connection
4. EMG ACS Acoustic Guitar Pickup Red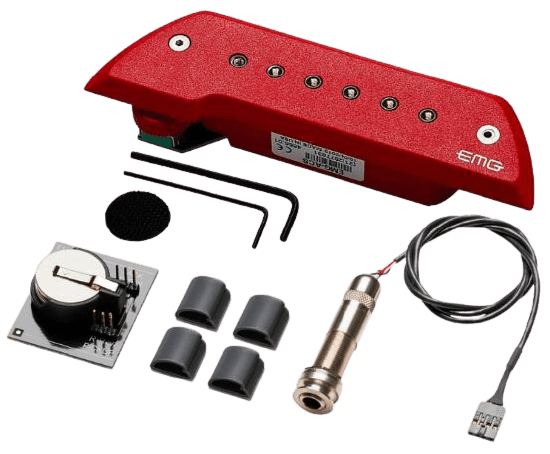 The ACS is EMG's solution for musicians who are looking for an ideal amplified acoustic guitar tone without any hassle. Featuring a broader frequency range, the EMG ACS offers an authentic acoustic tone and enough volume to play alongside a large band. The unique internal preamp has been designed for the phase and frequency response while retaining the excellent-high end favored in acoustic guitar tone.
Used by famous fingerstyle players, this easy to install acoustic pickup is an ideal solution for all your issues. For best performance, it should be reproduced through the wide bandwidth system utilizing a direct box that sends the signal to the mixer. It must be full bandwidth in case of an amplifier on stage.
Other notable features of these best acoustic guitar pickups include a quick-connect cable, cable keepers, an endpin jack with cable, Allen wrenches, and a battery bag.  This pickup fits soundless from 3-3/4 inches t 4-1/4 inches perfectly. The ACS tablet also features volume controls.
Unique Internal Preamp
Easy To Use The Volume Control
End Pin Jack With Cable
Battery Bag
Good Soundhole Pickup
5. L.R. Baggs Element Active System with Volume and Tone Control Acoustic Guitar Undersaddle Pickup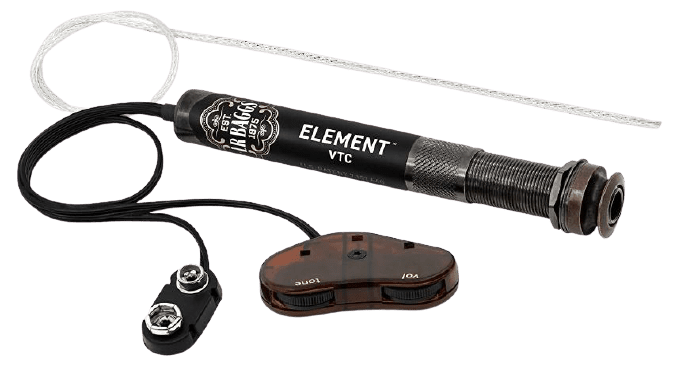 Continuing their legacy of producing the best acoustic guitar pickups, the LR Baggs offers up this EAS-VTC to music lovers. This fabulous pickup package comes with the treble control accompanied by a unique compression circuit to soften the thump of the low frequency. It ensures a precise and delightful tone that will surely make your day.
The Element under-saddle transducer in this EAS-VTC system comes with a minimalist design and broad surface contact area to allow you to get the most out of your guitar. It is specially designed to sense each moment of your guitar's top, thus delivering a natural tone that is free of the common Piezo quack. It is also an excellent way for modern style finger musicians to get the most from the percussive techniques.
The controls of the pick are located in the soundhole for easy access. The EAS-VTA also has a 3-band EQ with soundhole-mounted preamp controls. You also get an onboard tuner with a mute feature to let you tune without dragging the audience with you. Another notable feature is the easy-to-read multi-segment battery check.
All-Discrete Endpin Preamp
Soundhole Mounted Volume Control
Fits Both 3/32" And 1/8" Saddle Slots
Pre-Attached Element Pickup
Built-In LF Compressor
Ordinary Sticky Pad For Cable Tidy
6. Seymour Duncan SA-3SC Acoustic Guitar Pickup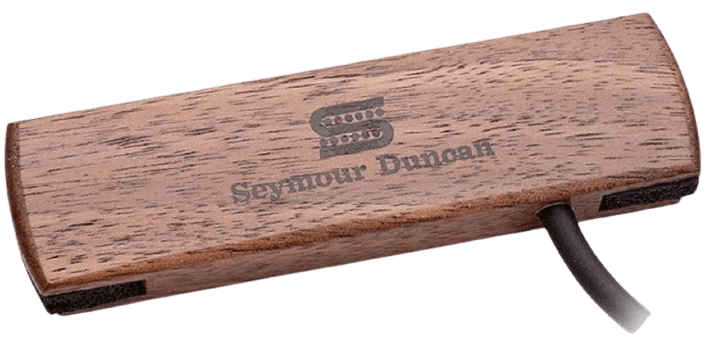 This single coil acoustic guitar pickup offers a clear acoustic tone that is ideal for both heavy strumming and more delicate styles. Designed especially for the steel-string acoustic guitars, this woody pickup is a simple, budget-friendly soundhole pickup. It is the perfect combination of both remarkable acoustic sound and natural operation. Even if you use this pickup under the loudest band situation, it will never disappoint you.
The woody shaped magnetic field offers a consistent, well-balanced output from every string, especially the "B" string. Also, the chords are properly articulated, and the single notes are even when you move from one place to another. In simple, you enjoy crystal clear sound effortlessly.
This woody series provides a reasonable response to offer adequate amplification while helping your acoustic guitar blend elegantly with vocals and other tools. The best thing is these woody series pickups can fit nearly any acoustic guitar soundhole. Last but not least, the price of these pickups won't hurt your pocket.
An Excellent Sounding Passive Pickup
Super Easy Installation
Easily Fits Most Acoustic Guitars
Affordable Price
Includes Studio-Quality 14′ Cable
Not Recommended For Stage
7. Fishman Rare Earth Single Coil Acoustic Guitar Soundhole Pickup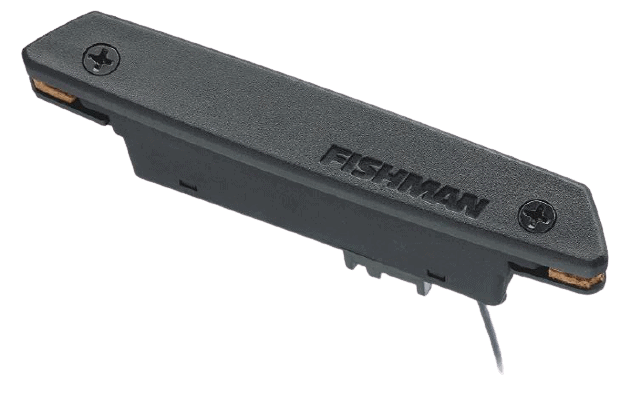 Featuring a cutting-edge neodymium magnet, these new rare earth pickups provide a warmer, more natural acoustic tone, accompanied with remarkable accuracy and improved musicality. This rare-earth single coil has been precisely re-voiced and fine-tuned to give an even smoother treble response as compared to their famous category-defining predecessors.
The active electronics, along with the neodymium magnet structure, offers an ideal string balance and sparkling acoustic clarity. Its low current design of the preamp allows about 300 hours between battery changes. The pickup comes with a newly designed mounting system along with an ergonomic body shape.
The non-permanent installation allows you to switch between multiple instruments. This pickup can fit a standard-size sound hole of 3 ¾ easily. It also has a pre-wired output jack, which can also be endpin mounted.
PRO-REP-101 Brilliant And Articulate Single Coil
Cutting-Edge Neodymium Magnets
Up To 300 Hours Of Battery Life
Easy Installation
Slim, Relatively Unobtrusive Design
8. K&K Pure Mini Acoustic Guitar Pickup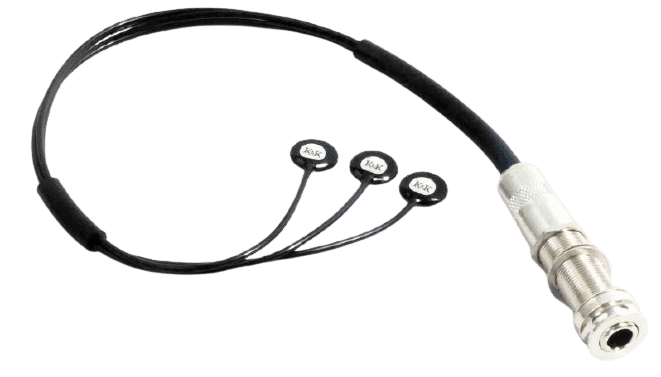 This K&K Pure Mini Acoustic Pickup is the only transducer system. There are no onboard or bench electronics, and you can only expect pure pickups. The system offers full and rich sound and has more than enough output for driving most PV systems along with amps directly. The prime benefits of this pure guitar system are that it transmits an efficient portion of the sound-board as they are not as close to the strings underneath the saddle pickups. The three transducers are designed to pick up a particular string pair.
These best acoustic guitar pickups don't produce harsh or perspective sound as they are not under any pressure. It ensures that the strings are elegantly balanced, which is a common issue with under-saddle pickups. This is an excellent passive mode, and as compared to under-saddle pickups, which offer thin and trebly sound, this system puts on a well balanced, warm, and full-range sound.
The feedback resistance can be compared to the under saddle transducers due to the location on the bridge plate under the bridge. The pickup which is installed on the bridge can produce less feedback as compared to the ones attached to the open soundboard.
High Output – No Battery Required
Pre-Wired No Soldering Required
Best For Steel String Guitars
Pre-Wired, No Soldering Required
9. K&K Sound Trinity Mini PRO Guitar Pickup System w/Mic and Phase Switch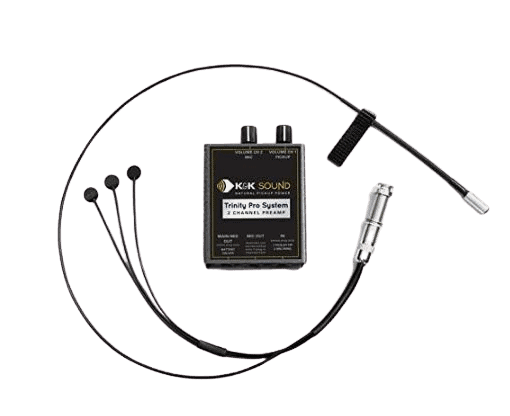 This Trinity Pro system comes with a dual-source pickup/microphone system and an external dual-channel pro preamp for acoustic guitars. The system has K&K's new and updated Trinity Pro Preamp. It adds a phase switch to the microphone channel to enhanced feedback resistance and also a smoother overall tone.
This trinity system offers an even more authentic tone as compared to the pure pickup alone. Also, its microphone adds extra air and shimmer to its overall sound, which is an excellent choice for the purely acoustic guitarist. You can easily mix the microphone according to the situation.
It comes with an award-winning pure pickup, the trinity pro preamp, the trinity microphone with integrated 5-inch gooseneck, 2 external channel preamp with an adjustable gain, volume, treble, bass, and mid for every channel, and phase switch for the microphone channel, 20-20.00 Hz frequency range, 6-foot stereo cable, and a stereo endpin jack.
Pickup/Microphone System For Steel String Guitar
Dual-Channel Trinity Pro Preamp/EQ W/Mic Phase
Pure Mini 3-Sensor Bridge Plate Pickups
Stereo Endpin Jack, 6-Foot Stereo Cable
Trinity Microphone With 5″ Gooseneck
10. Dean Markley DM3000 Artist Transducer Acoustic Pickup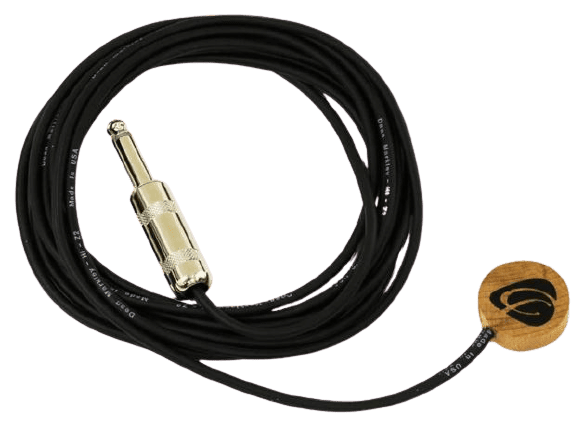 One of the lowest price acoustic guitar pickups, the DM3000 Transducer by Dean Markley, comes with a simple design. It features a single transducer inside the small maple disc, which stuck to the face of the acoustic guitar. The adhesive used allows removing and replacing the disc without any hassle.
When you compare the price and sound of this best acoustic guitar pickup, it provides surprisingly good sound. Though it may not be like higher-end pickups for this price, it is perfectly balanced across the strings. Housed in a maple wood housing, the Artist Transducer offers a sound that every professional artist wants.
Through the use of a lead differential weight, it reacts through compression rather than just bending, like other Piezo pickups. It is a perfect gift for guitar, violin, standup bass, cello, banjo, piano, mandolin, horn, or anything that vibrates.
Full-Bodied Dreadnought Tone
Solid, Reliable Construction
Comes With An Additional Set Of Strings
Affordable Price
Instructional DVD
Best Acoustic Guitar Pickups Buying Guide
Acoustic guitars offer a wide range of pickup styles for different sounds, installation methods, playing styles, and budgets. Let's take a look at some of the most famous ones.
1. Soundboard Transducers
Perhaps the most basic type of acoustic pickups, the soundboard transducers, stick to the face of the guitar to pick up its vibrations through the top. They typically stick with a non-permanent adhesive, which means the installation tends to be straightforward of all the pickups, whereas removing the device is as easy as you like.
Besides the lowest price of the transducers pickups, they also produce the lowest sound quality and volume. However, they are perfect for smaller performances.
2. Soundhole Pickups
Initially introduced in the 1960s, these acoustic guitar pickups have been consistently popular for their affordable price, versatile nature, easy installation, and removing process. Such type of pickup sits across the soundhole under the strings. Remember, all models are different from one another, but they have magnets and coils that produce tune in the same way as the standard electric guitar pickup.
The prime benefits of sitting right under the strings are that they produce a clear and detailed sound with decent warmth that's ideal for flat-strumming/picking. The odd side is that they produce a slightly artificial tone, whereas the feedback can also be a problem in the single-coil versions.
3. Undersaddle Pickups (Piezo)
Undersaddle Piezo is another standard acoustic guitar pickup with thin strips of sensory material. As the name suggests, it sits right under the bridge saddle, thus picking up pressure changes from the vibration of the strings. As compared to the soundboard transducer, it is not commonly seen.
These types of pickups produce a clear sound that is exceptionally string-focused. Perhaps this is one of the reasons it is widely used for fingerstyle and classical playing. It offers crystal clear sound with more attraction and presence as compared to the soundboard transducers and also minimal feedback problems.
4. Internal Microphones
Experienced guitarists agree that internal microphones are an ideal way to naturally amplify an acoustic guitar. However, they come at a high price as compared to other tools. These sensitive pickups are mounted inside the guitar's body and pick up vibration from the larger part of the instrument, thus delivering a more natural tune that captures the warmth and detail of every acoustic guitar. That's why they are commonly used for finger picking.
Besides various advantages, there are few drawbacks to these pickups, such as feedback. Installation can be a bit tricky for beginners. So, it is a better option for professionals as compared to new musicians.
5. Preamp
Many acoustic guitar pickup packages have a preamp to shape your sound directly from the best acoustic guitar. They usually range from very basic volume and tone controls to more advanced systems, including blend controls (for two different pickups), individual EQ sliders (treble, bass, middle), onboard digital tuners, and feedback controls.
On the other hand, simple systems are commonly tucked into the soundhole. The more advanced preamps are attached to the side of the acoustic guitar in the form of the control panel or also an external device. If there is no preamp with your favorite pickup, you can also buy the preamp separately and attach it to the pickup.
6. Amplifiers
No matter how much money you spend on buying the best acoustic guitar pickups, playing it through a basic amp cannot produce a quality sound. When purchasing the acoustic guitar pickups, consider the amp that will be offering the final output. Don't spend an excessive amount of a brand new amplifier, but the more you can invest in the amp, the better your overall tone will be.
Conclusion
There is plenty to consider when you are buying the best pickups for your acoustic guitar. The best thing is to consider your playing style and budget and then make a decision. Don't rush in a hurry but take some time before making a purchase. There are many great acoustic guitar pickups waiting for you to offer a remarkable sound and variety of features to play the acoustic guitar at the home, studio, and live performances.