Whether you are aiming to share music with your best buddies, release an album or just record the best acoustic guitar practice sessions, it is essential to know how to record acoustic guitar. Gone are the days when you have to go to the studio for high-quality recording results. Thanks to modern technologies for offering excellent gadgets such as the best acoustic guitar amp, best acoustic guitar Mic, and many more. It is easy to pick some essential gear and starting recording, but there are some crucial factors one must consider to achieve great recording results. Let's take a step-by-step process for how to record acoustic guitar at home.
How to Record Acoustic Guitar – Ultimate Guide
The first and most important thing is to consider what you want to record, and you should play it perfectly. Whether you are playing a classical nylon string guitar or steel-string western guitar, it is vital to make up your mind and choose the best fit for the music you want to play. Steel strings are best at cutting through the mix and have a high amount of upper mids and treble. On the other hand, nylon strings offer a softer attack along with maximum low-end. Remember, if you want to record richer and fuller sound, it is recommended to choose a big acoustic guitar.
Choosing Microphone to Record Acoustic Guitar
Selecting between the dynamic and condense microphone is a challenge for beginners. A small-diaphragm condenser microphone comes with superior transient response and fast attack features. In fact, it's the transients where the natural, characteristic tone of the instrument sits perfectly. However, it depends on the sound you are looking to record to choose the best acoustic microphone. Expert musicians recommend going with a small-diaphragm condenser microphone.
Both nylon and steel-string acoustic guitars feature detail-laden, nuanced sound; therefore, a condenser microphone is an ideal choice for you. A large-diaphragm condense microphone picks up more sounds from the room. On the contrary, small diaphragm condenser microphones are more direct and have the ability to pinpoint a very specific spot conveniently.
If you want to use dynamic microphones to record acoustic guitar, you can use them. They are less sensitive as compared to condenser ones which means they require to have a little more gain from interface or mixer and will pick up fewer tiny details.
Finding the Right Place for Recording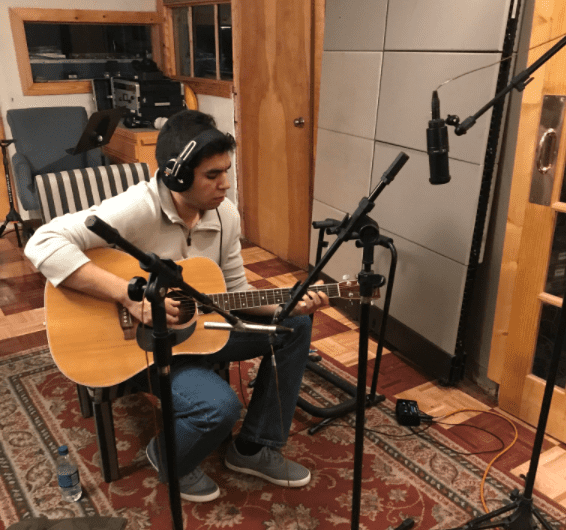 Your rehearsal space, bedroom, garage, or any other place where you feel comfortable to record is the best place for you. An ultra-quiet location is ideal than the one with background noises. Take a look at the best places to record acoustic guitar.
Recommended for Recording
Bookshelves and wall racks

Carpeted Floor

Uneven, structured surface walls

Wall clothes and rugs
Avoid While Recording
Small room with high ceiling

Straight parallel walls facing each other

Naked and tie walls

Large and uneven surfaces reflecting sounds
How to Place Mic for Best Recording Results
To achieve the best sound recording results, place the microphone about 12 inches away from your acoustic guitar and point it at the 12th fret, where the guitar neck joins the body. If you are looking for more low-end, we recommend moving the microphone closer to the soundhole. Don't directly point at the soundhole. If you Place the microphone behind or near the bridge of the guitar, it yields more low frequency too.
Read more: How to Mic an Acoustic Guitar
Mono vs. Stereo Recording
Choosing between mono and stereo recording depends on your personal preferences. However, there are some pros and cons of both recordings. Stereo recording adds room and depth to signal, which helps to enable a genuine listening experience and is useful when there is a sparse mix. Your acoustic guitar is not just a single instrument among many but rather prominent. It needs to stand in this case and carry the song.
You can always record acoustic guitar using a stereo setup and then mute a microphone to still go mono if needed. You can also consider blending the two microphone signals. You need to point one microphone right at the guitar and still be able to add a bit of ambiance for some dimensions from a microphone positioned further away.
Best Polar Pattern for Recording Guitar
It is recommended to choose a cardioid pattern for acoustic guitar recording. This characteristic is straightforward and effective at suppressing unnecessary interfaces from the side of your microphone. Perhaps this is one of the prime reasons why small-diaphragm pencil condensers have a cardioid polar pattern.
Choosing Headphones
The best headphone for acoustic guitar is an excellent way to judge the quality of sound. It's also useful to have those for recording, mixing, and so on. Headphones are highly recommended for an acoustically untreated space.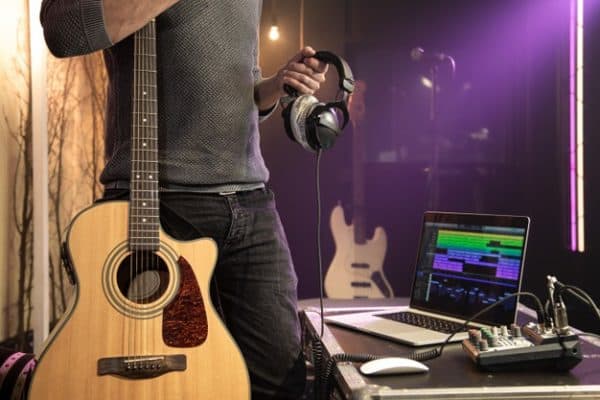 Don't use open headphones while recording acoustic guitar. If you do so, the sound from headphones may bleed into your recording.
Additional Outboard Gear
The audio interface you choose should provide 48V phantom power. When selecting an audio interface, don't forget to check which generation of USB your pc supports and also consider the number of separate channels that you are going to record simultaneously.
If two channels are enough at the moment, consider four to stay safe in the future. Also, consider the best quality XLR cables as they can easily last for a long time as compared to cheap cables.
Digital Audio Workstation
You can easily find a variety of software on the market. They have different user interfaces, but their important ones are often the same. You can find free software easily and start with the free one. It will take some time until you need more functionality. A free DAW (digital audio interface) is an excellent place to kick off your recording career. If you still it difficult, you can find countless free video tutorials online.
How to Record Acoustic Guitar and Vocals at the Same Time
 Most people prefer to record both guitar and vocals with a single mic. It may be a decent less-is-more approach, but it can limit your post-production possibilities as you don't have separate tracks. Professionals recommend using separate microphones for recording both guitar and vocals.
Useful Tips to Record Acoustic Guitar
Make sure to practice the song you want to record.

Keep your acoustic guitar in tune before recording.

Select a surrounding that makes you feel comfortable.

Always keep backup strings and pick by your side.

Choose a comfortable chair for recording sessions.

Carefully check and set your audio interface input level.

Don't forget to position your microphones, listen to the sound, and, if needed, reposition them.
Conclusion
When recording your acoustic guitar, try and think about the context of the instrument in the song. The last thing you need while recording is to try new things. There are no rules, and you are free to do many experiments until you are satisfied with the results. Choose the best one that works for you.